With a roster full of the top talent in Michigan and Ohio, High Five has reason to believe their early season success could portend a big step forward.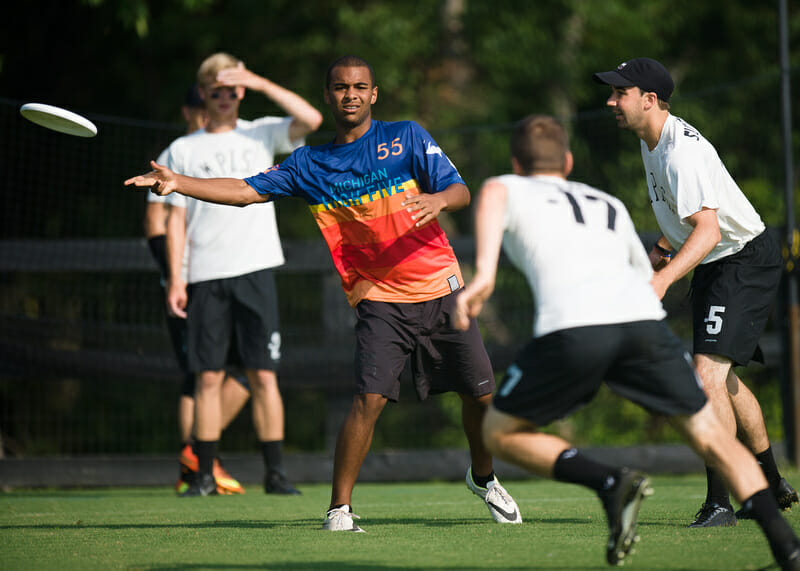 When the news broke this winter that Eastern Michigan star players James Highsmith and Johnny Bansfield weren't going to be taking their final year of college eligibility, people were skeptical. But with the announcement of their captainship of Michigan's top club team—High Five—as well as a power merger with Ohio's top players from Madcow and Bro Cats, the long-term plan began to take shape.
And so far in 2015, that plan seems to be working.
After two years of just missing Nationals, a refreshed and deeper High Five takes the field this season, looking to rise even higher in the rankings and into truly elite status with a trip to the Championships as the final reward.
The Squad
The most eye-catching thing about this team is the new and improved roster, which features many of High Five's heavy-hitters of the past two seasons, as well as a host of new Ohio-based stars. Just as important as the talent, however, is the increased dedication amongst its players.
Highsmith and Bansfield return to captain, bringing their athleticism and throwing wizardry back to the second-best club of the Great Lakes. The pair have been focusing solely on preparing for High Five for the last six months, opting out of their college eligibility to rest, train, and plan.
Similarly, former NexGenner Mitch Cihon joins the squad after what he called "a year off" of serious club, where he was playing with the team Bro Cats and former college teammates like Connor Haley (also joining High Five). He says this is the most motivated he's been since his college days.
The new look of this team offers new opportunities for these stars—many of whom had Nationals-level success in college—to reach new peaks.
The same goes for other newly arriving stars from Ohio, including former Madcow captain Phil Cherosky, whose leadership and experience will be vital for the relatively young High Five club. Add in some more studs — former Michigan State captain Alex Edinger and dominant 6'9" Michigan receiver Jesse Buchsbaum — and the depth is unquestionable.
Mike Jahn and Mike Dagher-Margosian—skilled players in their own right—round out the captains who made the recruiting trip across the section this past winter.
"[It's] obvious we have a ton of talent," said Cihon. "But, more important than the talent, it's a group of guys that that want to see the team succeed above all else and want to have fun playing ultimate and playing it the right way."
Team leaders hope that this collection of stars—occasionally big fishes in smaller ponds throughout their ultimate careers—will be able to coalesce with a renewed sense of dedication and team focus. Here is a chance to combine their efforts with similar players for bigger success. Previously for both the Ohio teams and High Five, the top athletes had to do it all in all areas. Now they can focus on a smaller task, putting the group success first, trusting in their teammates, and saving their legs.
"I think the biggest impact the roster changes will have is allowing everyone to truly focus on playing their role and the added depth will make High Five dangerous all weekend long, as opposed to needing a few guys to carry us through the weekend where fatigue can become an issue," said Cihon.
Depth is there, undoubtedly. And while we've seen examples of teams integrating new talent rise to success (see Johnny Bravo's championship run) and we've seen new teams fail when it matters most (see Machine's 2014 loss in pre-quarters). The work is ahead of High Five.
Building The New Team
Putting the pieces together is always a challenge for a team with a large influx of new players, and that is especially the case with the renewed look of High Five this year.
While this isn't a fully new squad (the Michigan group largely retained the core identity) and there is no new team name, the group leaders recognize how different things are and are working hard to adapt it.
Bansfield and Highsmith have been organizing this season for months, and have worked closely with the Ohio contingent, scheduling several intense practice weekends in varying locations.
"We're treating them almost like tournaments in that we're going to have a long practice Saturday morning followed by a break for lunch simulating a bye," said Cihon. "We'll then hit it hard again Saturday afternoon. Sunday we have a nice long practice simulating a Sunday without any breaks."
The practices are focused on team chemistry and getting reps on large-scale strategy together. The local groups will then divide into pods to focus on fitness training and fundamentals.
Balance Of Threats
"Once we get our lines 100% figured out and our personnel is set, we'll play to the strengths of the players on those lines," says Cihon. "I think for the most part you'll see a mix of what High Five has done in the past combined with some ideas brought over from Madcow/Ohio."
A lot of the strategy is still up in the air, but expect this team to look more like High Five than Madcow, especially with the four captains leading a strong Michigan-based core.
So far, it's been the Michigan group that has anchored the extremely athletic defense, with the experienced Ohio group leading a solid O-line. And you can expect a lot of what made both teams successful in the past: intense defense and the deep ball.
Bansfield is one of the most talented (and still largely underrated) throwers in the game and can make a serious impact, especially in windy conditions; he'll drop incredible shots to all sides of the field. Guys like Highsmith and Cihon are phenomenal athletes, but also have strong throws. Add in some raw athleticism such as in the form of Buchsbaum and a large cast of supporting defenders and they'll be hanging tight with every opponent.
"We want to pride ourselves on tough, hard-nosed defense that never gives up," adds Cihon. "We want to lead the country in coverage sacks1 because all seven dudes are on their guy's hip. We want to have a big sideline full of encouragement and positive attitudes."
Overall, it's a young and athletic collection of players, but don't peg them only as a run-and-gun team. They have veteran experience and playmaking savvy in Cherosky, Botti, Rhyne, and Meilstrup, and they'll be able to attack you in a lot of ways, but especially vertically.
They also see their status as an unknown quantity as an advantage. "High Five has always kind of been in the shadows," said Highsmith. "There's not much video of us, and a lot of teams don't really know much about us. I can say we'll play smart ultimate and been extremely adaptable."
Setting Expectations
The goal of this merger was absolutely clear: get High Five to Nationals.
After two years of solid regular seasons but missed trips (in 2013 High Five earned a bid, but Madcow took it from them at Regionals; in 2014 they narrowly missed a bid in the final regular season rankings), the expectation is that it's time to break through.
That said, some members of the team have even more in mind.
"I speak for myself when I say that just qualifying for Nationals isn't enough," said Cihon, whose past trips to The Show have resulted in bottom half finishes. "I don't see why having a goal of qualifying for the semis or higher is unrealistic."
Cihon admits it would be a "tall order" for this season, but not impossible. He hopes, as do other team leaders, to stay on track to the point of sustained elite status.
"I absolutely think we're able to be an elite squad this season," said Highsmith.
That said, we've seen that the world of ultimate is extremely fluid. Mergers come and go, rarely lasting more than a year or two. The geography of the Ohio Valley section helps High Five, in that it would be difficult for players to make commitments to any other major club teams should they stay in the area. High Five's success this season would also be a major factor; mergers are more likely to stick when teams win.
Signs of Success
So far, the season is a qualified success.
High Five won the Elite-Select Challenge in Columbus earlier this month, earning a bid to the Pro Flight Finale in Minneapolis in August. What's more, that Championship win came as a smashing victory over regional rival Chicago Machine.
High Five dominated all phases of that game and was impressive for most of the tournament. The influx of new players has made the defense especially shine, and with such a star-packed group, they've proven thus far that they can hang with (and beat) any team they've faced.
Time will tell if they can continue this trajectory.
High Five isn't in the shadows any longer; other teams see the threat and will be treating High Five as a dangerous opponent for the rest of the year. Perhaps that is what the team from Michigan wanted all along. Regardless, they're off to a good start.
The future tournaments are further opportunities to prove themselves during the regular season and to climb in the rankings, something they'll likely need to do with Chicago Machine still a major threat to take the title of the Great Lakes Region. For safety and insurance, earning a second bid will be critical, with the advantage that the competition from below makes it likely they'll advance.
The Ohio teams have scrambled in the wake of High Five's power move, with Cleveland Smokestack coming away as the beneficiary. Still, such diversification of talent creates a lot of parity and while spots 3-6 will be a dogfight amongst the Ohio and Chicago teams (with Indiana's Brickyard thrown in), High Five likely won't have a real challenger for a second bid.
If they don't peak too early, this squad could be looking at even more: a chance to fight for a Regional Championship and make a real run at Club Nationals. But many challenges lie ahead.
"Winning is a process," said Cihon. "Building a program is a process. Nothing is going to happen overnight just because we have a talented roster. We're going to take our lumps this year as we fight through blending playing styles and developing chemistry. As long as we can keep moving forward, stay positive with ourselves and our teammates, and keep following the process, we'll be right where we want to be, come seasons end."
---
James Highsmith explains that "coverage sacks," borrowed from football, is when "everyone plays shutdown defense for close to a full stall and the thrower is forced into a bad situation." ↩