After two straight prequarter exits, does PoNY have the firepower to finally get over the hump?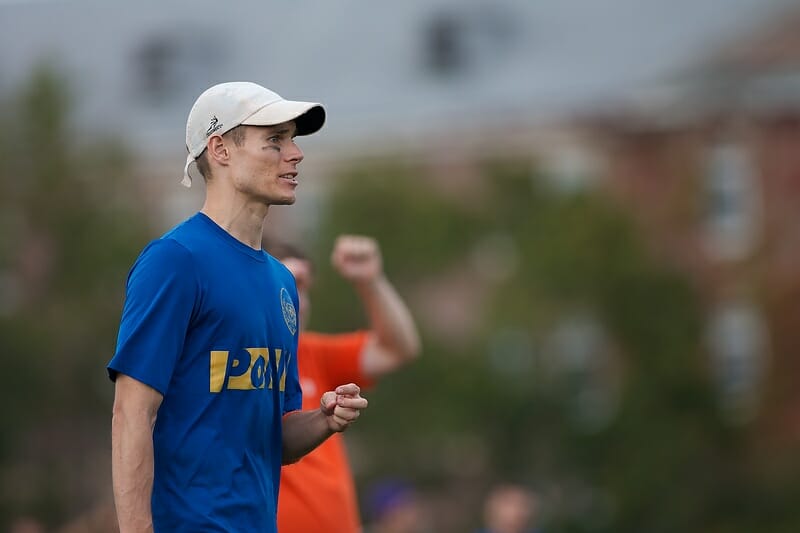 Since making Nationals in 2012, New York PoNY has been a fixture at the top level of the game and a familiar sight at several of biggest tournaments each year. But while PoNY has been a consistent presence near the upper echelon of the club division, they have never been able to take the next step. 2013 looked like it might be the breakout season New York had been waiting for after the team's strongest regular season in memory, but with loss to Machine in prequarters, it never materialized.
Could 2015 be the year of the PoNY? We will start to get an idea when they play in the Pro-Elite Challenge this weekend at the Colorado Cup.
Overall Indicators:
2014 Nationals: 11th place    
2014 Northeast Regionals: 3rd place
2015 US Open: 6th place
Eliminated in prequarters at Nationals past two seasons
Positives:
The team has a core of promising young talent, including U23 Open players Chris Kocher (a PoNY rookie) and Josh Alorro
The pro-league divide in New York still exists, but PoNY wrangled a few more Empire players this season, including block machine Mike Drost
Jack Marsh is still really, really good at Ultimate
Concerns:
Behind Marsh, there is a lack of top level talent and PoNY will have to work both hard and smart to overcome the talent gap
Despite some close games, New York hasn't beaten their regional rivals Toronto or Boston in a meaningful game in years
PoNY lost deep threat Robbie Gillies and will need to replace his role in the offense
Season Outlook
There were a lot of headlines coming out of the Northeast during the offseason, but PoNY stayed relatively quiet while their fellow Northeast teams made big news. The relative stability they experienced may give them an advantage while Ironside re-engineers their program on the fly and GOAT figures out how to replace Mark Lloyd.
With Boston rebuilding and Toronto missing their talisman, it might be tempting to say that this could be the year that PoNY finally takes home a regional title. Captain Markian "Muk" Kuzmowycz believes that they have shot. "We're absolutely aiming to win the region in 2015, and we feel like we are on the right path," said the PoNY leader.
Regionals in the Northeast will no doubt be wild this year, but like other top teams, PoNY's season will ultimately be measured by their results at Nationals. Since the new format was instituted in 2013, PoNY has lost in the prequarters both seasons. No matter how well they do in the regular season or at Regionals, if New York isn't able to get into the quarterfinals this October, 2015 will go down as another year spent on the PoNY plateau, with a major breakthrough still in the distance.
Early exits from the bracket in Frisco the last two seasons has the team thinking somewhat differently about how to structure their season and prepare for that big moment when the season is on the line. Kuzmowycz made it clear that the team isn't looking past Regionals, but the leadership is making conscious decisions to prepare for a climactic prequarters game. Going to the U.S. Open to start their season gave the team the chance to see some of the top teams early, and assess how they are going to stack up.
In addition to taking on a more intense schedule, New York is constructing their roster a bit differently this season based on their previous experiences at Nationals. With every team guaranteed a shot at the quarterfinals, it is more important than ever to be able to get your best players all out on the field at one time, regardless of position or possession.
Having players than can play both offense and defense when push comes to shove and the season is on the line was a priority for PoNY this year. As Kuzmowycz put it, "it was important that we selected an adaptable squad whose top end could match up well against any type of team. Our squad consists of guys who, to a larger degree than years past, can shift among our different position groups pretty seamlessly."
A player who may flourish from this new approach is David Ferraro. A speed merchant who started out on PoNY's D-line, he crossed over to offense last season in time to have a mini-breakout at Nationals. The SUNY-Buffalo alum finished 6th at the tournament in goals, ahead of some bigger name players who excelled in Frisco like Mark Lloyd, Max Thorne, and Danny Clark. If PoNY is able to produce a few players with Ferraro's versatility on both sides of the disc, they may be able to dig deeper in the single elimination bracket at Nationals.
Veteran handler Chris Mazur is another example of this philosophy, as he is a player just as comfortable on a D-line as he is on offense. The fiery leader is unquestionably PoNY's best thrower, and much of their offense is initiated by his creative range of throws. His defensive ability and aggressive hucks might put him on the D-line for other club teams, but New York appreciates and thrives off his ability to do it all on the field.
Captain Billy Katz, a second year player on the team, is one of the team's best two-way players. A skilled thrower and strong athlete, he represents the kind of player that New York wants to build across the roster.
Tactically, New York wants to be able to match teams stride for stride. Instead of playing like an underdog against more heralded rosters, they are aiming to beat teams by playing free-flowing, aggressive offense. Still, second year PoNY coach Bryan Jones recognized that there is plenty that New York can emulate in the best teams in the world.
"I think you are always taking stock at every tournament about what teams around you are doing," he said. "What are the trends? I see a lot of good use of space by the top teams. That's something I've wanted to teach and improve upon in this coming season. It's a really abstract concept that requires you show players different situations and push some more responsibility on to them. At the same time, this freedom has to be tightened over the course of a season into more concrete roles to form a stricter system that allows for execution on the biggest stage."
No matter how well PoNY constructs their roster and hones their tactics, they will still need the firepower to get the job done. This is where the doubt comes in for PoNY's chances; they simply don't have a long list of veterans with experience performing well in big moments. If PoNY is going to spurn their critics and advance into the latter rounds at Nationals it will be because the potential of their young players blossomed into actualized big game performance.
Perhaps this will be the year that Kocher, Alorro, Albert Alarcon, NY Rumble standout John Wodatch, and the rest of the cubs seize the spotlight. But until they do, PoNY will be a team that only has the potential for excellence, not the expectation.
Likely Ceiling
Quarterfinals at Nationals. Look at the semifinalists from Nationals last year. Each of them had at least one and usually two big playmakers that were capable of changing the tide of a game through sheer force of will and athleticism.
PoNY doesn't appear to have that sort of personnel and there will be a lot of pressure on Marsh and Mazur to go blow-for-blow with the best players in the game if they start advancing into the bracket at Nationals. With the single elimination format, it only takes one really good game to make quarters, and New York definitely has a chance to get over their prequarters hump from the last few years, but asking them to play two perfect games in a row seems like a tall order.
Likely Floor
Game-to-go at Regionals. If the Northeast gets three bids again, PoNY should be in good shape. There is some justifiable hype for a couple of the select flight teams in the region this year, and while Garuda and Dark or Light definitely pose a threat to New York's string of Nationals appearances, PoNY's massive experience edge in the big game should give them the advantage. However, with so much uncertainty in the Northeast this year, it is impossible to say that any team has their spot in the region locked up, and if another region is able to steal a bid away, it would make for a hectic fight to the finish.