Brute Squad's roster is "a Callahan VIP guest list at a Team USA reunion party." But that hasn't been enough to win a title.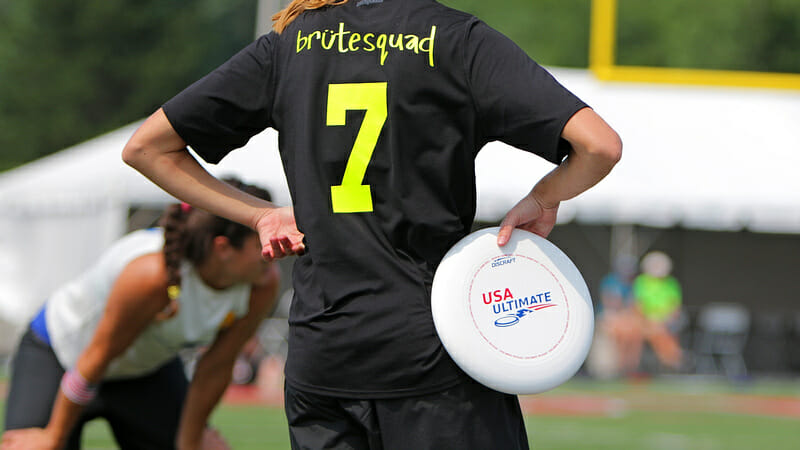 There might not have been a more dominating team in ultimate last year than Boston Brute Squad. It's an accomplishment for a team to take three top tournament titles in a year, but to do it with the kind of ease that Brute Squad did last year is more than just an accomplishment. It's a statement.
After starting 2014 strong with a title at home at the Boston Invite, Brute Squad stumbled a little at the U.S. Open, losing twice to Riot and once to Showdown. But calling Boston's performance at the U.S. Open a letdown would overlook solid victories over most of the other heavyweights in the women's division: Traffic, Scandal, and Fury. It was clear that the preseason hype was justified. And Boston proved it by running fifteen straight victories into Nationals, taking titles at the Chesapeake Invite and the Pro Flight Finale and stomping all comers at Regionals to go to Frisco as the undisputed #1 seed in the country.
Once at Nationals, it looked like more of the same…until Brute Squad faced Scandal in the semifinals. There, Boston's season, and their twenty-game win streak, ended with a brutal 15-7 defeat at the hands of the defending (and soon to be repeat) champions.
After such a dominating regular season, anything but a first-place finish might have seemed like a disappointment. However, for Brute Squad, it's the big picture that matters. The loss in the semis stung, but it was only the first year in the program's reemergence as one of the top women's teams in the country.
It's scary to think of. Brute Squad's 34-5 record last season was only the beginning of the team's rebirth. This year, Boston returns in much the same form, which seems to foretell similar results. But the other top women's teams have added even more firepower. Will staying the course be enough for Brute Squad?
New Season, Similar Team
"Roster turnover is just a fact," 2014 co-captain Blake Spitz so aptly put it. Perhaps to prove a point, Spitz joined the handful of Brute Squad's players to move away from the team for the 2015 campaign. Among those joining Spitz in the exodus are Chelsea Witte-Garcia, one of the Squad's go-to offensive cutters last season, the dynamic Kirsten Unfried, and Qxhna Titcomb. Titcomb is suiting up for Riot, this year, an example of other top teams adding elite players to their already formidable depth.
Boston, too, adds impact players who have the potential to more than fill the shoes of those departing. These players can fill a balanced defensive line of their own, with Flannery McArdle and Shellie Cohen dictating the deep game, Magon Liu underneath, and Rachel Westgate, Sydney Dobkin, Sophia Herscu and Cassie Wong giving stalwart help in other corners.
"Flannery is already making big plays for this year's team," co-captain Becky Malinowski said. "Obviously she brings some height to our D line, but she's also a smart continue cutter and a great target both under and deep. Shellie and Magon bring new, aggressive throws from their mixed club experience and are stepping up to be solid defenders as well."
These newcomers will be supporting substantially the same core that pushed Brute Squad so decisively through tournaments. Emily Baecher (2015 All-Club 1st Team) and Leila Tunnell are two of the game's top handlers, while Lien Hoffmann and Becky Malinowski provide prime targets on a regular occasion, creating separation at will and getting open where their handlers want them. Cutters Laura Bitterman (2015 All-Club 2nd Team), Courtney Kiesow, and Kami Groom will not be seen as a reprieve for defenses.
Finally, Amber Sinicrope returns to Brute Squad for her 10th year on the team, following a season-long stint in the mixed division with The Ghosts. She had a constant presence as a D-line handler in years past, and may see action in that role again this year. Malinowski calls her "one of the hardest workers on the team."
One of the worries in 2014 was whether Boston would be able to gel with so many new players. The answer was a resounding yes. This year, the roster turnover has been relatively light. It's unlikely that there will be much of a problem, on that end, especially considering Brute's second straight authoritative Boston Invite title to start off 2015. After considering the growth of the other top women's teams, however, the worry will be whether Brute Squad's turnover was too light to keep pace.
Focusing on Process
Looking ahead in 2015, it's easy to say where Brute Squad wants to be at the end of it.
"Our goal is to win a National Championship," coach Ariel Jackson said, simply. But the season is long, so he wants the team to focus on "several process goals" over the course of the year.
"Pretty basic stuff," Malinowski said, "but we're making sure to keep them at the forefront this year."
The focus on process goals will likely keep the team grounded throughout a tough regular season, filled with the top-level tournament requirements of a Pro Flight team. It also makes everyone hone in on the fundamentals, allows players to see past mistakes or losses, and see the big picture more clearly.
"We want to work really hard in practice, be great at defense, and approach challenges with a growth mindset," Malinowski said. "We're also stressing the importance of breakfast, especially at tournaments."
Because it is a long season.
2015 Outlook
There's no question about Brute Squad's roster. Most of the core of last year's team, described as "a Callahan VIP guest list at a Team USA reunion party," is back. Those who have departed have been replaced with solid contributors, who should slide right into Brute Squad's tight defensive style quickly.
Any doubts that Brute Squad's 2015 would look much different from its 2014 season lose some credibility from Boston's current 12-1 record after their performance at the Boston Invite and the U.S. Open. They've only lost to Fury, in the U.S. Open final. Whatever qualms remain will likely disappear after the Colorado Cup this weekend. Brute Squad is the #1 seed there, face a pool that they should conquer, and bracket play where they will be the heavy favorite.
The question is whether Brute Squad's return of substantially the same team from last year will be enough in a women's division that has seen the other strong teams grow still stronger. This is a question that might not be truly tested until the game's top teams are finally put head-to-head at the Pro Flight Finale on August 22nd and 23rd.  Once the dust settles in Blaine, Minnesota, we'll have a much better idea if Brute Squad's ability to hold firm will be enough.