A deepening U16 Boys field was impressive in Minnesota.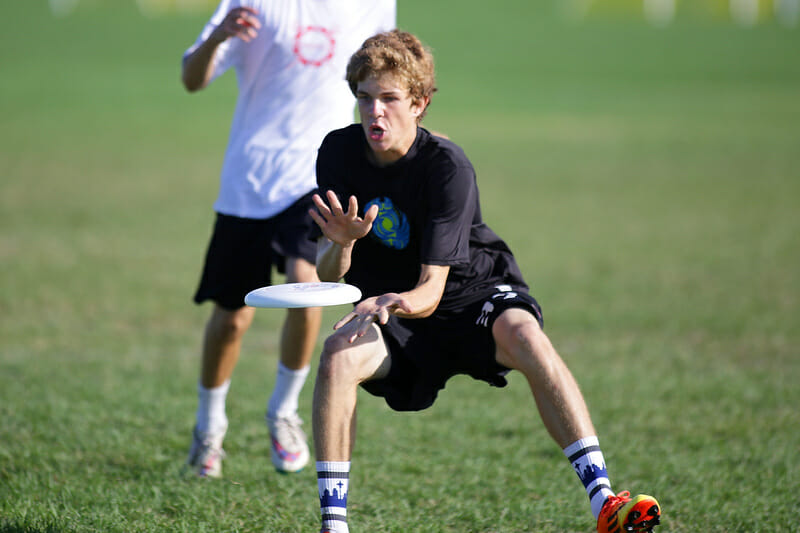 Disclosure: The author was coaching the Chicago U16 Boys.
As dozens of youth teams descended upon Blaine, Minnesota, for the Youth Club Championships this past weekend, the U-16 Boys division was especially impressive, although often overshadowed by their older counterparts.
The thirteen teams were divided into two pools, with high stakes in shortened early round games. Only four teams would advance to a small Championship bracket, meaning you had to take one of the top two spots in the pool to have a chance at the National title.
Pool A
Disc NW-Olympus of Seattle and DEVYL of the Delaware/ New Jersey area were the top dogs of this group, head and shoulders above all of the competition all weekend, showing that they both belonged in the Championship (which they later were).
Seattle came in as the defending champs and played like it, showing utter confidence throughout the tourney, especially relying on fast attacking shots with their deep game. If an opponent made a mistake, Olympus was moving within seconds, racing up the field, and running up points in quick, dominating huck contests, using a lot of athleticism to come down with the big hucks for scores.
Disc NW took the top spot in the pool, cruising easily, their only close game coming against DEVYL, who they still pummeled to win 13-5.
DEVYL was a team of handler virtuosos, frequently using lightning quick throw-and-gos, something particularly hard to stop at this level. Combine that with a few tall athletes and tough defenders who could lay out in a zone or man defense, and they fielded a fearsome squad. Their pulls and pull coverage, especially, were admirable all weekend.
Chicago Deep Dish took the third spot in the pool, using an aggressive huck game and gritty defense to scrap out a 3-2 record, narrowly edging Colorado Cuththroat and their incredibly disciplined vertical stack for the placement.
Pulse of Pittsburgh was a team of scrappy defenders and a strong deep game, and the Flying Piglets of Cincinnati played a very smart zone that could trap on the sidelines well, but the teams finished 4th and 5th in Pool A, respectively.
Pool B
Pool B had an additional team, which changed their format significantly, forcing short games to 11 in each contest, partially leading to the extremely tight placement fights near the top.
NC Hammer of North Carolina took the pool as the Triangle continues to field high-quality teams at YCC. Hammer excelled at using the break space in important situations, and had players who could move downfield and throw confidently, which helped lead them to victory.
North Carolina's only loss came to the unabashed INtensity of Indiana, a team that carried themselves with surety all weekend long, despite low numbers. They ran tight lines, hucked early and often, and adapted well to their opponents.
Unfortunately, Indiana was the victim of the Pool B tiebreakers. Despite going 4-2 and beating the pool winner, it would be NC Hammer and Aftershock, from the Bay Area, who would advance, both going 5-1. Aftershock put up some of the best scores on the weekend, only losing two close games, and showed a veteran experience that might have put them in the Championship, had they been able to play DEVYL in semis. Instead, due to finishing second in their pool because of a close loss to NC Hammer (later avenged), they came up against Seattle.
ATlas of Atlanta, was another 4-2 team that played well all weekend, but missed the big bracket, instead finding their way to the fifth place game on the backs of their tall and fast receivers.
Nightmare of Naperville, Illinois and DEVYL B both showed great improvement over the weekend, but fell to the bottom of the pool.
Sunday Bracket
Seattle and DEVYL each had solid, but comfortable games against opponents in the semifinals, setting up a rematch in the championship game after a lengthy rain delay which threw off the timing of the entire tournament. This second battle would be much closer in score and a fun one to watch.
DEVYL came out firing, led by Kevin Tsui who was a rock for the team all weekend. He would often anchor the handling line, but then move upfield (several times as part of the handler weave) and gathered up 19 goals and 5 assists for the tournament.
Eli Weaver was an assist machine for the squad, dishing 18 with seven goals of his own, and it shows how important DEVYL's handlers were to their success. Add on strong play from Harry McNamara, another assist beast, and tall cutter Aidan Boland, and the team was very tough to beat.
The score was tied early, with DEVYL holding the initiative at 5-4 in the finals. DEVYL's handlers were controlling the game well and the team was doing a good job of forcing Seattle's offense to set up. Denied the fast break, Seattle at times struggled in their horizontal stack with set pieces, especially when their isolated cutters were well guarded.
But Seattle settled down and found their rhythm. Olympus spread their goals around from the weekend, unafraid to huck to any of their cutters. Guys like Connor Ryan, Marc Munoz, and Gabe Port, often their most dangerous isolated cutter, were making catches in the endzone all tournament.
Port also fired off 10 assists to add to his 11 goals for the weekend. June Rapisura didn't notch quite as high of numbers, but was still an incredibly important leader and lynch pin for the squad, getting clutch blocks and moving the disc at the most important times.
Both teams made incredible plays throughout the finals, with several big blocks and skies, but Seattle was eventually able to pull away, as they forced DEVYL's handlers back field, occasionally leading to high-stall turns, and using their athleticism to win the big points.
The final finished a close and exciting 12-9, with DiscNW Olympus as the repeat champions.