With numerous close and competitive games at a parity-filled event, it took grit and perseverance for Center Grove to bring home the Cup.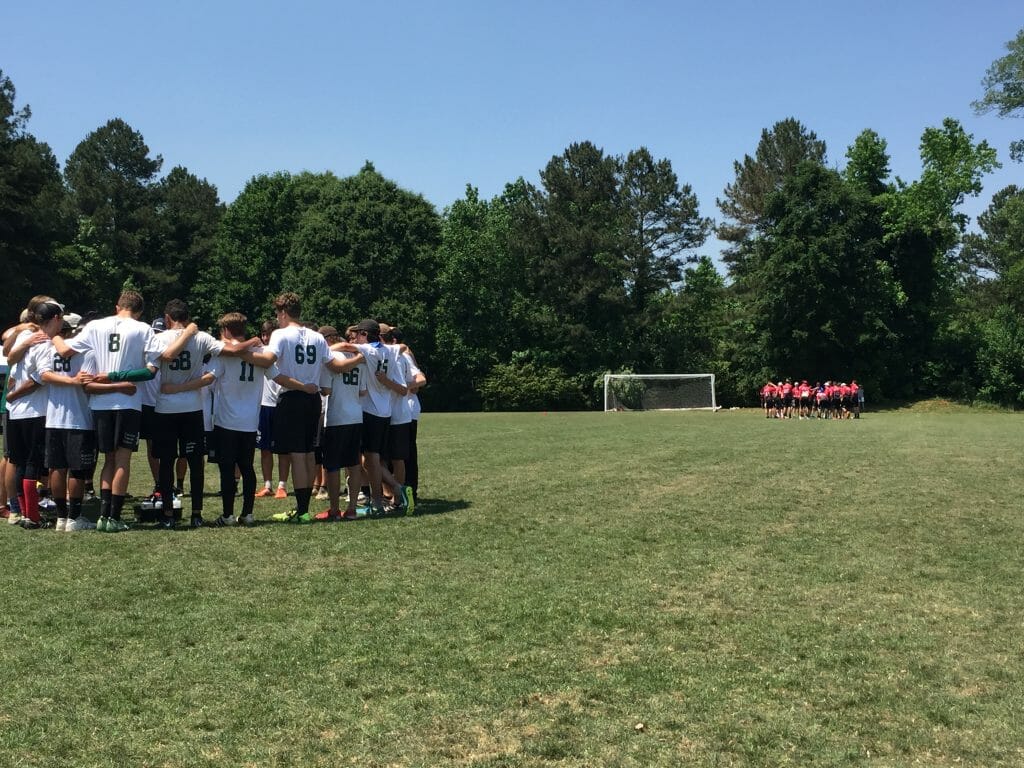 Ultiworld's coverage of Paideia Cup is presented by CUT Camps; all opinions are those of the author. Please support the brands that make Ultiworld possible and check out CUT Camps!
ATLANTA — With a small but strong field, competition at Paideia Cup was intense. In the Atlanta heat, teams were taking whatever they could get for hydration, nutrition, and shade. On the field, teams were taking whatever edges they could find against high caliber opposition. Only four games were decided by five or more goals. Backed by a supportive squadron of family and friends, Center Grove emerged as the Paideia Cup champion in dramatic comeback fashion, defeating Carolina Friends School in the final, 12-11.
Big Throws and Small Margins for Center Grove
"More than ultimate, we talk about loving the grind, fighting through adversity, and never quitting."
Center Grove coach Jake Phillips explained this to me after his Trojans came back to win the Paideia Cup final on double game point. The season has been filled with close games and comebacks for #6 Center Grove (IN) and that trend continued at Python Park. In their second game of Saturday, they needed a break on double game point to come back to take down the home team. They fought off Grady later in the day, pushing from 6-6 to an 11-9 victory.
And of course, there was the final against Carolina Friends School. Center Grove fell into a 6-2 hole, stifled by CFS's defensive poaches, switches, and zone defense, which offered either difficult gainers or horizontal yardage to the Trojan offense.  "We kept throwing it away. We were forcing tight things," said Phillips after the game.
When they failed to execute, CFS senior Jake Taylor and fellow thrower Mateo Rimer-Surles were there to make CG pay with bombs to Kevin Pignone, Jason Manning, and Simon Covington. The rangy Taylor proved to be a problem from the backfield for the Center Grove defense. The Carolinians held a 7-3 advantage halfway through the game.
"Jake Taylor was throwing up some bombs," said Phillips. "We were intentionally poaching open side lanes to force him to swing, being more inside on him and shading a little bit deep."
The adjustments worked for their defense late in the second half, as Taylor cooled off and the Center Grove handlers started to heat up. Seniors Alex Henderson and Dustin Baird did a lot of the heavy lifting for the club from Indiana, throwing scoobers over the cup and poaches, arcing long hammers, and ripping hucks when able. The shots that weren't falling in the first half started connecting in the second.
"They've been hot all weekend, so we let them keep rolling," said Phillips.
The comeback wasn't easy. Baird ripped a hammer for an assist and followed that up with a clutch catch outside the end zone, racking up another assist to make it 8-6. Carolina Friends responded with a pair of goals, but Center Grove got the following hold and earned a break on a Henderson hammer to make it 10-8. On the next point, Henderson cannoned a backhand huck to Baird, who had enough separation to jump the catch in for the score. Baird spiked the disc, but crumpled to the ground clutching his ankle. As one of their two stars was carried off the field by a coach, it felt like Center Grove's chances at a comeback were also getting sidelined.
Carolina Friends was set to receive up 10-9 against a Center Grove team that had just lost one of their biggest contributors. Henderson had been a nightmare for defenses throughout the tournament, but he and Taylor were going blow for blow as they spent most of the second half matched up.
"I kind of felt like both of them had the advantage offensively," said Carolina Friends coach Matt Gouchoe-Hanas following the final. "They applied pressure to one another defensively, but at the end of the day, both of them had a huge impact offensively. When you've got throwers as talented as both of them are, it's tough to slow them down."
Instead of fading, Center Grove only leaned further towards the finish line. After an out of bounds Pignone backhand, Henderson initiated the offense with a skillful hammer to get off of the sideline and closed the possession with an upline to the break side cone to tie it at 10-10. On the next possession, senior John Soderdahl launched himself into the lane for a well-timed layout poach block. It wasn't long before another Henderson hammer gave Center Grove the break to take the lead just prior to the hard cap horn sounding.
"They know where they are on the bench and when it's their turn to step up. I'm proud of them for rising to the occasion in a big game," said Phillips of his team's depth.
CFS forced the game to double game point after a Taylor huck to Manning, followed by a Pignone around backhand to Taylor for the contested catch goal. But on the next point, Center Grove stayed patient, getting a critical layout save from senior Jeremy Keusch, until senior Caleb Sulya scooted behind the defense, presenting a wide open target for a Henderson backhand huck. Sulya hauled in the game winner.
It was an emotional victory for Center Grove. Both players and fans shed a few tears of joy and pride, embracing after the spirit circle cleared. It was a tremendous performance for both Baird and Henderson, the latter of which earned praise from Gouchoe-Hanas as "one of the most talented high school throwers I've ever seen." And while Henderson's grit and talent shone through brightly, his coach praised his poise and influence as reasons why his team was able to rise up in difficult times again and again.
"He's had a lot of pressure-filled games and he knows how to stay calm and control the pace. Other handlers who might be a little bit younger or less experienced, they follow suit," said Phillips.
But the victory was also big for a program from a developing ultimate community that's fought its way to the bigger stages of the division.
"We've looked up to, watched showcase games, and watched video of the teams that come to Paideia Cup for years," said Phillips. "…We don't just dream about Carolina Friends and look up to them, but we can actually be their equals and give them a game. Building up Indiana ultimate is a huge thing for us."
Young Carolina Friends Squad One to Watch in 2019
It was surprising to learn just how young the #10 Carolina Friends School (NC) squad was this year. Many juniors were major contributors to the team, particularly Pignone, the type of heady handler that Carolina has grown a reputation for developing. They were clearly a strong team this season, especially when Taylor was able to connect with his athletic targets downfield, like when they completely dismantled Grady on Saturday, 13-5. But some close games this weekend strengthened the core of this team, even if the Center Grove loss was a painful one.
"It's tough. They care a lot and they put a lot of time and effort into this kind of thing," said Gouchoe-Hanas. "There's only so much you can say in the moment that makes them feel okay about it."
Like Center Grove, CFS had a very close game against Paideia that could have changed their weekend, but they pulled it out to start their tournament. Also like Center Grove, they took a loss Sunday morning when they had already locked up a spot in the final. Other than that, it was mostly smooth sailing for a CFS team that exudes more poise than a young team typically can muster. While that's very much in line of the playing reputation of Gouchoe-Hanas, he credits the team's collective passion.
"They really impress me any time we come upon some type of adversity. They collect themselves," said the coach and star for #2 North Carolina in the college men's division. "…We go around the circle and they express their appreciation for one another and their love for one another. It's really impressive and profound. It's not something that comes from me as a coach, it's from their caring for each other. It's special and it's on them. It's their team."
While the team loses Taylor and a few others, it looks like Carolina Friends will remain one of the most competitive clubs in the division next year.
Missed Chances Sink Paideia
If you couldn't tell, there were a lot of games at Python Park that came down to the last few points. More than a few of those involved #22 Paideia (GA). Their first three games were decided by a combined four points, including two double game point losses to the future finalists.
It was pretty clear the difference between Gruel's successes and struggles: offensive discipline. When senior William Johnson and junior David Chalmers could keep the disc moving by grinding unders and break throws, Paideia looked like the fundamentally sound team the program is known for. It opened up space for shots to athletes like Ben Dameron and Matthew Shu, or just created room for Chalmers to use his explosiveness to get up the line. When things went off the rails, it was usually due to hammers towards the end zone at early stall counts or contested hucks.
It's hard not to look back at those first three games and imagine a very different ending for Paideia at their home tournament. They did, however, get to send the seniors off on a high note: a thumping victory over crosstown rival, Grady.
Quick Hits
It was a bumpy weekend for #3 Grady (GA), the favorite entering the weekend. They dropped more games this weekend (3) than they had the rest of the season (2). While Aidan Downey was a menace in the red zone to most defenses, injuries kept the team from ever hitting stride. Cutter Jack Persons was in and out of the lineup, leaving Franky Fernandez to carry more of the goal-scoring load.
Paideia Cup was a disappointment for #7 Neuqua Valley (IL), who came up short with a 1-4 record. Along with star Joe Kennedy, Joe Cercello and Ethan Smith both stood out at playmakers for NV. But there simply wasn't enough consistency, particularly on defense, for the team to overcome such challenging competition round after round. But you'll be hard to pressed to find another tournament with teams this talented at the bottom of the standings.
#14 Columbia (NJ) lacked depth, but not fire. They were narrowly defeated by Paideia Saturday morning and had to wait until the final round to have another shot at a a crunch time win. Up in the second half against Neuqua Valley, they dialed up the defensive pressure. They were led on both sides of the disc by Daniel Friedman-Brown, who frequently put up quality deep shots, to be hauled in by the likes of Tristan Yarter. Columbia got the win in hard cap.