It was a spirited and fun weekend for YCC's newest, and smallest, division.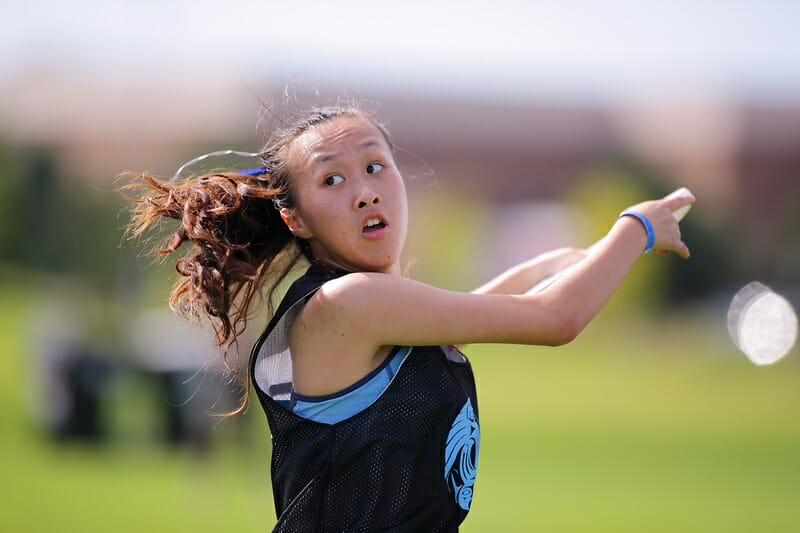 The U-16 girls division more than doubled in size in its second year, from three teams in 2014 to eight teams this year. Unlike the other divisions at YCC, the U16 girls played 5 on 5 instead of 7 on 7, which worked well, allowing at least two teams to attend that couldn't have in the larger format, and helping everyone get more touches.
All three of last year's teams came again in 2015. Seattle, famous for its girls program, sent 21 players, divided into two teams. Cincinnati's Belle returned half their squad from 2014 and were seeded third. The Kittyhawks from Raleigh returned only one girl, and were seeded fourth. The five new teams included Belly of the Beast from the Bay Area, Portland Riptide from Maine, a team assembled from free agents who came as individuals, and the hometown favorites, Minnesota Superior.
In conjunction with the Girls Ultimate Movement (GUM), USAU decided to run the U16 girls division differently than the others, with all the players spending Friday in clinics and workshops, and playing the tournament 5v5 on smaller fields.
In addition to those changes, the presence of instructional observers was a novel experience for most of the girls. Each team played at least one game with observers, part of a USAU initiative to accustom young players to seeing them. As anyone who has watched U16 girls can attest, the last thing they need is help resolving foul disputes, but the reaction from players and coaches was positive. Some players said they felt nervous having an official watch them like that, but all agreed that it was helpful to have a neutral rules expert on hand.
Friday (Day 1)
Heather Ann Brauer and the other GUM leaders organized a series of activities for the girls to help the ones from newer programs see themselves as part of a larger women's ultimate community instead of an afterthought to their school's boys' team. They spent the morning scrambled into groups with players from other parts of the country and rotating through clinics, where they learned plays and played goaltimate. After lunch, they moved inside for interactive sessions about GUM, recruiting, and a discussion about what the organization could do to help them build girls' programs back home.
When the clinics ended, they moved outside to finish the day with a casual scrimmage. There was some chatter among the girls about wanting to go watch the older players' games instead; perhaps next year USAU could schedule a U19 girls game or two nearby for them to watch, especially given how busy their six games in the next two days kept them.
Saturday (Day 2)
After a chilly morning, Saturday turned out to be a beautiful day for ultimate. A little wind made it interesting, but not enough to make it difficult. For some reason, the organizers decided to isolate the younger girls on fields separated from other divisions by a long walk and a busy road, detracting from the sense of participation in the larger event.
The eight teams divided into two pools, with a Seattle team atop each one. Belle and the Kittyhawks were seeded 3rd and 4th based on their attendance last year.
As expected, the two Seattle teams came out strong, winning all of their games by lopsided margins. The closest any other team came was the Kittyhawks, but even that was no closer than 13-5. Still, that was better than 2014, when none of their opponents scored more than a single point. Both Seattle teams had great depth, with everyone making solid catches and throws, but it was hard to miss Bailey Shigley's monster 20 assist performance for Echo II.
In pool A, Kennedy McCarthy led Portland's Riptide to break seed with a victory over Belle in round two. In the past few years the youth ultimate scene in Portland has grown rapidly (in the few months a year that Maine weather allows, no less) to include a junior high school league, and it looks like they have a bright future.
The free agent team played hard in their snazzy GUM tanks but it's not easy to come together as a team at last minute. Cutters Mari Scott and Amy Farquharson kept moving downfield in what looked like a huck and play D strategy, but without a consistent deep thrower, they struggled to score.
Pool B featured the most intense game of the day, with the Kittyhawks playing San Fransisco's Belly of the Beast in the first round. In addition to the new Bay Area faces, Belly also had two players who had come to 2014 YCC as free agents, Lauren and Ava Hanna from San Diego (who should have won spirit awards just for the eight hour drive to practice!) who were involved in eight of their team's 10 scores.
The Kittyhawks took an early lead with their unexpected zone defense, but Belly tied it up at 4, and the two teams traded points until the cap went on at 10-10. After a see-saw point with three D's, the Kittyhawks eventually punched it in for the win.
With Belle stumbling, Raleigh and Portland joined Seattle at the top of the two pools. Unlike the U19 girls, where only the top two teams in each pool went to the championship bracket, all eight teams placed into quarterfinals, giving the girls from Cincinnati and San Francisco another chance.
Sunday (Day 3)
Quarterfinals were set by their seeding from Saturday, forcing the Free Agents and the hometown Minnesota teams into tough matchups against Seattle that went as expected. Seeding went awry in the other two games, though.
In one game, Portland scored first on San Francisco, only to see Belly run off 10 straight points and advance to semi-finals 13-4. In the other, a rejuvenated Cincinnati team overcame whatever had plagued them on Saturday and took a 10-5 lead before Raleigh recovered with a 5-2 rally to make the score a respectable 12-10 at hard cap.
In the semis, Cincinnati and San Francisco matched up against the two Seattle teams. Fired up by the opportunity, both teams played hard, with Cinncinati scoring 8 points and San Francisco 7, new high water marks against last year's champions. In the end, though, Seattle's depth was just too much, setting up an all-Seattle final.
The organizers agreed to recombine the Seattle team into one for first place, with the other two teams playing for second. A classic Midwestern thunderstorm rolled through in mid-afternoon, temporarily halting play, but when it resumed, Belle pulled out a 13-10 victory over the girls from California, repeating their second place finish from 2014.
The tournament format ensured that the other four teams had three games on Sunday as well, with the Kittyhawks finishing in fifth with a win over Portland that was called mid-way through for lightning, and Minnesota notched a win over the Free Agent team for seventh.
Final Thoughts
The division featured spirited, cheerful play from top to bottom. It was common to hear players cheering when their opponents made great plays, and high-fives all around. This seems to come naturally to the U16 girls, but kudos to the coaches as well for keeping everyone positive and encouraging, even when the scores weren't.
The 5-on-5 format that favors shallower teams muted Seattle's dominance somewhat, but it's clear that DiscNW is still a step ahead of the rest of the country. Nevertheless, the scores from this weekend suggest that the gap may be slowly closing. The other teams had individual players who could go toe-to-toe with the top Seattle girls, and as U15 girls' leagues pop up in cities like Raleigh and elsewhere, DiscNW's edge in experience (they returned 11 girls from 2014, more than all other teams combined) will continue to erode. Will it be enough to make a difference in the final standings? Stay tuned for next year's U16 girls YCC!