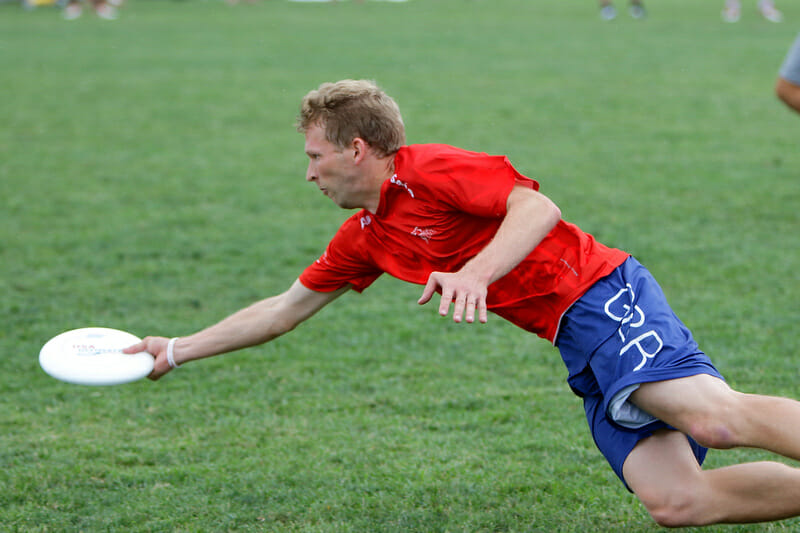 Great Britain won the Open Division at last week's European Ultimate Championship with a 17-14 win over Germany in the final in Copenhagen. Held every four years, EUC was last won by Sweden in 2011 in controversial circumstances over a young GB team.
2015's final was close throughout, with Germany having multiple chances to level the score until GB pulled into a three point lead late in the game courtesy of a high block from Sam Bowen.
The game started off in GB's favor with a break after Germany threw a clumsy swing that missed its target. But Germany answered back as Philipp Haas ripped deep to Holger Beuttenmuller to open the scoring for Germany.
Beuttenmuller scores for Germany
There were no further turnovers until GB's Justin Foord overthrew Magnus Wilson in the endzone. Germany threw away on a questionable deep shot from Christophe Koble (now playing for Boston Ironside), but a simple drop from Jaimie Cross allowed Germany to break to get back on serve, 4-3.
The next point showed GB flow easily to the red zone with little defensive pressure until Ben Parsons was unable to move the disc and forced to throw a high stall crossfield blade — something that became a feature of the game as Germany was able to force GB into high stall situations repeatedly. GB's play generally involves a single isolated cutter, and when Germany was able to poach or switch to take this away, GB had no reliable backup. However, their receivers sometimes bailed them out, as on this occasion when Matt Parslow pulled the stall 9 throw in for GB:
Teams traded until 7-7, when GB grabbed another break after Germany threw into a poach. Germany turned it over on the first pass after a timeout in the next point, but after GB failed to complete a pass, Germany showed their ability to reset creatively under high pressure, something that differentiated the two teams, and a skill that Germany flashed throughout the game:
Germany's fouling on the mark was sloppy and often ineffective against a GB team completely used to playing a physical game. That said, several of the high stall situations involved GB's younger players being fouled heavily. The lack of Game Advisors meant little recourse for GB when heavily fouled; below, we see Foord being hacked on the mark while throwing deep to Parsons, who is mugged on the reception. Despite the pressure, GB held on to take half 9-8, up one break.
GB had four receivers that Germany had no answer for: Justin Foord, Matt Parslow, Ben Parsons, and Ashley Yeo. They were able to bail out throwers with some solid boxing out and tough catches under pressure, but mostly it was a story of hard, decisive cutting that the German defenders were unable to stop. GB started the second half with Foord hucking to Yeo, then a Parsons score to take GB up 10-8.
The teams traded for a few more points, with Germany proving very effective at hitting handler cuts upline, until an underthrown deep shot into a narrow lane gave former NexGen player Ollie Gordon a chance for a shoulder-high layout block. However, GB gave Haas an easy block and Germany struck deep immediately to bring the score to 11-10.
Germany continued to bring lumber in the next point, forcing another high stall hammer which was saved by Ben Funk, and a pre-emptive backpack layout got Foord angry. Despite the pressure, GB held without turning.
Germany's deep game was impressive, connecting on multiple deep shots to open receivers who caught in stride, with no chance of defensive pressure, with Tiro showing off some superb throwing here to bring the Germans back within one, down 12-11. In contrast, GB lacked the precision deep throwing of Germany, but more than made up for it with receivers used to bringing down the disc under pressure.
Germany got a chance to break in the next point after Cross threw into traffic, but Koble threw away twice, and GB were able to hold on a multiple turnover point to maintain the two point lead, 13-11. This would be the last turn until Bowen came up with a block and subsequent assist that put GB up 16-13, all but winning the game for GB.
Germany was able to score easily on their next offensive possession. The final point of the game proved fairly typical with GB forced into a high stall turnover; Koble then threw his fourth turnover of the game as Foord made a ridiculous layout catch D to save the game and give GB the European gold.
Both teams scored 10 goals on offense without turning it over. The difference lay with the offensive firepower of their respective defensive lines; GB managed three breaks from six attempts. While a 50% conversion rate isn't going to win them a world championship, it was good enough in a high pressure European final to bring home the gold. GB's D line showed some patience, but they will need to be more comfortable at creating scoring opportunities rather than just waiting for something to happen; Jake Aspin was great at hitting throws towards the break side of the field and setting up power positions, and GB needs more of his style of play. Hopefully, they can start to build the kind of chemistry that Clapham's D line has shown in the past.
Germany will be extremely unhappy with the performance of their D line's offense, managing just one break from seven possessions in five different points. They had chances to win this game, and fluffed it. GB's offense was able to get the disc back far more often in this game — six from seven turns — than they could ever expect against an elite North American team, especially since the majority of turns were simple offensive miscues. Integrating the Boston-based Koble is clearly going to take work — he threw four of the six turns on the German D-line — but this German team has lots of promise and I'm excited to see what they can achieve at WUGC next summer.