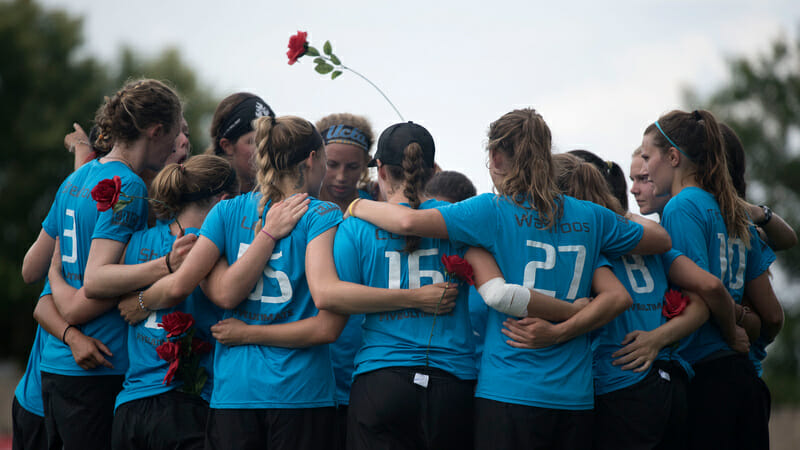 In our final installment of our Q&A (see also Part 1 and Part 2) with the All Star Ultimate Tour, we hear from Carolyn Normile, Jesse Shofner, Dori Franklin, Qxhna Titcomb, and Kate Scarth dishing on retired legends, the team's best whip and nae nae, and playing for more than yourself.
Q: Where and how old were you when you played your first game of ultimate?
CN: I was 14 as a freshman at Lower Merion High School in the Philadelphia suburbs. I wanted to try something new and loved ultimate from the start.
JS: I was in 8th grade. I went to a tournament with the high school girls team, where we only played against teams of boys. It was the only option.
DF: I was 18. I was in Chicago and I was playing summer league with one of my brother's best friends. It was the summer after my senior year of high school.
QT: I played my first game of ultimate when I subbed for my sister at a middle school tournament—her team only had 7 or 8 people and she needed a rest. I was 7 years old and just ran around not knowing what I was doing.
KS: I was 6th grade. It was my middle school team.
Q: Which player(s) that you've never played with before would you most like to play with at some point during your career?
CN: I would love to play with Gwen Ambler, Opi Payne, Cassie Swafford, Rohre Titcomb, Paige Soper, Lauren Boyle, Carolyn Matthews. Luckily I've gotten to play with a bunch of my idols this summer on the [U23] Worlds and All-Star teams.
JS: A lot of those people are on this team. Lisa, Alika, I'd love to play with Opi.
DF: Alex Snyder. She played on Kali, my college team, and also she won the Callahan.
QT: If I'd been asked this question last year, I'd have said my sister Rohre Titcomb. I've had the honor and pleasure of playing with her at Beach Worlds and on Riot this year so I'm living the dream. Other than her, I would love to get to play with Miranda Roth (even though she's semi-retired!), Sophie Darch, Cassie Swafford, and Alicia White. After playing against Jenny Fey in D.C,. I'd have to add her to the list too. Incredible handler with great throws.
KS: Fitz [Caitlin Fitzgerald]! I was looking forward to playing with her on the tour, and I was really disappointed when I heard about her injury.
Q: Who on the Tour has the best dance moves?
CN: Megan Cousins and Lisa P.
JS: Megan Cousins. But, Alika has the best Whip and Nae Nae combination.
DF: Lisa P.
QT: It's gotta be Lisa P's pencil sharpener dance. Although Jaclyn has also been killing it.
KS: Cuz. I feel like that is a popular opinion.
Q: What has been the most inspiring moment on the Tour so far?
CN: After our first game against Riot, little girls and boys came up to us and asked us to sign shirts and discs. Here I truly felt that I was doing something amazing for women in ultimate and inspired me to be the best ultimate player, leader, and friend that I could be.
JS: That's really hard. I'm going to have to go with two. First, when we were warming up for the Seattle Riot game… it was just incredible how well things were clicking, how well we trusted each other, and how well we were performing. Especially in the beginning. Second, when we are setting up for games and unloading. Everyone has their own jobs and everyone is cranking out their jobs so we can start practicing. And then, volunteers show up, and it's just random people coming to make this project happen—it's awe-striking to me. It's so sweet that people give their time to help things fall into place.
DF: So far, it was after the Seattle game. The crowd wanted to meet us and little kids wanted to talk to us. It was a very humbling experience. It made me realize from the beginning that it's not just about me. It's about the girls who are inspired from this, and that moment made me realize it. That realization has reoccurred in a way during every game, when the crowd fills out and we see how many people come and watch. It's unbelievable. I had no idea how big the ultimate community was.
QT: Oof. So many. Every once in a while I'll be sitting in the van, listening to people talking and laughing around me and I've gotten chills. That this whole project has come together at all has been my biggest dream. On the field, every time that I jog to the line on offense and see six of my other teammates jogging at me, I just can't help but smile. My teammates inspire me.
KS: I think it's been hearing from all the women we've played. In the spirit circles after games, we've had a lot of women express their thanks for being a part of the tour. To me, that's crazy because it is an amazing opportunity. But just seeing that people are supporting us and watching us has been really good. It's been nice to see that people appreciate what we're doing, and the spirit circle is firsthand knowledge of that.

Q: If you could give one piece of advice to a girl just picking up a disc for the first time, what would it be?
CN: Shoot for the moon.
JS: I wrote about this in my blog post. Stick with it. It's worth it.
DF: Don't quit before you learn how to throw. It can be really hard and frustrating, but once you learn how to throw, it becomes so much more fun.
QT: Working hard pays off.
KS: Be persistent. It's not fun to be bad at something, so in the beginning, it's not as fun as it will be. You have to stick with it until you're happy with how you are playing.
—
The All Star Ultimate Tour may be over, but if you missed any of the action you can check out videos of all their games and may other moments throughout the Tour on their YouTube page.