Can Sub Zero move beyond their reputation for goofiness?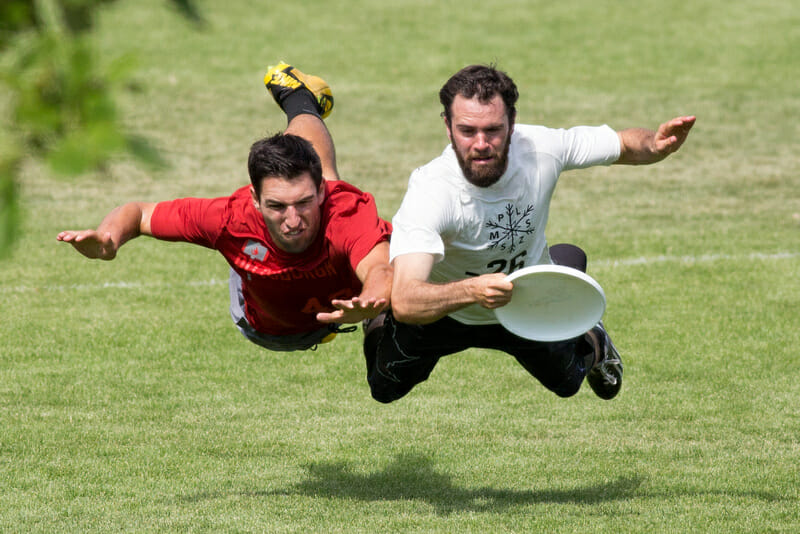 Sub Zero consistently surprises.
Whether it's rocking mustaches and tight pants at Nationals or their ability to beat or lose to any team on any given day, it is hard to define this enigma of a team.
A team of unknowns, of potential, of maddening inconsistency, Sub Zero stunned the field at 2013 Club Nationals by knocking off third-seeded GOAT in the first game of the tournament, before falling to eventual champ Revolver in the quarterfinals. In 2014, their darkhorse campaign again led to a narrow second place finish in their pool (with only a loss on double game point to Chicago Machine) at last year's Championships. However, in typical up-and-down fashion, they would then go winless for the rest of the tournament.
Around the top levels of the game, people can agree on two things about Sub Zero: it's impossible to predict how they'll finish at their next tournament…and no one wants to face them.
The Threats
Minneapolis's roster, an athletic Midwestern army led by a few often overlooked stars, is what keeps them competitive, even amongst the elite.
Carleton alums Simon Montague, Grant Lindsley, and Nick Stuart all bring top notch play-making ability. But they can only do so much.
The depth of the roster—on the defensive line especially—is the biggest question mark for their game-to-game performance, as it has been for the past few seasons. Guys like Ben Feldmen, Josh Klane, and a bevy of other talent from the North Central region schools of Carleton, Minnesota, and Wisconsin fill out a long and solid list of players that have the ability to keep them in games, but in 2014 Sub's D-line really struggled converting break opportunities.
In the prequarters of Nationals last October, GOAT did an excellent job of pushing Minnesota's best players away from the disc. Without the top four active in the backfield, the D-line got stagnant and trapped, lacking the ability to attack laterally, which too often resulted in turned swings or over-aggressive deep looks. The game became a huck battle, with both lines opting for deep shots over patience. Unfortunately for Sub, Toronto won that war, showing that you need depth to succeed at the elite level.
Minneapolis hopes things will be significantly different for the D-line in 2015, with a lot of turnover in that portion of the roster.
"We have added a lot of younger, athletic players who are either in college or recently graduated," explained Montague.
The good news for Minneapolis is that three of their stars—Lindsley, Montague, and Stuart—are back, and that the team leadership is focused on a renewed buy-in.
The bad news is that, with so many young players, they are in many ways starting from scratch and there will be growing pains again along the way.
The Style
Sub Zero's style is as hard to describe as their fashion sense.
Last year, Sub was adaptable because they had to be. At the beginning of the season, they started to get a reputation for playing small-ball, with guys like Lindsley and Montague playing throw-and-go and shooting off quick, beautiful break passes. However, when different pieces came into play as the roster took full form, they also proved they could bomb it deep. Stuart was a monster for them all year long in the air.
Lacking a full roster for most of the season, when so many players were missing regular season tournaments throughout the summer, it proved hard for Sub to grow together. In turn, Nationals saw them lean heavily on the top end of their roster—especially when the conditions were gusty—which left them vulnerable when another team locked down on those stars.
Due to the team's casual attitude and player commitments—several guys have traveled, had busy jobs, or had other conflicts that kept them away from the team for the heart of the summer the past two seasons—Sub Zero has struggled to find a true identity and build upon it year-over-year.
"There is a big emphasis on focus and dedication that has been missing in years past," said Montague. "Over the past few seasons we have become known for being goofy, relaxed, and not taking ourselves too seriously. While it can be a lot of fun—and sometimes beneficial—to embrace that type of identity, we found that it wasn't sustainable over the course of a single tournament and also the entire season."
In 2015, they continue their search for consistency and look to capture and hold onto success.
"This year we are taking a more business-like approach; getting the most out of every practice and game by always going at 100%, buying into the systems we have in place, and only focusing on what we can control," said Montague.
Inconsistency To Start
The name of the game so far this season is still inconsistency.
Montague and the leaders are aware that the team has in the past had trouble bringing full effort and focus to every game regardless of their opponent, always playing to the level of their competition. While this means they're in almost every game, it also means they occasionally play down, rarely executing their own high style or finishing off an opponent efficiently. It leaves them very vulnerable to close losses; allowing good teams to remain in games gives opponents too many chances to come back.
"It is important that we can maintain our effort and energy regardless of the who we're playing, because that consistency is what allows you to be successful over the course of an entire tournament and season," said Montague.
More specifically, they want to be more possession-oriented, especially emphasizing quick disc movement—tenets that are beautifully executed by their top players, especially Montague and Lindsley. Minneapolis looks to up their D-line's conversion rate with a renewed focus on precision that they hope will help them improve both their skills and consistency throughout the season.
At the Elite-Select Flight Challenge earlier this summer, Sub looked raw and young. While their squad showed potential overall, the full depth of the team wasn't playing at Nationals caliber.
More recently, at the Pro-Elite Challenge, there were early indications that perhaps some of that inconsistency had worn away. Sub Zero started the tournament by winning their first two games in Pool C, losing narrowly (10-13) to pool winner—and eventual tournament champion—Seattle Sockeye, and having strong hopes entering bracket play.
But the two pool play wins over Ironside and Chain Lightning—two other teams that are experiencing changes of the guard and searching for new identities—would be the only wins of the tournament. Sub played close to their opponents throughout the weekend (their worst losses were only by three) but fell to PoNY, Truck Stop, and Temper in tight battles.
Montague's been satisfied so far, but sees the need to grow. "Our season has been very successful thus far in the sense that we have been consistently improving every practice and tournament," he explains. "Having a large roster turnover means that we needed to start from scratch, teaching our systems and style of play and also getting everyone to buy into the hard-working, focused team identity we are striving for."
Now it's a question of time and effort. Can Minneapolis use the remaining weeks of the season to build off their successes?
If this was last year's Sub Zero, the answer would have likely been no, leaving the team to struggle to adapt and fight in each contest. But this year, the renewed conviction and commitment provides hope, and if Sub can find a solution to their turnover problems, they'll be very dangerous indeed.
The Overall Picture

Sub Zero is still searching for consistency in tournaments.
Their stars all provide elite abilities that help keep them in every game. But the depth of the squad will need to rise up to carry the team deep into tournaments. If Sub can improve the conversion-rate of their D-line, especially with improved disc movement, they'll be a fearsome foe. Regardless, they'll fight tough in every match, making them the low-seeded squad that you don't want to find in your path.
"We have the talent and the level of commitment to be very successful if we can continue to improve at the rate we have been," said Montague. "The past few seasons, we have had the talent but never seemed to reach our potential. I'm excited to change that this year and prove to ourselves how good we can be."
A newly focused—and tightless—Sub Zero looks to be a threat once again this season.