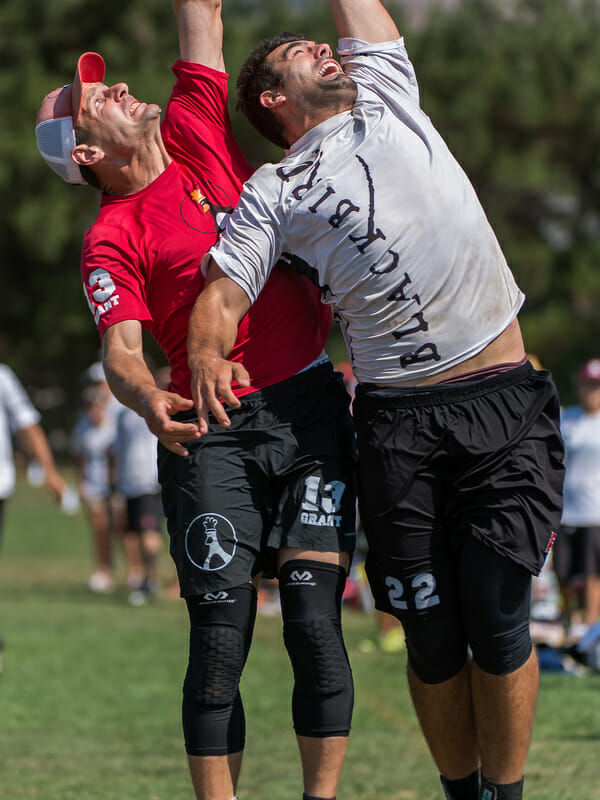 Even if there were seven bids to Nationals, Southwest Mixed Regionals would still be a frantic grudge match among old foes, crosstown rivals, upstart contenders, and previous National Champions. Every year, a host of nearly a dozen very good teams (and a handful of decent ones) fight it out in the deepest and most competitive Mixed region in the country for the allotted tickets to the Club Championships. Every year, the results are equally exciting.
The main difference this year is that, instead of claiming an almost expected five bids— as the Southwest has earned two of the last three years—the region will be fighting over a measly two.
Arguments about USAU's rankings algorithm and its fairness aside, the chips have fallen as they may and no amount of passive-aggressive complaining will change that.
Thus, sixteen hungry teams—nearly all of which have a legitimate shot of making a deep run through the labyrinthine bracket—will converge in Morgan Hill, CA this weekend to grind it out and decide which two squads get to keep practicing next week and which fourteen get to resume their complaining until next summer.
With temperatures predicted to be in the 80s/90s and a multitude of games scheduled to determine who really deserves that trip to (the other) Frisco, the tournament looks guaranteed to provide the trademark intrigue everyone has come to expect from what might be the least predictable Regionals in the division.
Here's a look at the contenders:
San Francisco Mischief
If anybody is a favorite in the stacked Southwest, it's got to be Mischief (#4 USAU, #4 Ultiworld).
After placing fifth at Nationals in 2014, Mischief is a hungry, legitimate national title contender this year. Feathers McGraw and Co. won the California club season warm-up tournament (Cal States), was a universe point away from winning Revolution1, won the Elite-Select Challenge in Colorado, and then tied for third at what they affectionately called the "Minnesota Windball Finale."
After opting out of Sectionals thanks to their Pro Flight status, Mischief is looking to put the finishing touches on their dominant Southwest season—their only in-region loss being the aforementioned finals universe point loss to San Diego Dorado—by fighting off a competitive field looking to snatch their spot away. For the 2006 National Champs, anything less than semis in Frisco would be an underwhelming and disappointing finish to their season.
With a staggering eleven semi-pro players (most of whom played together on the reigning AUDL champion San Jose Spiders) and a core that's kept them playing at a high level for years, Mischief has the experience, skills, and grit to beat any team in the country.
Sean Ham had a staggering 28 goals at Nationals last year, Preeti Nalavade is a smart cutter that demands attention, and Tyler Grant is still a tireless workhorse and leader.
Mischief is to many the proof (or the exception, depending on who you're asking) that mixed is nothing to sniff at. Though they can occasionally fall into mental lapses and dig themselves into holes (see the confounding 13-7 pool play loss to Cahoots at Colorado Cup), Mischief is almost always a team that becomes stronger when they're tested.
With a very favorable draw, it'll be interesting to see how Mischief approaches pool play. How much their starters and stars play, how focused and "in" the team is into each game, and how they define their attitude could all come back to bite them on Sunday.
Feathers and Co. can't allow themselves to get too comfortable. Given their experience and season thus far, that's probably not likely, but everybody in the Southwest is desperate for one of those bids. If Mischief let themselves slip, they'll be left asking "What if?"
It's a testament to the quality of the San Francisco Polar Bears (#5 USAU, #7 Ultiworld)program when it can lose a sizable chunk of its handling core in Federico Chialvo, Sonny Zaccaro, Adam Raty, and Natasha Won, defensive playmakers in Kevin Cocks and Bob Madden, and tireless cutters like AJ Shankar and Ben Hubbard and still be one of the top teams in the country.
Captains Greg Marliave and An-Chi Tsou lead the kind of team that can freely exchange key parts and look markedly different every year, yet still return the same kind of elite results. Such a feat is exceptionally difficult to do, particularly in the volatile mixed division.
But with mainstays handlers like Scott Roeder, Robert Gormley, and Clay Miller throwing to workhorse cutters like Dulcy Docken, Morgan Paulson, Eric Greenwood, Daniel Naruo, and Sam Adamson, PBR is never short of fighters who don't stop until the point is over.
And it's showed.
PBR has put together solid showings at four very strong tournaments and looked all season like the best team to challenge Mischief atop the Southwest.
But with two bids, the unlucky draw of probably the toughest pool (with the always tough San Francisco American Barbecue and a rising San Francisco Alchemy), and a grueling bracket after that, not even one of the most consistent teams in the country is a lock to earn a bid to The Show.
If there's one team in the region—and possibly the country—that you can never predict until the Series rolls around, it's San Francisco Blackbird (#16 USAU, #12 Ultiworld).
They don't practice much as a whole team, especially early in the season, they rarely have anything close to their full roster at tournaments, and their regular season results are frequently incongruent with their National title aspirations and credentials.
But every year's iteration of Blackbird comes with more collective ultimate experience than nearly every other team in the division—and they have a pretty good history of knowing how to execute when it matters.
After all, back-to-back National titles is no accident.
Though, admittedly, Blackbird looks a bit more vulnerable in 2015 than it has in the past, and that includes when they missed Nationals in 2013.
Yet, all the talent and experience is still there. They have probably the most dangerous player in the region in Mac Taylor. Despite taking a massive hit with the departure of Eli Janin, their handling corps still features Justin Norden, Ryan Scribner, Casey Ikeda, and Chris Hart and should do just fine. Former San Francisco Fury pick-ups V.Y. Chow and Lauren Casey will be joined by former Mischief baller Remy Schor, which should more than make up for the loss of Hannah Kreilkamp and Anne-Franziska Sinner. And athletes like Barrs Lang, Nick Slovan, and Aaron Caulfield continue to provide match-up dilemmas for opponents.
Yet, something seems a little different about Blackbird this season.
Maybe it's an illusion created by their sporadic regular season results, but the once-dominant team from the Bay Area seems much more fallible.
It will be tough to know if this external appearance has much if any truth until the brackets are decided Sunday, but look for Blackbird to have a few closer games than one might expect, even with their relatively lighter pool.
Ever since the club restructuring in 2012 that turned the Southwest into a behemoth stacked with elite (as well as a number of very good) teams, Los Angeles 7 Figures has been a chugging force at what is often the toughest Regionals in the country, qualifying for Nationals via a top 3 finish in each of those seasons. That is no easy feat.
They've played roughly the same kind of hard-nosed person defense and aggressive offensive style since their inception and opponents continue to have trouble limiting that particular brand of Los Angeles-area confidence.
It also doesn't hurt that 7 Figures has some of the best women in the division and has quite possibly grown even stronger on that front this season. Connie Wang is the SoCal equivalent of An-Chi Tsou, leaving her defenders behind on nearly every cut. UCLA alums Alexa Cohen, Stephanie Pritchard, and Michelle Chang are all veterans of the elite game and will be further buttressed by current BLU ballers Han Chen and Kristen Pojunis.
When all of these women are on their game, it can be tough for defenses to know how to adjust, especially with skilled handlers like Aaron Jacobs, Dan Oettinger, and Matt Hennessy distributing the disc at will and tearing up the break side.
Though 7 Figures has so far been more scattered this year—at least in comparison to their perfect 12-0 regular season in 2014—expect them to show up all tournament long and potentially bring the advantage of having regularly practiced in the kind of heat expected in Morgan Hill this weekend.
Yet, even in their best years, 7 Figures has been known to periodically experience difficult stretches, particularly in the wind. So, even with their impressive Regionals resume over the last few years, nothing will be handed to them.
Luckily for Los Angeles, they're used to going out and taking it.
San Diego Dorado
Though only a second-year team, San Diego Dorado has already established itself as yet another dangerous squad to further complicate the deepest region in the country.
After last season's steady rise that culminated in a tough loss in the game-to-go, Dorado returned in 2015 with a bolstered roster and even more confidence.
They put together a respectable performance at Cal States before miraculously winning Revolution with a thrilling universe point win over Mischief in the final. Dorado looked on pace to pick up some of the slack dropped by usual mainstays like 7 Figures, ABBQ, and Blackbird, but San Diego fell in some crucial games at the Select Flight Invite in Arkansas and missed the bid cutoff.
Nevertheless, Dorado should still be considered a legitimate threat to steal that second bid, or at the very least eliminate some real quality teams.
Dominant handlers Tommy Li and Cody Kirkland can hit almost any spot on the field, regardless of the defense. Determined cutters James Lai and Chris Liu have spent years developing chemistry together at UC San Diego and are all the more dangerous when cutting in sync with strong contributors like Alexa Kirkland and Alistair McIntyre. Former Boston Ghosts handler Misha Horowitz has also made a big impact this season, providing additional veteran experience in the backfield.
Dorado likes to rip up the breakside and put up huge arcing hucks to cutters who've only just started streaking deep, and that can make it difficult for defenses to have proper time to react or recover. Though this strategy has its obvious downsides and can quickly lead to a big pile of turnovers and breaks, when San Diego's deep game is on point and their confidence is rolling, they can be quite the handful.
If they can keep it dialed in, they'll be right there in the mix on Sunday.
Sunnyvale BW Ultimate
Few would have predicted that by the end of NorCal Sectionals, the 47th ranked team in the nation would be sitting at the No. 2 spot. But that's just what perennial South Bay contenders Sunnyvale BW Ultimate did.
Despite a subpar regular season that featured convincing losses to Alchemy, Davis Bernardo, Fayetteville RUA, and San Luis Obispo Dauntless, something clicked within BW two weeks ago, and they once again proved they can be a legitimate competitor in the Southwest.
And with a comparatively easy pool (save for Blackbird), they have a real shot of putting themselves in a position to go far in the bracket.
Guys like Matthew Natali, Chris Farina, and Nicholas Raisch have all played for the San Jose Spiders and have all been making big plays together for years. Similarly, BW has brought together a core of quiet but solid women over the past few years that know how to get the job done. And the addition of some nice pieces like Thomas Pineda and Veronica Cruz should prove key in BW showing that Sectionals was no fluke.
While it's difficult to see them putting together enough clutch performances in a row to actually qualify for Nationals, there's no doubt that BW will be a tough opponent to best throughout the weekend.
San Francisco American Barbecue
Do not let American Barbecue's somewhat middling record (10-7) deceive you. They are a perennial contender in the Southwest, and 2015 is no different in that respect.
Although they went winless at the early season U.S. Open and besides Sectionals haven't played in a tournament since July 19, ABBQ might have actually gotten better this year than last.
There are far fewer bids this time around, however, and as consistent as they are within the region, ABBQ has yet to prove itself against top-tier teams.
Though ABBQ might not pass the eye test as well as some other teams (see Mischief), they can play some smooth ultimate together.
They may have lost one of the best women's players in the country, Sarah Carnahan, to Fury this season (update: she's killing it), but ABBQ still have plenty of weapons in their arsenal. Margot Stert joins the squad this year after crushing it all summer with the All-Star Tour, Tim Gilligan of Revolver signed up, and they finally have Steven Chang, of the San Jose Spiders and more recently Los Angeles Aviators, healthy for a whole season.
Veteran Jack Moxon and crew play a lot of trust ball. Friends who have played years together know where the other is going to cut and discs are thrown before a cutter's head is up.
Not only that, they wear offenses out with their tight D and are one of the most chill teams on a turn in the region.
Though this year feels awfully similar to last, with their disappointing regular season and low expectations going in (compared to the top of the field), ABBQ is going to have a much more difficult path ahead of them this weekend.
They were able to sneak away from the Southwest last year with the fifth and final bid by being able to get it done at crunch time. But ABBQ won't just have to finish ahead of two or three teams for a bid in Morgan Hill, they're going to have beat out at least five or six. While they do have the experience, trust, and discipline to win games against any of the teams in Morgan Hill this weekend, it remains to be seen if they can beat multiple good-to-great teams in a row.
They have yet to prove that they can. And that seems to be just how they like it.
The Outliers
-In only their first year, Chico Platypi has rattled off some nice performances. They've beaten some decent mid-level teams and played pretty well at NorCal Sectionals. They play a loose, college kind of game and should be a lot of fun to watch this weekend as they look for some big upsets.
-San Francisco Alchemy has shown considerable maturity and growth as a program this year. After a respectable but not amazing inaugural season last year, they've returned with a mission to get better with every game and have so far done a pretty good job on that front. They could very possibly play spoiler to some bigger names en route to capping off a solid sophomore effort in 2015.
-Though often considered something of a party team—a label they would likely not argue much—San Francisco Classy has lingered on the borders of breaking through to the higher level for the past few seasons. And after a quality NorCal Sectionals, this just might be the year they finally do.
-Despite their strong first two seasons, San Francisco Groove has struggled to put together complete tournaments this year. Though they have a good amount of talent, they'll need to have their best performance of the season in order to climb back into National contention.
---
Though it's worth noting that a large number of Mischief's players had to make the drive from Davis down to Oakland to play an AUDL game that Saturday night after four games in 90+ heat, only to come back that same night and play three more games in that same heat on Sunday, all while coping with an already truncated roster. And they still only lost by one. ↩