High Five smashed Machine and solidified a pool 1-seed at Nationals.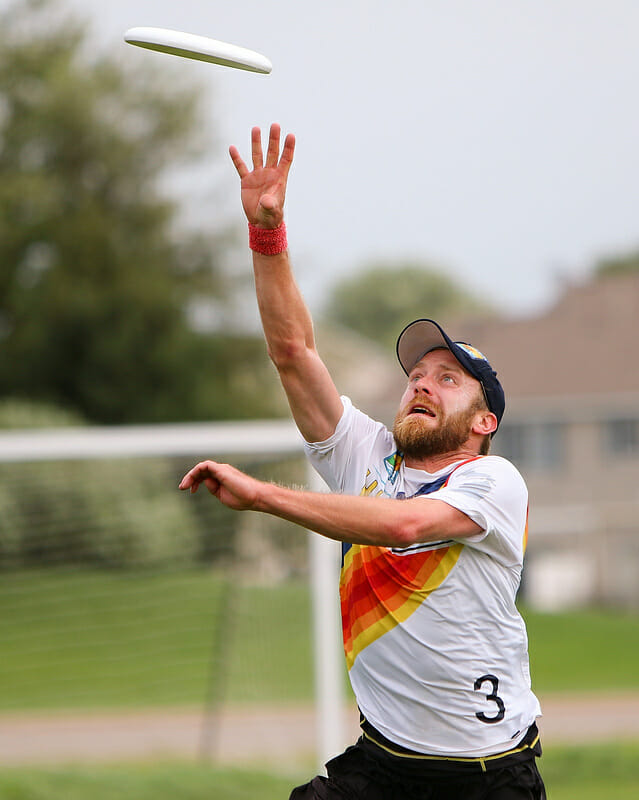 Defense wins championships, so the old saying goes, and it was true at the Great Lakes Regional this past weekend as High Five dominated the tournament to capture their first Great Lakes Region title and make a serious statement that they are legitimate semifinals contenders at the National Championships.
High Five, now a combined squad of players from Michigan and Ohio, routed Chicago Machine in the finals 15-8, knocking the defending champions off their perch for the first time since the regions were redrawn four years ago.
Machine was able to comfortably rebound to take the second bid to Frisco, but they clearly leave with a bitter taste in their mouth and a desire to improve before the final tourney of the season.
High Five, on the other hand, is only looking up.
Tuebor: "I Shall Defend"
Many of the players on High Five have been overlooked, underappreciated, and ignored, at least on a National level, for the entirety of their ultimate careers.
Largely because of the smaller, lesser-known teams they have competed for, talents like James Highsmith, Johnny Bansfield, Mitch Cihon, Nate Botti, and others have not received the attention they have deserved outside the midwest.
That should soon change.
High Five is the real deal this year. The superstars of squads with less success had a power merger that has been absolutely successful and now allows these talents to truly shine and compete where they belong. Madcow's dissolution has added depth and chemistry to High Five's already solid roster; now the results are really showing.
High Five cruised all weekend, showing they deserved to be the top seed. Their closest bracket game was a 15-8 drubbing of Enigma. They rested their top players all the way to the finals thanks to a very comfortable 15-5 win over Brickyard (fourth place in the region) in semifinals.
Throughout the tournament, it was High Five's defense and athleticism which most caught the eye. The team has built its identity around ideas like "coverage sacks" on team defense, and they were smothering other squads, making big blocks when it mattered most.
Printed upon the back of their jerseys is "Tuebor," a latin word meaning "I will defend," taken from the Great Seal of Michigan, in reference to Michigan's position as a frontier state. Now that inscription has brought new meaning to a team whose defense has carried them to the elite level.
"On the field, our defensive intensity was 'suffocating', as [captain Mike] Jahn put it," said captain Mike Dagher-Margosian.
James Highsmith and Johnny Bansfield lead that defensive line, and their ability to focus solely on getting breaks, instead of having to do it all for their squad, has really been the difference this year. They lead a lightning fast group with excellent defensive depth, even more than their foe Chicago Machine. It is what allows them to close out games with furious intensity.
The offense is no slouch either, led by steady players like Botti, Austin Engel, and Paul Arters, as well as a large portion of the Ohio contingent. Many of them bring veteran experience and skilled reset ability to the table, letting High Five's offense gnaw up quick yards, score in under a minute, and let their defense get back to work.
But it is that defensive line which brings home the victories.
Machine Falls Again In Championship Game
Chicago Machine was in a new position this year, sitting with the second seed and needing to prove something against High Five, who had crushed them earlier this season in the championship game at the Elite-Select Challenge.
Yet Machine's tournament run to the finals wasn't nearly as smooth as their opponent's. Chicago Haymaker made it close for the first few points in quarterfinals, before Machine pulled away, and Cleveland Smokestack gave them an even tighter game in a 15-11 semifinal.
Still, Machine looked calm and confident as the championship started on a sunny afternoon with a gusty crosswind.
At first, the story was about the lack of observers in the game, as they were all at the Mixed final, leaving the Men's final to do without. Neither team was happy about that, and both sides had early grievances (that seemed to balance out) as contested plays led to discs going back for redos. At one point the competition grew heated, but High Five's growing lead late erased thoughts of the issue.
High Five's defense was tough early, but it was still cut up nicely by two players: Brett Matzuka, a new Machine addition this year, and Craig Poeppelman. Matzuka started almost every offensive point with a large break throw and often had some nice hucks to close them out. He connected with Poeppleman (five goals in the final) four times in a row for scores as Machine kept it close early.
High Five's offense was not so smooth, and Machine had the earlier chances for breaks, with Mike Schwenk getting some athletic blocks, including grabbing one that led to the first defensive score of the game.
But High Five began to adjust and quickly broke back. Offensive stars and deep threats AJ Nelson and Jonathan Helton had been drawing the best of the defense, giving the speedy and former defensive captain Poeppleman an advantage, but the deeper line of High Five also started finding a rhythm and clamping down with increasing pressure.
Machine's points seemed to get longer and longer as they were stifled down field in a way they haven't been in a long time. Normally, Helton or Nelson can gain huge unders, as teams are very worried about their deep game. But Highsmith and crew did an excellent job guarding them, and the wind added a factor that made hucking slightly more perilous.
It was very telling that Nelson, normally a goal-scoring machine, was limited to only one assist and no goals, while Helton had only one goal and no assists for the game.
On the other side of the disc, High Five was having an easier time of it: Machine's defensive depth looked weaker than it has in past years. The handler coverage was solid but also limited, and they could only do so much; downfield many defenders were chasing or seemed to lack opportunities to make plays from the excellent break throws that came off.
High Five did have a tendency to float some throws, however, especially on their D-line. They got a bit huck happy, and it wasn't common to see them turn the disc over within thirty seconds of getting a block or a turn from Machine's offense.
Luck and athleticism are a deadly combination, however, as they caught a floaty few tipped discs and also snagged a few for which Machine defenders jumped too early.
High Five kept the pressure high, forcing throwers like Matzuka, Helton, and Liu to make tough break throws that often went too far or presented defensive chances. Long points followed, and in the O vs D battle, High Five got lucky in a few key spots. They eventually broke twice to take half 8-6.
The second half showed simply how relentless this team can be. High Five was pressuring everything: they got big blocks on swings, had a sprinkling of hand blocks, and made every Machine offensive point a turnover-filled one.
This is perhaps the one criticism of their performance: they could have been much more efficient with their D-line offense (something they'll need to keep in mind for Nationals).
Still, it was an unending push that gave Machine no chance for a comeback. Chicago scored just two points in the second half.
The nail in the coffin came on a huge head-high layout grab in the endzone by James Highsmith, a critical break to make it 13-8.
"We did all the little things right and it all came together in a full team effort this game," said Highsmith. Their chemistry on and off the field has been incredibly successful, but he has maintained that there is "always more."
Implications
High Five ran victory sprints after the game and the captains were in good spirits, but also clearly focused on what was next. Team leaders have long said that they want to be more than just a Nationals qualifier, that they want their team to be truly elite.
Back in February, that sounded like hopeful and hollow talk, but it was visible truth on Sunday afternoon. "Not satisfied," said captain Mike Dagher-Margosian. "Gotta stay hungry."
"One game at a time," said Highsmith, in reference to Nationals.
This team is clearly pleased, and by any measure their quasi-merger has been a major success and they've so far accomplished all of their goals. Except perhaps one, the pipedream, the chance to truly prove themselves legitimate at Nationals this year and in years to come.
"We aren't going to limit ourselves," added Jahn. And they shouldn't. They have already done so much that they are a dangerous team, without pressure, expectations, and with only glory to gain.
The same can't be said of Chicago Machine, who now find themselves with a serious rival within their region. Machine has been a Nationals stalwart for years now, but have never been able to break through into the truly top ranks.
Machine was able to easily defeat Black Market — a team from the Chicago suburbs that proved to be the third-best program in the region — in the game-to-go, but now faces uncertainty heading into the National Championships.
Their focus was to be able to peak at Nationals, and their quest for dominance there wasn't helped by being not only challenged but thoroughly beaten by a team from below.
But as High Five claims the top spot and the acclaim that goes with it, perhaps some pressure shifting away from Machine will help lead to greater success. There is still a lot of talent there, and thanks to the new format in Frisco, it only takes two big wins to reach semis.
Now, eyes follow the team from Michigan and Ohio, though, to see how high they can rise. Perhaps that defense can lead them to one more chance at a championship.