Boston remains king of the Northeast as Toronto sends New York home .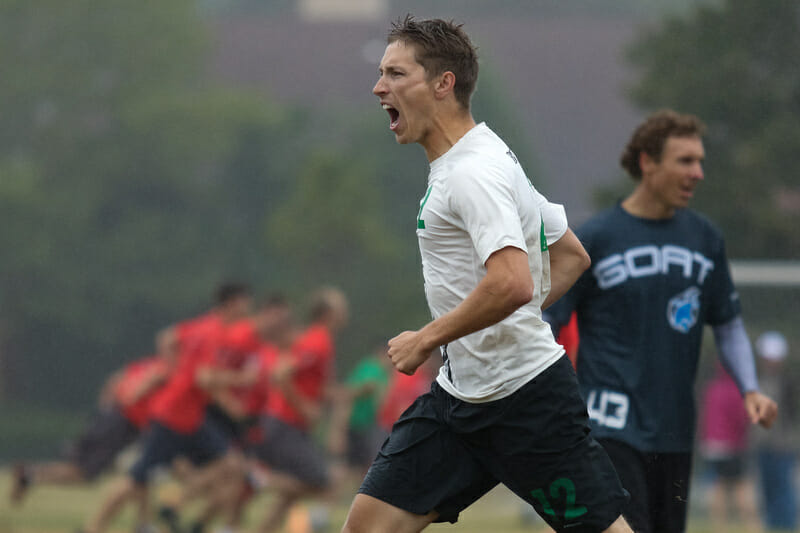 DEVENS — Despite significant player turnover and a bumpy regular season, Boston Ironside continued its dominance of the Northeast Region with a 15-12 win over Toronto GOAT in the final.
"People are right: it's a new Ironside," said Ironside's Will Neff. "But it feels as potent and inspiring as ever for us."
Boston used a strong start and a 3-0 run down the stretch to put away GOAT, who played well in spurts but was too inconsistent to ever take control of the game. Josh Markette finished with two goals and three assists to lead Ironside to their seventh Northeast crown in eight years.
"The defense really made teams work and earn their points," said Ironside coach Josh McCarthy. "We had very few points this weekend where it was bing, bang, boom." That was no exception in the final.
Ironside struck early with multiple breaks thanks to stifling man defense and some poor execution from GOAT. A Jack Hatchett score made it 4-2 Ironside. Minutes later Ironside extended the lead to three after Christoph Koeble hit Christian Foster to make it 6-3.
Boston had multiple chances to break once more to take half with a four point lead, but failed to convert some golden opportunities that could have really put the game away. Instead, Thomson McKnight hit Isaiah Masek-Kelly deep for a vital hold that sparked a small GOAT run.
A Jake Taylor in-cut drop in Ironside's half gave GOAT their first chance at a break on the following point. A patient Toronto offense eventually moved it to the break side where Anatoly Vasilyev was able to hit Andrew Carroll for the break. GOAT tied it up after Will Neff missed a clap catch on a pass through a tight window in the junk zone. After a timeout, Vasilyev found room at the front of the endzone for the game-tying score.
"[The junk defense] kind of knocked us out of our rhythm a little bit," said Neff.
GOAT nearly took half to put the game back on serve, but an offensive foul against Geoff Powell in the endzone for going over the back of the defender was discussed and ultimately uncontested, giving the disc back to Ironside1. Alex Kapinos pulled down a floating hammer at the other end to take half, 8-7.
A quick Ironside hold thanks to a blazing deep cut from Tyler Chan, who scored Ironside's first three points in the 2nd half, gave Boston a two point cushion. Both teams' offenses looked good to start the second half. GOAT's Jacky Hau got a poach block on a huck with the score 12-11, Boston, and helped lead the team down the field to tie it up.
After being outplayed for much of the middle of the game, Ironside stepped up in the game's final three points with a 3-0 run to win the Region. A dropped huck from Hau and then a short miscue between Derek Alexander and Jeff Lindquist gave Ironside the only opportunities they needed. John Stubbs caught the game-winning hammer from Alex Cooper and the Boston sidelines exploded.
"It was just our own errors," said GOAT coach Scott Hastie. "Some inside throws that just weren't there. Some really weird flick hucks."
Ironside heads to their eighth straight Nationals as a team and there will look to reach their eighth straight semifinal.
***
GOAT dropped into the second place game to face New York PoNY, who had defeated Boston Big Wrench and Ottawa Phoenix to reach the game-to-go. GOAT, as they did a day earlier in the semifinal, outplayed PoNY in most facets to earn a 15-10 win and the Region's second bid to Nationals.
Toronto got the game's first break to go up 3-2 after Chris Kocher threw a swing pass too far in front of Ben van Heuvelen. GOAT's Adrian Yearwood got there first with a short field to attack. Remi Ojo threw a dangerous inside flick that floated high, but Jacky Hau was able to track it down at the back of the endzone.
The lead grew to three after an epic ten minute point with multiple turnovers from both teams. Great reset coverage from Jonathan Martin on Chris Mazur led to a turnover in the midfield when Billy Katz tried to jam a pass in to Mazur. Hau hit Geoff Powell for the 5-3 lead.
PoNY tied it up at six after Alexander badly overthrew a crossfield scoober, but GOAT took the two point right back going into halftime.
A New York break to start the second half kept things interesting. But a pivotal moment with the score 10-8, Toronto, all but sealed the win for GOAT.
PoNY was on offense and had worked it three-quarters of the way down the field. Markian Kuzmowycz threw a flick intended for Jack Marsh which was promptly obliterated by Remi Ojo:
GOAT started their possession in the deep corner. Dave Hochhalter threw a dangerous scoober to Anatoly Vasilyev that was caught by a laying out Billy Katz for what should have been a PoNY Callahan score. Vasilyev, however, called a foul, claiming he had been stripped. The call was sent to the observer standing just feet away who declined to make a call, sending the disc back to Hochhalter. Here's the play in real time:
Here it is in slow motion:
Billy Katz Layout Callahan | Slow Motion
Hochhalter checked the disc in and promptly bombed a 75 yard backhand to Andrew Carroll for a crushing break, putting GOAT up 11-8.
"Had that Callahan gone my way…," said Katz after the game. "It never comes down to one play but that gets us within one and we get momentum on our side."
GOAT pounced on a demoralized PoNY, adding two more breaks to close out the 15-10 win. GOAT's defense was stellar in the game, finishing with six breaks.
"I read that our guys aren't capable of getting stops, but I think that's the case this year against even big squads," said Hastie. "And once we get the disc — it's not 100%, but who is? — I feel really confident."
In contrast to years past, GOAT really does look like a defensive team in 2015. Ojo has been not only a huge playmaker but a consistent contributor after the turn, and Andrew Carroll continues to grow into an elite cutter defender. Add in some of the game's best handler covers in Vasilyev and Adrian Yearwood and you have one of the best defensive lines in the country right now.
The offense? It's not the same without Mark Lloyd. "We just need to have guys holster some stuff earlier," said Hastie. "And we're headed to a camp next weekend to get things set up."
***
PoNY misses out on Nationals for the first time since 2011, the final year played under the old regional map, despite earning a bid for the region. It was GOAT's failure to play consistently, especially at the season's ending event, the Pro Flight Finale, that cost the Northeast a spot at Nationals.
GOAT sent a short-handed team to PFF to give players rest after a grueling lead up to the Canadian Ultimate Championships a week prior.
"I think a lot has been made of our short roster," said Hastie. I was pretty fired up about the roster that we sent to PFF, but it didn't really work in that wind." He said that the weekend felt a bit weird. "We knew that whatever happened, 'Hey, we didn't do our job during the regular season.'"
Toronto has had a very long season, with many of the players playing together in the AUDL as the Toronto Rush before needing to focus on a peak at CUCs in August. The team even took a week off between the end of the regular season and Regionals, an unorthodox move. "Guys were cooked, and there are some guys that are still cooked now," said Hastie.
For PoNY, it's a disappointing end to the year. Chris Mazur wasn't shy about his thoughts:
The team leadership was more positive.
"We should be proud of the steps we made this year," said Katz, a captain. "We brought in a lot of young people. We learned an entire new offense."
Coach Bryan Jones — who said this year "wasn't [their] year" — was reflective.
"When our offense worked, it worked really well," he said. "It looked like a top-flight offense. I've gone through and been a historian of ultimate. I've looked back and players have said that it takes about three years for an offense to really coalesce. And we're kind of used to the Johnny Bravo experiment now where they come together in one year and, boom! You win!"
Both Katz and Jones were optimistic about the future and the growth of many of the young players on the team.
***
Ironside and GOAT, both semifinalists in 2014, will look to cap off a wild year in the Men's Division with a run at Nationals. Both coaches spoke highly of their respective defenses, but acknowledged lingering issues with the offense that they hope to correct in the weeks between now and Frisco.
Neither team appears to have a ceiling quite as high as a year ago, but both have shown the ability to win big games in big spots this year. With the Nationals format now less punishing of teams without great depth, another deep run for a Northeast team is certainly not out of the question.
Additional reporting from Pat Stegemoeller. Thank you to Charles Cleary for the prompt upload of video footage of key moments in the Pony v. GOAT game. Ultiworld was also filming both the final and the game-to-go; the full game footage of both will be uploaded to the Ultiworld Club Video Subscription this week.
---
An earlier version of this article stated that Powell's offensive foul was ruled on by an observer. In fact, he did not contest the foul. ↩