Sarah Griffith may have been the world's best player until she tore her ACL. Can she get back to the top?


Sarah "Surge" Griffith of Seattle Riot might have been the best player in the world in 2014. Based on stats from USAU and WFDF, Griffith was the most productive player throughout the entire season on a Riot team that won the U.S. Open, won the World Championships, and reached the semifinals of USAU Nationals before a mundane looking step onto her left knee resulted in an ACL tear. Riot went on to lose that semifinal game, and Surge would begin the long recovery process that found her on Seattle's sidelines until 2015's Pro Flight Finale.
Now she prepares with her team to compete again at Nationals, with eyes set on a probable semifinals rematch against San Francisco Fury, and beyond.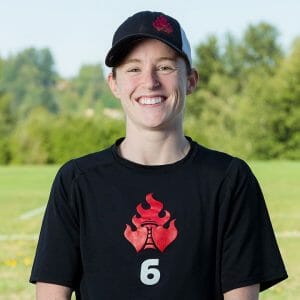 The Specs
University of Michigan Flywheel: 2004-2008 [3-time All-Region player]
Michigan MOJO: 2005-2008
Seattle Riot: 2008-Present
UltiWorld All-Club 1st team: 2013, 2014
World Games 2013 Team USA Gold Medalist
2015 WCBU Women's Team Selection
The Rise
A multi-sport athlete in high school, Griffith found ultimate at the University of Michigan. In her first practice, after nearly being convinced she wouldn't return to the next, the team had a final scrimmage that would hint at Surge's future success: "When we scrimmaged at the end, I realized how fast and fun it was," she said. "They just kept throwing it deep to me, and I kept catching goals. The rest is history, I guess."
Surge would continue to catch goals as a Michigan Flywheel, earning three consecutive All-Region selections and reaching College Nationals in three of her four years. After living most all her life in Michigan, Griffith moved to Seattle where she would sneak her way into a late tryout at Flowerbowl, one of the longest running tournaments in the region. Griffith recalls that moment:
I had never met [captain] Miranda [Roth], but I knew that she was a leader of the team, so I found her on Facebook and sent her a message…asking about the possibility of a tryout. Apparently Miranda emailed the Riot leadership, asking them what they thought. In their minds, I was just some random Midwest kid, probably totally out of my league and not worth the inconvenience. For one reason or another, no one got back to Miranda for a while, so she went ahead and told me, go for it, come out and play with us at Flowerbowl. Not an hour later, Liz Duffy emailed the leadership team back, essentially saying, I just really don't think so – we don't even know who she is, we have a pretty full roster, it's so late, etc. Well Miranda had already said yes. So they were stuck with the decision. I flew out to play Flowerbowl as my tryout, and was on the team by the end of Saturday.
The team found continued success in Griffith's first five years on the team, including a 2010 WUCC bronze medal and three 2nd place finishes at Nationals1. In 2013, Surge started to get serious recognition for her individual abilities, starting in the form of a roster spot on the World Games team.
***
After an open tryout process that saw 500 applicants, 99 invited players, and 78 participating players, Griffith was selected to play on Tean USA. The team, a mixed unit featuring 13 players from all over the country, ended the event with a perfect 6-0 record, winning the gold medal. Surge scored 11 goals in those six games, second only to Beau Kittredge.
Griffith continued her stellar season, and her play and production caught the attention of Ultiworld analysts, who found Surge to be one of the best defenders in the country.
At Nationals, she showed a different side of her game: throwing goals. While past trends had Griffith leading Riot in scoring goals at tournaments, 2013's Club Championships found Surge throwing 17 assists on the weekend, the most on the team, while still catching 8 goals, the third most on the team. Riot finished 3rd in the tournament and Surge was named to Ultiworld's All-Club 1st Team.
2013 made a great case for Griffith as one of the best players in the world, who had now proved she was a threat anywhere on the field: with or without the disc, cutting or playing defense. One accolade that her resume was missing was a title — national or international — at the club level. If Riot could claim first in such a tournament, and if Griffith could maintain her absurd production, it would vault her to the top of the list.
***
After a newly gained focus on training, brought on by the '13 World Games opportunity, Surge was in "the best shape of [her] life." Cutting carbs, sweets, soda, and alcohol from her diet, training almost every night on the tracks, hills, and stairs in rainy Seattle nights, Griffith was at the top of her game. "When I get my focus set on something, it can be really crazy," she said. Her peak form would carry into the 2014 season, a year that held a special opportunity for her and her teammates: the chance at a world title.
The 2014 campaign started in Blaine, Minnesota, with the U.S. Open, where Riot cruised through pool play and defeated Fury and Boston's Brute Squad on their way to the title. Surge lead the way with 19 goals (1st on team), 14 assists (3rd), 8 D's (1st), and 33 total points (1st); it was another elite performance and another tournament win. More importantly, it was a great start to the important season, with the 2014 World Ultimate Club Championships just a month away in Lecco, Italy.
Riot entered WUCC 2014 as the 4th seed, and again cruised through pools/power pools, before facing Japan's UNO in the quarterfinals, winning 17-16 on double game point. After beating Washington D.C. Scandal in the semifinals, Riot found familiar championship foe Fury awaiting them. In a wonderful game, Riot claimed their second ever World Ultimate Club Championship — Surge's first — and finally beat Fury on the biggest stage.
Surge tossed a pair of assists and hauled in three goals in the game, putting her in a three-way tie in those fields with two other Riot members you might recognize: Gwen Ambler and Dominique Fontenette. Additionally, Griffith played in 18 of the game's 32 points (56%, 10 O-line, 8 D-line), as well as playing in back-to-back points on six different occasions, far more than any other Riot member. Griffith received high praise in this game from broadcasters Bryan Jones and Liam Rosen, who said that elite defender and World Games teammate Opi Payne couldn't defend her in semis, and calling her "the main difference maker" on the team.
At that point, Griffith was the best player on the best team in the world.
The Fall
I lie there with my eyes shut tight, the voices above me intermittently cutting through those in my head, like static in a speaker.

Dom: "I'm a physician. Please examine her off the field."
Shannon: "It's going to be ok."

It's not ok.

– Sarah Griffith, "The One and Only"
Fast forward two months, and we find Riot in a familiar position at Nationals: cruising through the tournament until semifinals, in a rematch against Fury.
Early in their WUCC Final game, Fury's world-class player Alex Snyder went down with a knee injury after a throw, and did not return to the game. This time, it was Riot that would find a teammate fall awkwardly to the ground as Griffith made a routine movement on defense.
http://gfycat.com/DefensiveEducatedGrassspider
"Everyone's a fan of Griffith's… everybody's feeling this right now." –Kyle Weisbrod
Griffith would not return to the game, which Fury went on to win 12-10. There is little doubt that Surge's injury played a role in Riot's loss, just as Fury felt the impact of a missing Alex Snyder. Fury had a great team in 2014, played a wonderful tournament that weekend, and deserved to win that game, but there is a lingering "what if…?" that remains.
Riot's stats were again lead by Griffith over the course of the tournament. She notched the most goals (10), the fourth most assists (7), and the most total points (17). She was, again, named All-Club 1st Team by Ultiworld, one of just two players to receive the honor two years in a row.2
The Return
ACL tears are an all-too-often injury in sports, especially in Riot's recent past: Rohre Titcomb and Alyssa Weatherford suffered the same injury just a couple seasons ago. Titcomb and Weatherford, among other Riot players, would prove vital to Griffith's recovery process. Even with teammates like these, however, the process was "demoralizing" and "isolating".
"I would get up, go to work for 10 hours, come home and do two hours of PT alone on my living room floor, go to bed, and wake up and do it all over again," she said. "Every day. For months…It felt like years."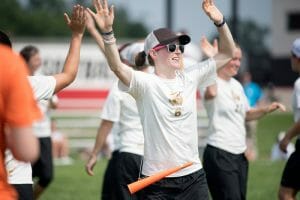 While physically, mentally, and emotionally taxing, recovery wouldn't keep Griffith from being an important part of her club team. Surge was just as present with Riot in 2015 as she has been in any other season. She traveled with Riot to each tournament this season, taking a sideline position with her trusty sideline horn. Having already been in a scouting and film-study role before the injury, Griffith would use her knowledge to help others with match-ups, zone positions, and the like.
"I always tell players that I coach, 'You're either giving energy to the team, or you're taking it. There is no in between,'" she said. "And so I focused on giving my energy in whatever way I could — sideline talk, 1 on 1 check-ins/feedback, filling water bottles, leading cheers."
Despite the loss of Griffith, Riot looks to have gotten even stronger than their 2014 team, with key off-season additions and the improved production of players like Kelly "Vegas" Johnson, Shira Stern, Molly McKeon, and rookie Jaclyn Verzuh. While no single player has matched the usual output from Griffith, Riot has found other role players to step-up and dominate their positions: offensive cutters Stern and Calise Cardenas scoring with extreme speed; defenders racking up D's and breaks; and most notably Johnson and Verzuh playing both lines in consecutive points when the team needs to hold on offense and break on defense.
After falling just one point short of winning the U.S. Open, and seeing several players have breakout seasons, one can only imagine what this team could accomplish with a healthy Griffith, and eventually, we would see it.
"My first time getting to compete with my teammates again this summer was a scrimmage against Seattle Underground on a random Tuesday night in August," she said. "I don't think I've ever had more fun playing Ultimate. I was so thankful, so grateful, to run through that tunnel again and stand on the starting line with my best friends, whether it was a National final or a local scrimmage."
Later that month, Griffith returned to the tournament field for the first time in ten months at the Pro Flight finale.
While not the unstoppable force she was a year prior, Surge was a healthy contributor, scoring four goals, notching an assist, two D's, and just five turnovers during the windy weekend. Griffith looked to be fully recovered: no grimaces or hesitant movements.
Though Surge was back, the tournament wasn't a great opportunity to get back into the real feel of the game. "With Pro Flight Finale being such a mess of a tournament (the crazy wind, lightning cancellations, capped games)," Griffith explained, "it feels like not just I, but everybody, really hasn't played that much ultimate this season."
Outside of practice and a quick run through Regionals that saw Riot only challenged in one game, just one tournament remains for Surge and her team: the 2015 National Championships.
The Rematch
After the undefeated run through Regionals, Seattle Riot qualified for the 2015 USAU Club Championships as the #3 overall seed. Barring any major upsets, their tournament path has them meeting San Francisco Fury in the semifinals again this season.
While it's ill-advised to count your chickens before they hatch, it is very likely that the rematch will occur. The top tier teams have proven this season to be a large step ahead of the rest of the field, especially the top three: Boston Brute Squad, Fury, and Riot.
Injuries produce mental hurdles that one must clear on the road to a full recovery, in addition to the physical ones, and this rematch could prove to one of those mental hurdles. Only time will tell how Surge and her teammates face such a challenge, though they haven't let past performances against Fury weigh them down on the big stage previously.
***
No one can guess if Surge can regain her dominant pre-injury form. Athletes before her have both sunk into mediocrity as well as risen to an even higher level after this kind of setback. Based on the season this far, Riot doesn't necessarily need the best player in the world back on their team to take home the national title.
But Griffith has worked hard to get back on the field this year, showcasing her work-ethic on an entirely new level, and she's ready to pick up where she left off.
"When people ask me how I'm feeling now: do I feel strong?" she said. "The answer is: I am so much stronger than I've ever been. There's no comparison."
That strength lies in more than just her physical abilities; Griffith has learned much about her body, her mind, her team, and her sport during the recovery process.
If this injury that has ended players' careers before proves unable to stop her, then smart money would bet on Surge finding her way back into the conversation of "world's best player", and soon.
---
Riot lost each of those three championship games against San Francisco Fury ↩

Griffith's 2014 Season Stats (Team Rank): 30 goals (1st), 24 assists (t-2nd), 9 D's (1st), 54 total points (1st) – stats from USAU events ↩