Read Ultiworld's All-Club selection in the Women's Division. All seven players have demonstrated superior talent with outstanding performances this season on the field. From our reporting to our statistics, these players stood above the pack.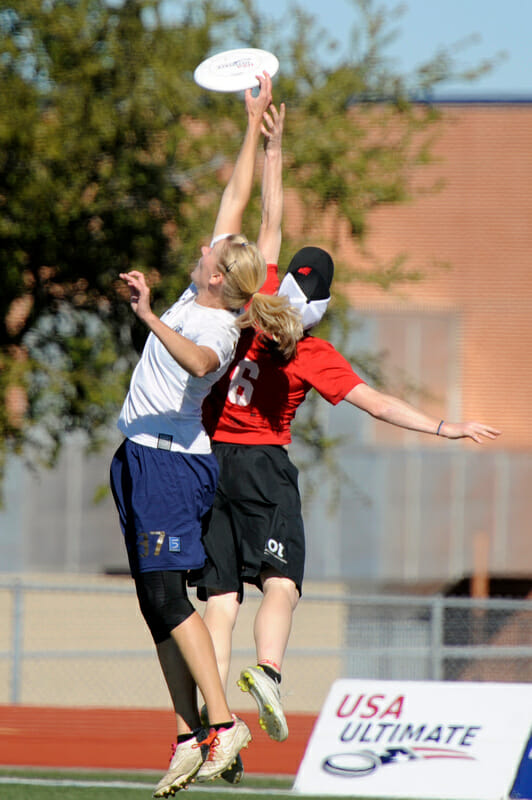 For over a year, we've been working on improving statistical evaluation of Ultimate teams and players. One of the most exciting parts of that project is the tracking of elite club teams at the US Open and Club Nationals. Thanks to wonderful volunteer coders, the Ultiapps statistical tracking system, and the support of VC Ultimate, we were able to track every pass from many of the top teams at these high profile tournaments.  If you would like access to the numbers generated, you can subscribe to the Ultiworld stat packages.
Of course, numbers alone will never be able to tell the story of the top players.  We picked our first and second All-Club team using both subjective analysis and the advanced statistics, along with USAU's statistics when advanced stats were not available. We know that our tracking system isn't perfect: We only tracked five women's teams all season (some with more games than others), we don't get every pass perfectly, our yardage figures are just estimates, amongst other issues. But having an idea of the faults helps us incorporate the valuable statistical information even better.
Sarah "Surge" Griffith (Riot)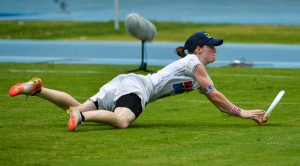 Some players the statistics love. Some players the fans love. Some players the eyes love. Surge is all of the above.
In USAU counting stats, she put together a phenomenal line: 8 goals, 17 assists (3rd overall), 4 Ds, and 4 turnovers; those 25 goals + assists tied her for 1st at nationals.
But its her defensive focus and speed that is probably the first thing that spectators notice about her.  Our numbers agree: Overall, our defensive stats suggest she was the best defender we tracked in the division.
Perhaps most impressively, Surge was near the top in scoring and yardage, meaning she did work on both sides of the disc.  Her combination of speed and aggressiveness made her a difficult matchup, even when drawing the most elite defenders. If Seattle was in a pinch, it was often Surge's cutting or playmaking that would bail them out. Routinely, she would turn errant throws into completions, and as a thrower, she showed an array of breaks and hucks most cutters only dream of.
Some of her numbers came back down to earth after the US Open stat tracking.  Really, they had to.  But anyone who has watched Riot play this year knows about Griffith's impact on the field.  She is the best player for one the top teams in the Women's division and has a case for being the top player in the women's game this season.
Sandy Jorgensen (Scandal)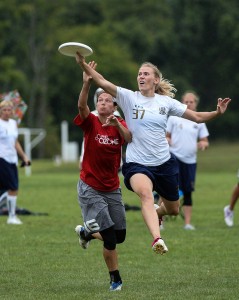 There are times when Sandy Jorgensen looks like a woman on a field full of girls. It isn't just because she's 5'9″ with a huge wingspan; Jorgensen's style of play essentially bullies her opponent. She baits throwers into putting shots towards her massive defensive range and then leaves defenders in her wake streaking to the end zone.
With 15 Ds, Jorgensen easily led the women's division at the Club Championships. Her Expected Contribution ranked 7th in the division, in part because she was generating a D nearly 20% of the defensive possessions in which she took the field. She was one of two players to hit double digits in two counting categories – goals and Ds – and was a single assist from being the only triple-double.
Her unique skillset was maximized by Scandal's gameplan. In their zone sets, she patrolled the deep space, eating up everything that came her way. On the turn, her ability to attack the deep lane was great with Scandal's deep throwers – particularly Opi Payne – and the other Scandal cutters knew how to use the under lanes Jorgensen created. No team had a real match for her.
Like Griffith, Jorgensen's individual contributions to a top team – in this case, the champion – make her a very strong candidate for the best player in the division in 2013.  What's incredible is that she is able to make this sort of impact even with below-average throwing ability. That speaks to both the magnitude of her athletic advantage and the Scandal system's ability to maximize it.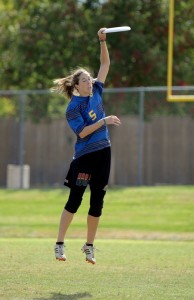 Cara Crouch (Showdown)
Crouch is, without a doubt, the most complete offensive threat in today's women's game. There's no area of her game where she isn't one of the best. Showdown was thankful for this, using her liberally, as she had the 4th highest usage rate, particularly notable since she started many possessions downfield.
As a thrower, she turned in 20 assists (T-1st) at the Club Championships to just 8 turnovers, which is very impressive considering how many yardage gaining plays she made. Crouch was 6th in Yards per Offensive Possession. Her 25 goals + assists tied her for first at the tournament.
Beyond statistical evidence, watching Showdown often revealed how critical she was to their success. While her teammates made it less pronounced in Frisco with impressive play, there were still points where Crouch would completely take over a portion of the game and carry her team to the end zone.  Crouch is an elite player playing on a great team with the freedom to run her game; she truly has an unparalleled ability to create offense for her team.
Becky Malinowski (Brute Squad)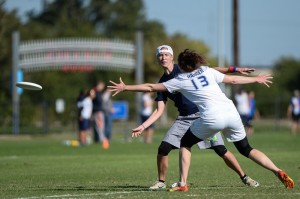 It wasn't an ideal trip to Frisco for Brute Squad, but struggling Thursday didn't stop them from being a quarterfinals team and making it to the Pro Flight. Especially when compared to last year, Boston has made great strides, and Malinowski has been a major contributor to that growth. Her size and skill combination makes her a matchup nightmare.
Her versatility is exemplified in her nationals stat line: 15 goals and 9 assists. That's an impressive combination, with her 24 combined goals + assists ranking her tied for 3rd, and she turned the disc over just 4 times. Considering that teams often took the safe choice of backing her, it is perhaps even more impressive she still racked up so many scores. Malinowski is also a strong defender, often taking on highly challenging matchups.
As she has developed as a thrower, Malinowski's ability to diversify her team's offensive attack has become more pronounced and more valuable. She's delivered this season on the promise she's shown. If Brute Squad can keep this core together, don't expect them or Malinowski to fall off anytime soon.
Lien Hoffmann (Nemesis)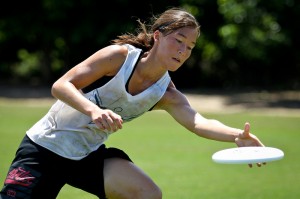 Hoffmann's emergence on the women's club circuit came at the right time for a Nemesis team looking to break through. Along with Kami Groom and Paula Seville, Hoffmann's consistent delivery of high quality play helped propel Chicago forward.
A lot was put on the shoulders of the 22 year old, as Hoffmann played more points per game than any other player we tracked. A lot of the weight of pushing Nemesis into the elite group of womens teams was put on Hoffman's shoulder; unsurprisingly, her usage rate is especially high for a player operating exclusively as a cutter. She was able to generate a lot of offense, with 15 goals and 9 assists, tying her for 3rd in combined goals + assists in Frisco.
In open space, Hoffmann's first steps tend to always create separation from her defender. Because of her ability to win battles in the air – oftentimes in spectacular fashion – she can't really be fronted without help from over the top. As the type of player that requires a gameplan and full team adjustments to contain, Hoffmann was one of the biggest difference makers on any roster.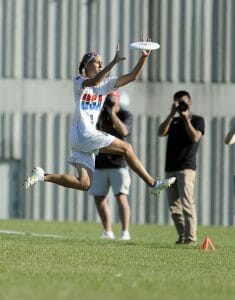 Kami Groom (Nemesis)
Hoffmann's defensive counterpart in the downfield lanes for Chicago was Kami Groom. What a splash she made in her elite women's Ultimate debut. Groom quickly made herself an integral part of Nemesis's success, ranking 3rd in points per game among tracked players, and her play made it very clear why Coach Ron Kubalanza was so comfortable with her taking the line so often.
Groom's numbers elaborate on her impact. She tallied .21 goals/assists and 15.1 yards per offensive possession, near the top of the players we tracked in those categories.  Her spatial numbers were even more impressive, as she had the best Offensive EC of anyone we tracked.1   On the other side of the disc, Groom turned in a top 20 Ultiworld D Score, suggesting that she was an effective multidimensional player.
For Nemesis to have added two weapons like Hoffmann and Groom at the same time is terrifying. And, frankly, it was also necessary for Nemesis to achieve the regular season results they did.  Groom's explosiveness and speed rivals her teammates, and she's nearly as adept in the air. During Chicago's quarterfinal against Riot, she spent a lot of the game matched up with Surge Griffith. Surge won the matchup, but it felt like every play was just an inch away from Groom; it felt like watching Surge battle against a version of herself from two years prior.
Calise Cardenas (Riot)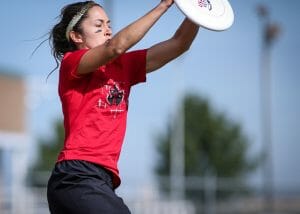 Cardenas had her coming out party in Sarasota last year, capped off by a massive layout grab that made its rounds as the play of the tournament. While the spotlight this season has firmly shifted to World Games star Sarah Griffith, Cardenas turned in a yeoman's performance. How a player like Cardenas can put together such an impressive season without raising more alarm escapes me.
With a higher usage rate and greater points played per game, Cardenas was just as heavily involved in Riot's offense as Griffith. She contributed to just as many goals and also generated lots of yardage for Riot; it's unsurprising that she ranked in the top 10 of offensive Expected Contribution. A solid score on the defensive side meant EC considered her one of the top 3 players we tracked all season.
It isn't just Cardenas's foot speed that kills defenses; it is her game speed. The disc is always bound to keep moving when she is getting around it, as is she. She pushes the pace of the Riot offense and defenders often struggle to keep up once the legs of Cardenas and Griffith start churning. Exceptionally athletic, Cardenas is able to use that athleticism to its fullest by finding more ways to benefit her team than just running deep and going over people for goals.
| Name | PPG | G+A/OPoss. | Yards/OPoss. | Usage | Compl. % | Def. EC | Off. EC | UW D Score | Total EC |
| --- | --- | --- | --- | --- | --- | --- | --- | --- | --- |
| "Surge" Griffith | 7.43 | 0.24 | 16.24 | 12.9 | 92.59 | 2.51 | 7.13 | 2.73 | 12.16 |
| Hoffmann | 13 | 0.2 | 13.43 | 16 | 96 | -0.06 | 4.84 | 0.06 | 6.46 |
| Groom | 11.67 | 0.21 | 15.1 | 12.3 | 100 | -2.25 | 8.29 | 0.95 | 4.79 |
| Cardenas | 7.79 | 0.23 | 14.36 | 13.7 | 93.24 | -1.24 | 5.65 | 0.21 | 6.97 |
| S. Jorgensen | 8.38 | 0.2 | 13.74 | 11.7 | 83.72 | -0.38 | 4.1 | 1.05 | 4.33 |
| Crouch | 10.86 | 0.14 | 16.07 | 22.5 | 88.89 | -2.81 | 2.46 | 0.5 | 0.9 |
---
Our stat trackers didn't assign a single throwaway to Groom in 5 games (30 attempted throws) tracked at Nationals.  The USAU stat trackers noted 4 turnovers.  That discrepancy could be in the game USAU tracked but we didn't, in the assignment of drops versus throwaways (we considered two Groom passes to be drops by her receivers), or error on either side.  USAU's stat trackers aren't given training before they're asked to track, and our trackers sometimes miss a pass or two when play is moving quickly. ↩