Nationals is here! We've got a full breakdown of all four pools and thoughts on each of the tournaments 16 entrants.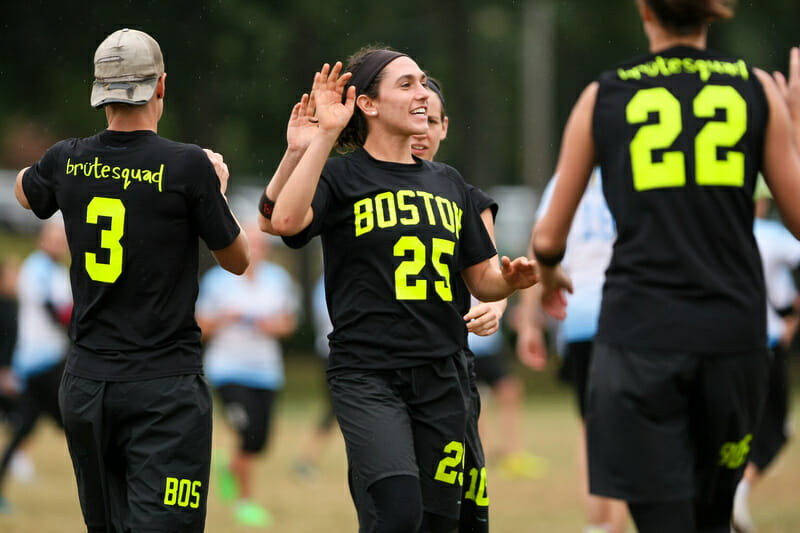 We finally made it. After a compacted season – especially when compared to last year – full of tier-defining and odds-establishing, it is time for everyone to gather in Frisco, TX to decide who will be the one team to take home the grand prize. While the semifinals seem primed to be exceptional, there's a ways to go and many traps to maneuver before reaching the sacred shrine of the gold medal. Much has been made of the top four teams, but their first test is pool play.
Everyone will make the bracket, where each team is one hot half of ultimate away from a shot at the semifinals.
Each pool has its own characters, story, and intrigue. What to make of the reigning champions? The epic clash between the #4 and #5 seed? Who is underseeded and who is ripe to get knocked down a peg? The next four days are bound to hold surprises, with a deeper field that perhaps ever before. The title feels up for grabs – even if among a select group – and there's a healthy amount of parity throughout the rest of the field.
Once the disc is up, anything can go down.
Pool A
Boston Brute Squad
San Francisco Nightlock
Madison Heist
Toronto Capitals
This Pool A is par for the course in how USAU structures these pools. The top team looks like a heavy favorite and then total chaos from the three teams seeded within 5 spots of one another1. Brute Squad has somehow not played Capitals – and it wouldn't be shocking to see that be close – but they have been soundly beating most teams outside their fellow #1 seeds; they're averaging over a 5 point margin of victory vs. the rest of the field.
But what to expect after that? The bottom seed, Toronto, has the best win % against the field and has beaten both Nightlock and Heist this season. Meanwhile, Nightlock might have the best top end performances, beating Scandal twice and Ozone this season.
Capitals has an ideal setup to register upsets, including adding some extra firepower to their roster during the Series and being underseeded by a weak showing at Northeast Regionals. While it isn't obvious how Laura Hatch and Alexa Kovacs will fit in, expect to see them added to the defensive line, where Hatch's speed could be particularly impactful. While Darcy Drummond is still is a premier threat, the rest of this team looks a lot more comfortable than 2014 and their offensive systems look a lot cleaner, particularly in their spacing. They already have four wins this regular season over teams now seeded ahead of them.
As good as Heist looks on paper, the results are enough to make fans nervous. They are 0-3 vs. teams in this pool, and their 4-6 record against the Nationals field is inflated by three wins over bottom 4 seeded teams. Robyn Wiseman is a force, but also is asked to take on a high touch role that demands risk taking. When other throwers step up – Emily Langland and Anna Hrovadt-Staedter fit the bill – their offensive threats can match their defensive tenacity. But their resume screams letdown. That's coupled with having Capitals as the bottom seed, an aforementioned crouching tiger.
Nightlock's talent is clear, but what prevents it from coalescing is not. They have three wins over teams seeded above them and three losses to teams seeded below them, a microcosm of the Bay Area crew's season-long affliction. Loryn Kanemaru and Natasha Won have been awesome additions and a healthy Marisa Rafter is an explosive compliment to Claire Sharman. But the team are plagued by weird bouts of turnovers and poor decisions. However, they've finished higher at nationals every year and could again bring it together when it counts.
Pool B
San Francisco Fury
Atlanta Ozone
NY Bent
Austin Showdown
In what you'll sense as a theme, the top seed here shows every sign they'll go in and come out on top. Anna Nazarov might be the best player in the division, Claire Desmond has developed the ability to take over a game on offense, and Carolyn Finney has an incredible motor that makes her difficult to shut down. The experience on the roster should help counterbalance having a new coaching staff. San Francisco has done nothing but consistently perform at the top of the division all season, suffering just two losses – both to third seeded Riot – while piling up the wins. In fact, only a single team ranked outside the top four has even registered double digits against Fury.
That team is Atlanta Ozone. After a 5th place finish last year, Ozone has to be wondering if they are capable of more. Step one is to survive the lower seeded teams in their pool. While they have beaten both Bent and Showdown, they only squeezed by Bent with a one goal margin, Atlanta's sloppy play making their Pro-Elite Challenge face off unnervingly close. Step two is score a huge upset. The Atlantans are 0-for-2 in attempts against Fury this year, falling 15-10 and 7-3 this season. But the talent level across the Ozone roster seems significantly higher than the teams below in Pool B, so if they can avoid bad turns – their defense is good at stifling offenses, but not as adept at creating turnovers – they should hold seed.
It has been a tough year for both Bent and Showdown, though each team has to be very relieved to have made it back to Nationals. Their performances left some doubts – they are a combined 7-22 against the Nationals field – but they are here now. The lone matchup between the pair went to Showdown, 7-6, shortened by lighting at the Pro-Elite Challenge. Those one point games have been a thorn in Bent's side, as they are 1-4 in games decided by a single goal. Can Bent handle the pressure at Nationals, where Showdown's made a habit of finding a new gear? Don't forget that Showdown made semis two years ago and nearly went from the #10 seed to do it again last year, barely missing a quarters upset against Brute Squad. Showdown shows up when the stakes are high.
Pool C
Seattle Riot
Washington DC Scandal
Portland Schwa
Raleigh Phoenix
On the surface, it seems a little silly to think Seattle Riot might be threatened by any opposition in this pool. Riot is 5-0 against the pool – a record built on a trio of comfortable victories over Portland Schwa – and has beaten each team in it by three or more goals. Riot has more wins against the Nationals field (14) than the other three teams combined (13) and hasn't lost a game against a team seeded below them at the tournament.
If it were anybody but Washington DC Scandal, it'd be crazy. But year after year, tournament after tournament, D.C. has shown they can peak with the best. This is the reigning two-time champion and unlike most other points in the season, they'll be fully loaded. Sandy Jorgensen, Jenny Fey, and Alika Johnston pave the way offensively, but there's questions about this team's depth. Alex Ghesquiere and Scandal's leadership have proven why fans should believe, but now their newer additions – Kelly Hyland, Anna Price, and Nada Tramonte in particular – are going to be asked to deliver in a tough and unfamiliar setting.
Both Schwa and Raleigh Phoenix have the potential to upset teams. Portland always seems to bring it once or twice a tournament against elite competition and they should be back in form. They lack to mental edge to upend Riot, but an underperforming Scandal team might be a juicy target for Jesse Shofner, Jennifer Tibbals, and company. That group almost ended Scandal's run in prequarters last year. Portland willl have to fend off Phoenix, who beat them 12-9 earlier this season, and has some weapons of their own. If Phoenix's new personnel can be integrated – their offense gets bogged down by backfield and miscommunication turnovers – and Jessi Jones is hitting her shots, Phoenix could make a splashy return to the Club Championships.
Pool D
Denver Molly Brown
Vancouver Traffic
Quebec Iris
Chicago Nemesis
Despite the increased connectivity created by the Triple Crown Tour, somehow, the teams in Pool D have not played one another at all this season. Well, Vancouver Traffic and Quebec Iris tangled in the Canadian Ultimate Championship final – Traffic took the title in the wind, 15-13, fending off a great Iris comeback – but other than that, these teams will be meeting for the first time.
Iris is the most mysterious of any of these teams, but some of them will be recognizable stateside, as they have a core roster similar to 2013 qualifier Quebec Nova. That means familiar names like Jessie Grignon Tomas, Isabelle Lemay, Marie Genest, and Audrey St-Arnaud. Their trajectory, however, is more unclear. Playing close with Traffic is a great sign, but their best win of the season is probably 13-5 over Phoenix; all of the rest of their victories over qualifiers are close wins against Bent. They've fared well against weaker competition, so they look resistant to an upset, but haven't demonstrated they have the raw power to pull the rug out from one of their higher seeded foes.
What is all but certain, however, is a haymaker-filled showdown between Denver Molly Brown and Vancouver Traffic. Between the pair, they have 20 wins against the field, and their 8 combined losses are composed entirely of misses against the top three teams. Both of these teams are eyeing semifinals and beyond, and with good reason. Their rosters are loaded with a talented blend of experience and hungry youth and both squads have been knocking on the door. With no head to head to look back to, this will be maybe the most anticipated pool play game of any division, and you can watch it live on Ultiworld's streaming coverage.
Let's look at how they matchup. Denver is 12-3 vs. the field, while Vancouver is a less sterling 8-5. But since those losses were to teams of the same tier, it may take a deeper look. Molly Brown is 12-1 against common opponents, while Traffic is 7-3 (including a CUCC semifinals win over Capitals). That mostly stems from Traffic's 0-2 record against Brute Squad, plus a loss to Scandal; the #4 seed is 2-0 against Scandal and split the series with Boston. Advantage: Molly Brown.
On the field, the personnel create really interesting play style options. Molly Brown has some speedsters on their team, but Traffic may be the fastest women's team in the division. Both teams have talented handlers, and though Denver has the stronger offensive deep game, Traffic has some adept deep defenders like Ashlee Davison and Carolyn Churchland. Watch for the backfield play when Vancouver has the disc: if Denver's handler defenders can disrupt the horizontal handler movement at the point of attack, that could decide this pivotal game.
At the tail end of the pool is Chicago Nemesis, and it is easy to overlook them. This season has been difficult, and you'll likely hear that Nemesis is an ugly 0-11 against the field and is the only team without a win over another qualifier. They've experienced a lot of turnover, but that trademark scrappiness is still there, and they know how to tap into it. Nationals is not a scary unfamiliar place and they have lined up across from these quality teams all year. Don't be surprised if they hit a new gear.
---
8-12-13 is the smallest gap of any bottom 3 and ties with the 4-5-9 ↩