After a decade near the top of the Mixed division, the squad from Iowa and their charismatic leader are hoping to win their first Club Championship in what may be their last, best chance at a National title.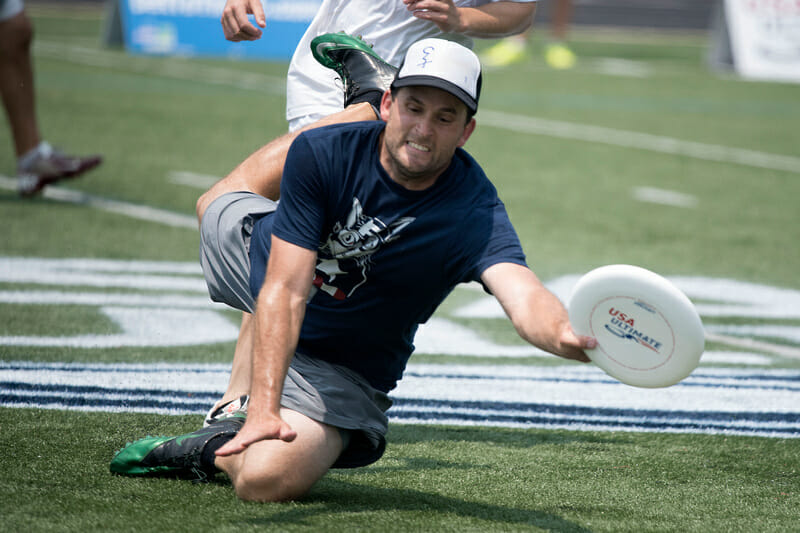 Unique.
That's the most fitting word to describe Chad Larson Experience, or CLX, the mixed team from Iowa that continues, year after year, to impress.
That same description could just as easily apply to Kevin Seiler, a stalwart of the Mixed division and one of its best players and leaders over the past decade.
Iowa isn't a place that is traditionally considered to be a hotbed for club ultimate, but CLX isn't your typical program. A team that doesn't hold tryouts, that doesn't practice, and that has its own special style, they are certainly different, but they are also certainly successful, and Kevin Seiler, as key leader of the squad's core, is very much responsible for that.
How successful have they been? Since 2004, CLX has an overall record of 306 wins against only 46 losses. In that same time frame, the squad has finished in the top five at the National Championships half a dozen times and captured a World Club Championship in Prague in 2010.
CLX would be considered great by anyone's definition, and have arguably been the most consistent Mixed team of the past decade, despite their own unique quirks. But this outside-the-box squad from Iowa has still never gotten over the hump to win a national title.
Now, rumors swirl that several members of the team's core could be retiring or leaving the area after this season, marking 2015 as perhaps the last, best chance for the program to claim that elusive title. Will this be the last year we see Seiler and crew in the Mixed division together? And, if so, can they go out on top?
The Start
Like many ultimate players, Kevin Seiler's entrance to the game was unconventional. In fact, his career was almost over before it even began.

"I started playing in the fall of 1998 at Iowa State University," says Seiler. "Actually [I] quit going, but my roommate who was also going to practice (and attended the only fall tournament that year) told me that before I quit I should go to a tournament.  I ended up playing again and went to the first spring tournament and haven't stopped since."
After almost failing to join the team, Kevin would go on to be one of the key leaders for ultimate in the Ames area, captaining Iowa State University for two years during a high period for their program, achieving their best finish ever in the region at 5th. 
Many of the Ames players, dreamed of playing at Nationals, however, and turned to Club to try and make that goal a reality.
Seiler first dipped his toes into the Club scene with an Iowa State Men's team, one that was largely designed to help improve the college program, before deciding after graduation to head in a different direction–the Mixed division.
"As a number of Iowa State men's and women's players approached graduation," explains Seiler, "there was a desire to begin playing higher level club ultimate. Unfortunately, there is not a lot going on in Iowa in terms of ultimate frisbee."
To achieve their goal of creating an elite team, the Iowa State players needed a greater depth of talent than was available for a simple men's or women's team. So, the move to mixed was a natural one.
Having led many of these players in college, Kevin again took the lead as a partial captain and general manager of a new team. Struggling to find numbers to make the new team viable, Seiler's group reached out to others across the state in 2003, bringing together a core of players that, while scattered, would follow plans as a unit in terms of training and preparation. This amalgamation of Iowa's young talent was dubbed The Chad Larson Experience.

The unique name referred to an old teammate of Seiler, one Chad Larson, who had once jokingly suggested that a team in Austin, Texas (where he had since moved) be named after him.
"The captain or whatever looked at him and said 'Chad, no team named after you will ever be good,'" says Seiler. "I liked the story and told Chad I was going to name my new team after him." CLX has spent the past decade proving that Austin captain wrong.

Even with short numbers, CLX made noise at their first tournament in St. Louis that year, almost taking down Blah, a Nationals-level contender, in the finals.
"I think we went into Regionals [that year] seeded first and finished fifth. We've never failed to qualify for nationals ever since."
Indeed, since that first season, they've had an incredibly consistent and successful run–even with a two-year hiatus in 2007 and 2008–where they've made the National semi-finals half a dozen times and captured a World Ultimate Club Championships title.
Last year, in 2014, their 9th season as a unit, 11 years after the team was first created, they still put on a dominating regular season and finished tied for third at Nationals. 2015 will be their tenth season and they are, once again, a likely championship semifinals contender.
What Makes CLX?
Due to the scattering of their players across the Midwest, CLX holds neither tryouts nor practices. Instead, they rely on core plans for training that they trust their teammates to execute. They reach out to talented players to recruit them, find those that fit their style, and then give them the tools and knowledge to help make them better.
"In the early years, he put together a great core of friends who managed to be quite successful together," says opponent and long-time rival Dave Klink of Drag'n Thrust. "In the ensuing years, he leveraged that success to replace outgoing players with top talent from a variety of sources. Getting most of their practice in at tournaments makes it easier to recruit players from around the Midwest and elsewhere. And in more recent years, Kevin and his teammates have reaped the benefits of giving back to their local Ultimate community."
Through scouting and coaching, Seiler and crew have identified the best talent in the area and worked with each to bring it out of them.
What's even more interesting, CLX has been renowned for years for their ability to implement "practice" in the early parts of their tournaments.
"We introduce strategic plans at tournaments in our pool play games and put them into practice as the tournaments proceed," explains Seiler.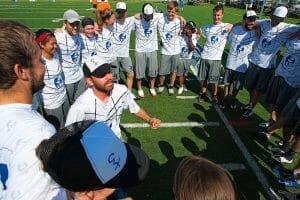 The reality is, the talent and knowledge of this group is (and has to be, if they are to remain successful) extremely high. This is a team with a laid-back style, that heckles and has fun more than any other squad at the tournament, that showed up to their first Club Championships wearing santa boxers as part of their team uniform. And they are a team that is often one of the last to be seen arriving at the fields for warm ups. But they aren't casual or lucky; they're focused on what they need to do to win.
"It doesn't mean we aren't working as hard as players on other teams, it simply means we don't all live in a metropolitan area that affords the ease of getting together on a regular basis," says Seiler.
Much of this wouldn't be possible without the leadership of the team and their guidance, most often led by Seiler himself, who has flitted back and forth between roles as a top player, captain, general manager, and coach throughout his career.
It takes a very good eye to understand who meshes well with CLX, and this squad hasn't been afraid to reach out and pick up new players every single year. By Kevin's own reckoning, Todd Owens, joining in 2015, is the 100th player to suit up for CLX since its inception.
Keen leadership is also required to take so many talented (and often new) players and mold them into a team. Guiding from afar during workouts and skills-based self-improvement is well and good, but the real challenge comes from merging together at a tournament, especially one where the early stages see new ideas often being implemented or run as a unit for the first time.
Kevin Seiler is a big part of that.
"As a leader, Kevin has a steady, quiet confidence which infects those around him," says Klink. "No doubt part of his teammates' confidence is also inspired by his impressive mind for strategy. CLX has always been excellent at adjusting to opposing strategies and gaining steam throughout a game."
Seiler's ability to adjust and to out-think opponents, even on the fly, with teammates who have done the same all year, has been what has made CLX consistently dangerous.
But Seiler points to another source as well:
"The largest part of what makes CLX special and consistent is the players," he says. "The players and their passion for competing at the highest possible level have made us consistent over the years. Many players from our past have played on single-gender Nationals teams. We've had a lot of talented, athletic, and hard-working players over the years. Without them, the foundation for excellence and consistency would not have been laid down and continued to be built upon."
Kevin Seiler's Impact
"As a player, Kevin has a rare combination of athleticism and high ultimate IQ," says Dave Klink.  "He's a dangerous deep threat who also has the tools to punish you if you let him open under. His consistency and great decision-making really set him apart. His teammates seem to adopt his style too, and CLX has always had rock-solid offense as a result."
Despite, his entrance into Master's division years, Seiler continues to make an impact not only as a leader, but as a player as well. His resume has seen him play on teams like the AUDL's Minnesota Wind Chill, The Van Buren Boys, Alpha Cobra Squadron, and Surly, where he captained and won a Master's National Championship in 2013.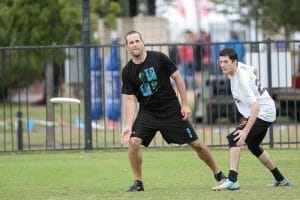 "I've tried to be a smart player because I'm not very tall and not very fast," says Kevin. "Over the years I've tried to really focus on defensive positioning and watching the disc on offense in order to always have the initiative. Developed a pretty good boxout technique. Trimmed my catch-to-throw time down to as short as I can make it in order to throw hucks and breaks unmarked. Developed a large variety of throws that can be used in games."
For Seiler, just as is the case at the team level, personal gameplay is about being able to strategically adjust and beat an opponent no matter what is thrown against him.
"I never really have a cut or an offensive move in mind; I'm always just reading the defense and either taking advantage of their mistakes or taking what they give me. Then I never really have to physically win a matchup, I just wait for the defense to make the mistake."
Seiler also coaches and has been a huge part of the success story happening for the Iowa State women's team. Seiler and his wife Lana took over coaching in the spring of 2011; since then, his leadership has helped the Women Scorned make Nationals three times, finishing no worse than 3rd in the region since.
But his vision is his greatest skill and his greatest asset as a leader. Seiler's ability to see what makes players successful is a key trait that carries him on the field, when facing off one-on-one against an opponent, and off-the-field, when implementing game plans and strategy shifts for his team on the ground-level at tournaments.
Seiler is simply unmatched in the mixed division, and perhaps in the game, in his eye for talent. He understands instantly what makes a player great, and he can recruit that person, or defeat that person strategically, in either measure.
CLX, as a result, has always been a talented team–but also one with crafty and consistent skills over the years.
"Mostly though," says Seiler, "I've been successful because I've had great teammates that share the same passion for the game, for improving, for competing and winning, that drive me to train to be my best outside of tournaments and to give all that I have in games."
CLX of 2015
"As a team, our goal at Nationals is to win a National Championship," states Seiler, matter-of-factly." Like every year, it is a legitimate reality. For various reasons, we simply haven't done it yet."
CLX is a consistent contender and that certainly is true again this season.
Drag'n Thrust enters the Club Championship tournament this week as the favorite, with San Francisco powerhouses Blackbird and Polar Bears not far behind, fighting to reclaim the throne. CLX and Slow White are both longtime stalwarts of the division with multiple finals appearances but still seeking their first titles. There are also young gun teams Seattle Mixtape and Wild Card who have found success in Frisco over the past couple Octobers and want to prove they deserve to wear Sunday gold. And in Mixed, there's always the possibility of a lower seeded team coming seemingly out of nowhere to knock off the division's elite.
The division clearly has parity, but CLX has the talent to run the table. Just look at the Pro Flight Finale this year, where CLX powered through an undefeated weekend to the take the championship over many of this season's top title contenders.

"This year we have some unique aspects about our team, offering some unprecedented versatility and opportunities to create mismatches and counterattack," adds Seiler.
The team's greatest weakness is, perhaps ironically, inconsistency during tournament game play. Over the course of a season (or several seasons) they are steadily successful, but they have their ups-and-downs within tournament play, often finding themselves in unexpected holes against opponents.
Much of that may have to do with the team's age and athleticism; as many of their players approach the Master's spectrum (or have reached it already) they rely more and more on smarts and in-game adjustments to win. Not having practice, it also takes them time to find their groove on their own side of the ball, meaning they don't have as many early tournament runaway wins against lesser opponents as other elite contenders.

The bottom line: they often will start a few games per tournament slower than they should, letting other teams hang around and tiring out their roster. This problem may have only grown in recent years as they lack the legs to athletically dominate or make defensive separation early.
Their opponents know they can still be dangerous, however. And everyone knows that with the right conditions, this could finally be the year for the team from Ames.

"Efficiency is the key," says Klink. "They can't afford to play every game to universe. CLX has a long history of slow starts, especially against opponents they expect to beat. They need to start games stronger than they have in the past and close out a few games quickly. If they still have legs on Friday afternoon, then they'll be very dangerous in the one-game-per-day setup of semis and finals. They'd also benefit from some strong wind when they face the top athletic teams."
CLX ended Regionals with a lopsided loss to Drag'n Thrust, a team they know very well–and will have to beat to capture gold.
Knowing they had already booked a Nationals ticket, it seemed like the effort was lacking in that game. "It was maybe the wake-up call we needed to realize that after a big winning streak, we aren't invincible," says Seiler. "We will be focused and ready for Nationals."
The Future
What will happen after Nationals is what leaves many in the division wondering. Could this be the last year for CLX? As more of their core grows older, some say 2015 could be the end.
"CLX's future is murkier than ever," says Seiler. "There has been a persistent rumor that each year will be our last, but there is more truth to it than ever this year, as many longtime members have already indicated that this will be their last year. Some other younger additions have said they plan on trying out for single gender teams next year."
CLX may continue to exist in its own relaxed fashion after this season, as the practice and play style still works for those who commit less time to the game as the years go on. However, that competitive consistency may be disappearing, therefore making 2015 the last good chance to capture the National crown.
As for Kevin Seiler, his future is considerably less murky.
"In 2013 I coached Woman Scorned, who made it to college nationals, played the Wind Chill's inaugural season (attending all but two of the games), got my first National title with Surly, and played another season with CLX," he says. "I'm pretty sure I was away from home for about 25 weekends in a row. I played with three different teams partly to get myself so sick of ultimate that I would retire. It had the opposite effect. I hated the travel but loved playing so much that I did it all again in 2014 (college coaching, AUDL, Surly, CLX)."
Though he didn't play the AUDL this season, he's still as competitive as ever.
"I love playing ultimate and plan on playing as long as I can perform up to a competitive level that I am okay with and my family and health prospects allow," explains Seiler, adding his wife and family members have been incredibly supportive. "I'd like to play, whether with Surly or CLX or another competitive team, until I feel that I'm not useful anymore."
If the Chad Larson Experience disbands, or changes its shape, it could be the end of an era for the mixed division. This is a team that has consistently dominated, in their own fashion, for the last ten years and it may cease to exist in its current form. Imagine the St. Louis Cardinals suddenly hanging up their cleats, or half the team changing sides. A new shift may be coming, especially with CLX's move outward. It can at times be harder for mixed teams, with players often switching to open or women's, to keep a long-term identity, especially when a large core departs. CLX's disappearance from elite mixed could signal the beginning of the end of the decline of other powerful teams like Drag'n Thrust and Polar Bears, as younger squads like Seattle Mixed begin to come into their own.
Regardless, the team and Kevin's legacy are clear.
"Kevin and CLX have elevated the level of play in the mixed division," says Dave Klink. "The better the competition, the better they play, making all of their games worth watching. They've set an example for how to incorporate all seven players on the line. They've shown us that tournament play is a great way to practice. They've shown us that four women on O is often the way to go. They've been the best team in the world. They've made santa shorts look good."
Seiler has found a way to make every team he's ever led have a competitive roster, a savvy playing style, and a killer strategy. He's remade the ultimate landscape a few times in his career and hopes to prove it again with CLX in 2015.
After all, there may be no better note to finally end this great run than with a national championship.