Pool A:
San Francisco Revolver 15-8 Chicago Machine
Chicago Machine (overall #8, seeded A2) kept things close with the heavy favorite in the first eight points of the game. Much the way that Revolver (overall #1, seeded A1) had gone point for point in the previous round with Madison Club, at first no team showed a particular advantage.
"I think we came out a little flat," said coach Mike Payne, who thought that the lack of pool seeding impact may have negatively influenced his players initially.
At Revolver 5-4 Machine, San Francisco's defense intensified their focus after causing a few turns. Just two points later, Sam Kanner skied for a tremendous grab that gave Revolver a 7-5 lead, and the defense was fully energized. The next pull took Machine way back into their own end zone and a reset headed just beyond the goal line was knocked down and converted quickly for the San Francisco score and an 8-5 half. Revolver never really looked back.
"I think we got a little bit more fired up and carried momentum from there," said Payne at the end of the day. 
With their newly adjusted zone, repurposed from Revolver's 2010 season, appearing throughout the game, the wind was no trouble for the overall #1 seed as they sealed a first-place finish in Pool A.
Philadelphia Patrol 15-12 Madison Club
With Machine guaranteed last in the pool, Philadelphia Patrol (overall #12, seeded A3) and Madison Club (overall #13, seeded A4) put on an athletic show as they struggled for the chance to take second in Pool A.
It was Patrol who took the early 2-1 lead off a throw from Mat Esser to David Baer  for a quickly converted break. He tallied another assist two points later, this time off 60-yd bomb to teammate Patrick Diviney, which made it 4-2 after a sloppy point.
Esser was an early bright spot on for Philly on defense along with Nick Mathison, who racked up a couple of blocks in the same point before Diviney snagged the goal. The run continued for Patrol.
Pat Shriwise finally stopped the Philadelphia defense when he brought in a downwind huck for Madison that made it 6-3.
Though the final few points of the first half turned ugly with haphazard hucking both with and against the wind, Patrol stayed in control, with Jake Rainwater and Nick Hiranet reeling in goals to take half 8-4.
Madison came out hard in the second half and caught Philly off-guard, railing off three breaks to quickly eliminate the wide lead and preying on some lack of discipline from Patrol. North Carolina Darkside veteran Jimmy Zuraw played his role on Philadelphia's D-line well, and helped gain the lead back for his team with a big interception in the end zone, pushing back to 10-7.
Not to be out-gunned, Madison mounted another 3-0 run shortly after that, and had the Philly O-line shaking with the game suddenly tied at 11-11. Though Madison would manage another hold after that, Patrol's defense got back on the field and handed in three quick scores to close it out, 15-12.
Defense was the key all game, and Patrol assistant coach Michael Zargham was fully aware of the advantage. "We played Madison earlier in the season and it was also a little bit windy. We ground with them and we felt like [during that game] they struggled with that so we came into the game prepared to grind really hard against them –play tight man defense and know that if we're position we're going to get block opportunities and then convert those block opportunities into Ds," he said at the day's end.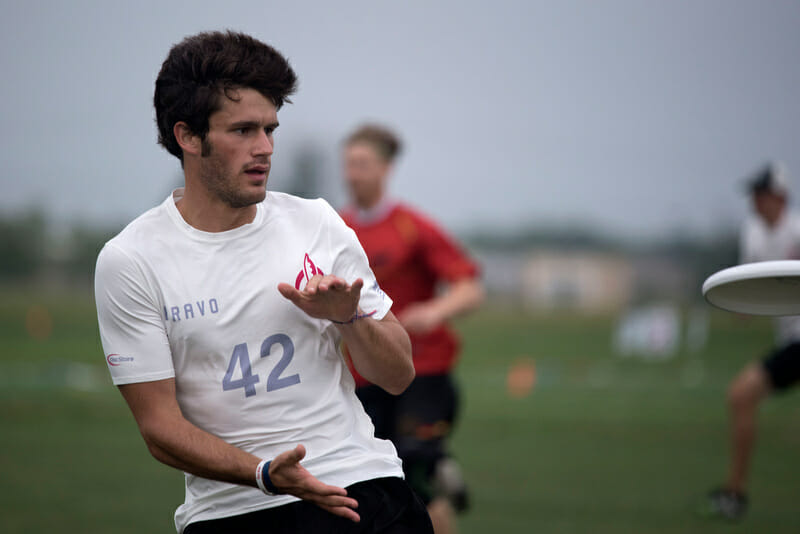 Pool D:
Denver Johnny Bravo 15-9 Michigan High Five

The last round of the day for two of the best contenders was highly anticipated, but it left fans wanting more. It was over fairly quickly, when Johnny Bravo (overall #5, seeded D2) broke to take a 2-0 lead. That and the possibility of having to play Chicago Machine, could have factored into the decision by High Five (overall #4, seeded D1) to rest most of their stars for the majority of the game. Johnny Bansfield played only one point, while Highsmith only played slightly more than that. Bravo was more than happy to show off their depth and cruise to an easy victory, and the top spot in the pool. 
Boston Ironside 15-10 Kansas City Prairie Fire
With the loser of this final game having to play Revolver in the morning, some may consider this a kind of elimination game. With that in mind, Prairie Fire (overall #16, seeded D4) came out red out to start. A few quick breaks gave them a 6-4 lead over the 2014 semifinalists. Like so many other teams today, Ironside (overall #9, seeded D3) was forced to put their foot on the gas. In an impressive display, Boston scored four straight to take an 8-6 halftime lead. The momentum carried through to the second half, with an easy coast to the finish line. The five point victory sets Ironside up against a strong Patrol team.