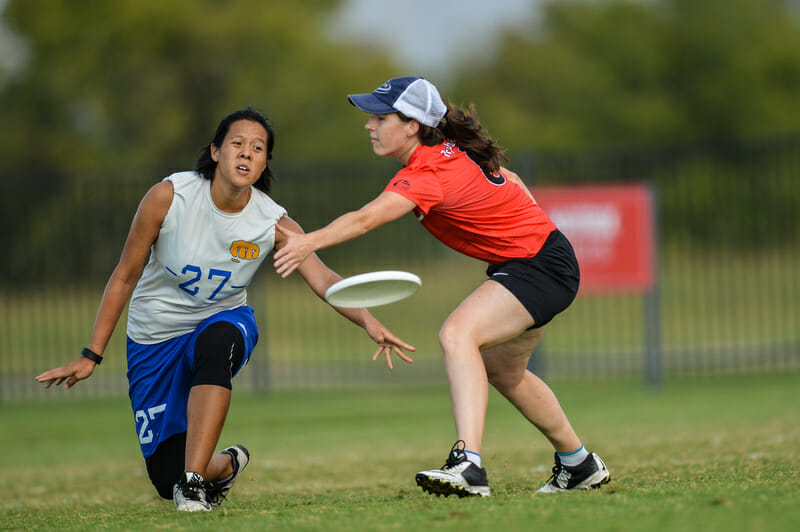 Pool B
San Francisco Fury 15-8 Atlanta Ozone
The third matchup of the season between Fury (overall #2, seeded B1) and Ozone (overall #7, seeded B2) played out much like the first two: Fury outpaced their opposition, gaining a cushion and never conceding it in a game that was rarely in doubt, winning 15-8.
In a fairly breezy game, San Francisco kept their poise in the wind while the weather helped lead to a few throwaways from Ozone. In the face of the Southwest champ's zone, Ozone was forced to move the disc and make more difficult throws. With lots of opportunities to work with, Fury was able to let their cutters grind down the Ozone defenders. There was a pronounced difference between the eventual victor's cutter separation and the amount of freedom Ozone's cutters could garner.
As the game wore on, the third and final game of the day for each team, Ozone seemed to get tired first. Even some effective holds were not enough to get them back into the game, and Fury held seed to win Pool B.
New York Bent 12-10 Austin Showdown
Both Showdown (overall #14, seeded B4) and Bent (overall #11, seeded B3), tired after strong second round efforts that came up short, slugged it out in a long and difficult final round game. A key play came at the end of the second half, after Sarah Levinn skied a pair of defenders to set up a red zone possession, and used a TO. Showdown failed to score and Bent wound up taking half 8-6.
Even in a close second half, Bent held the advantage. They went on to close out a close second half and hold seed.
Pool C
Seattle Riot 15-13 Washington D.C. Scandal
In the only competitive game of Pool C, Seattle Riot (overall #3, seeded C1) bested DC Scandal (overall #6, seeded C2) in the game for first place in Pool C. Scandal actually took the first break of the half thanks to a Hanna Boone forced turn and an Allison Maddux assist for Sandy Jorgensen's goal. Scandal could not hold on to the one break lead into the half, though, as Riot broke back on the very first opportunity to put the game back on serve. The two teams traded offensive points until a 7-6 Riot lead, when they broke for a second time to take half.
One of the better points of the game, exhibiting how well Seattle's defense was playing, and how well DC's offense played in spite of it, came with Scandal down 9-7 and desperately needing to hold to stay in it. As DC approached the Seattle goal, Seattle's downfield defense clamped down and did not allow any progressive throws. Scandal finally called a timeout after swinging it among the handlers for several throws and losing ground. Even out of the timeout, Scandal found it difficult to punch it in. To their credit, they demonstrated a level of patience few teams seemed capable of today, waiting for Alika Johnston's intensity in her handler cuts to create enough chaos and space to score. It was a point of rare intensity on the day, particularly on the defensive end, and reflected how the two teams were treating the game.
Shortly thereafter, Riot did get their break, and after several points it seemed as though the defensive intensity that both teams had been playing with had understandably died, considering it was the last game of the day for each team. Scandal tried a few different defensive looks, including a couple of different zones, but by the later stages of the game, both team's offenses were imposing their wills on the tired legs of the other's defenses. There was hardly a turnover in the game's final eight points, but just when it seemed Riot would ease its way to topping the pool with a victory, a doink on an easy throw gave Scandal an opportunity to break and stay in the game. They did, and made it a 14-13 game in doing so. Scandal would get another opportunity to break after an apparent Johnston hand block, but the DC team turned the disc immediately back and a Riot huck and dish ended it.
With both teams clearly looking to prepare themselves for the games that matter Friday and onward, a few players stood out above the rest for both teams. For Scandal it was Jenny Fey, who was a monster all day, and Sarah Itoh. The two combined for seven goals and eight assists. Johnston had her fingerprints all over the game as well, even if she was not as prominent on the stat sheet. For Seattle, it was Hana Kawai early, with her two goals and two assists and Alyssa Weatherford late, scoring or assisting on three of the last four points, a nice finish after she was knocked out of the game earlier due to a nasty collision with a Scandal player. With the performances from each of these players and their teams as a whole, both have to be thinking semis appearances are very much in reach.
Portland Schwa 13-11 Raleigh Phoenix
In the battle to not be bottom of Pool C, Portland Schwa (overall #10, seeded C3) topped Raleigh Phoenix (overall #15, seeded C4) to improve their chances of advancing through prequarters. A sloppy first half saw teams exchange breaks a handful of times and peaked on the 14th point of the game, which had over 20 possession changes. Phoenix did win the point eventually for the long, long hold when Mariel Hammond found Elizabeth Longmire for the score. Phoenix then quickly broke to take half thanks to a Schwa turn on behalf of Kimber Cole, this time Jenny Wei finding Christine Bookhout for the score.  Schwa received the pull out of half and won four of the next five points to take a lead that would not evaporate before the game's end. A few, rare clean points as the game wound down indicated tired defenses in the day's final round. Phoenix were unable to break back to force a potential double game point, and Schwa managed to avoid the Pool C cellar, that one little run out of half being the only thing to split the two sides.
Bookhout was the standout for Raleigh in the game with her four scores, while Olivia Bartruff led the way for Portland with her three goals (the final two of which were her teams penultimate and game-winning goals) and two assists. With the victory Schwa finishes third in what was a tough pool and will now play Ozone in prequarters, while Phoenix finished winless on the tournament's first day and have to Fury to look forward to on Friday morning.