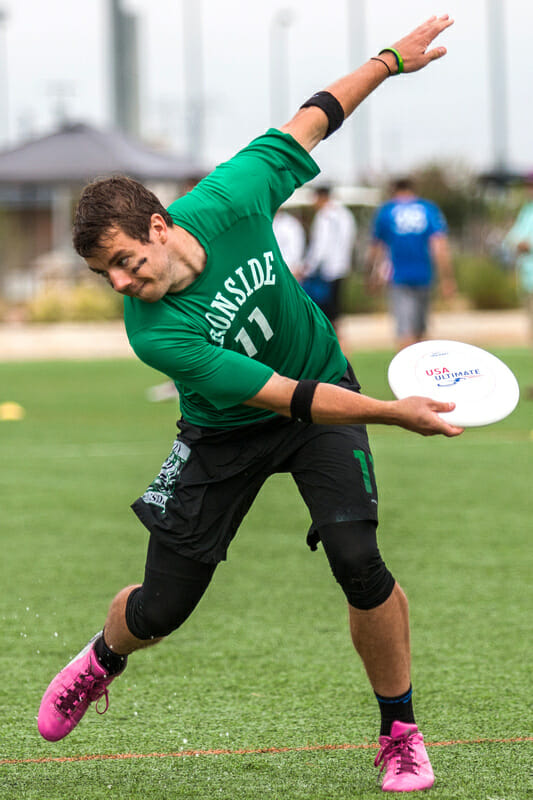 In an east coast matchup that pitted a Nationals mainstay against a rebranded newcomer, Boston Ironside pulled away late from Philadelphia Patrol to win 14-11 in a hard-fought game. Both teams are brimming with youthful speed and athleticism and sent out grinding man defenses against very disciplined and more veteran offenses.
Fittingly, Ironside captain Danny Clark led the offensive effort for his team with four goals and one assist in the game. While Philly was able to contest almost all the other goals scored by Boston, Clark broke through and reeled in most of his points with little defensive coverage.
The game went smoothly at a brisk pace at its outset: coaches from both teams darted onto the field after calling D-lines to stare across the field and assign matchups. Neither team would show much variation in defensive strategy beyond shifting matchups throughout the course of the game.
Patrol stayed out in front with their cutters spaced well across the field, while veteran handlers David Brandolph (1A) and Nick Hirannet (2A) worked quickly to reset and work the disc upfield. Ironside matched intensity with their highly-experienced O-line, with Josh "Cricket" Markette and Tom Annen both scoring the answer to keep the game tied at 2-2.
Philly narrowly avoided giving up the first break when Boston's Jake Smart recorded a block on a swing to Trey Katzenbach two points later. The Patrol O-line held on at the goal line, forcing Alex Cooper to send a hammer sailing out the far corner of the end zone on a high stall. Himalaya Mehta missed the disc on an in cut shortly thereafter, but Boston returned the favor, turfing a bladey swing. Hirannet tossed in a high-release backhand to Matt Glazer (3G, 1A) and kept Patrol in the lead, 4-3.
Boston gave Philly a chance to sniff a break on a Mark Vanderberg turnover not much later, but the Patrol defense gave the disc right back with a careless first-throw turnover on the possession. Boston held at 5-5, keeping the contest tight. After the next hold, Patrol's Katzenbach barked to his teammates on the D-line to clean up their marks.
Staring down the opportunity to break for half, Philly got the chance they wanted after Will Neff (2A) sent a flick short looking for a streaking Clark. Matt Paparone dropped a catch coming down the open side lane for Patrol, and Tyler Chan (1G, 1A) tossed in the hold to Annen.
Another Philadelphia hold took the game to half on serve, with both teams needing to generate more turns on defense to relieve the pressure from their offenses.
"We [have to] be looking forward. We played a good half of ultimate…we haven't gotten as many opportunities as we'd like, but…if we keep on making these guys work, opportunities will come like a waterfall," Ironside coach Josh McCarthy told his team in the huddle at half. With just two looks at a break, McCarthy shifted around matchups and encouraged his team to keep working.
Boston's John Stubbs took over the match up with Philadelphia's deep target Jake Rainwater, and Jack Hatchett, who had covered the deep previously, switched mostly onto another favorite Patrol target, Billy Sickles.
As the holds continued, calls started to pepper game play and the pace slowed at times to a crawl. Both teams spent time arguing calls, with teammates urging from the sidelines for calmer and faster resolutions.
Jack Hatchett made his first big defensive play on a long shot from Hirannet, intended for Sickles. Hatchett laid out and disrupted the pass enough to force Sickles to bobble the catch, and then took off down the field. Christian Foster found Hatchett on the run with a deep flick, and Boston had the break they needed for the 9-8 lead.
The calls continued to interrupt pacing, and the urgency to continue to hold looked to be wearing at the Philadelphia offense. Jordan Queckboerner hauled in the second Ironside break for a 12-10 lead.
Hatchett notched his other block on another bomb sent to Sickles later in the game, this time with Patrol cutter Benjamin Scharadin bringing in an extra offensive attacker. Hatchett went over the top for the block, and a Boston hammer found John Stubbs a few throws afterward, tallying a third break and all but sealing the deal.
Patrol would sneak in one more offensive hold, but the game ended appropriately as the disc sailed into the hands of an again wide open Clark, and Ironside moved on to quarterfinals, sending Philly into the Pro Flight bracket.
The chances were there for Philadelphia's ddefense to convert later in the game, a task they readily in accomplished in both their wins during pool play yesterday. Facing the most disciplined offense, other than Revolver, so far in Boston, Patrol couldn't give their own offense the rest and comfort of a break to stay close late in the game.
Nonetheless, Patrol has been candid about their team and program goals in 2015, and for them, the opportunity to improve continues in the Pro Flight bracket. "I thought this was our offense's best performance of the season. We did have some miscues towards the end of the game, but I was really, by and large, really pleased," said coach Charlie Hoppes as his team walked towards their next match against Florida United.
"What we need to focus on and get better at is maintaining positive energy, maintaining focus when things aren't necessarily going our way. Whether that's calls or bad breaks in the game…whatever that is we need to stay locked on and be us. When we're that, we're a good team," he said.