In the best game of Nationals so far, Molly Brown narrowly defeated Scandal.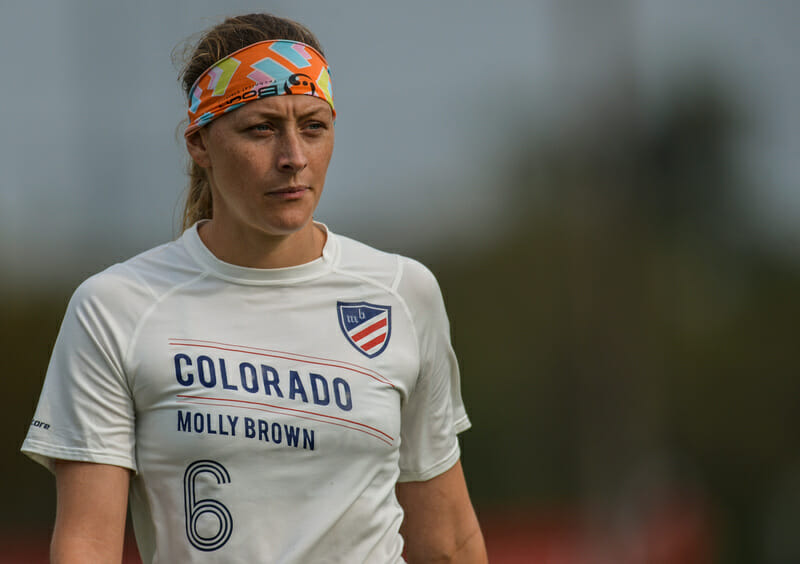 Molly Brown and Scandal took to the turf to battle it out for a coveted spot in the semifinals, and in an incredibly close game often decided by inches, Molly Brown emerged victorious to knock out the defending champions on double game point, 13-12.
It feels like these two teams were destined to face off here. They've clashed at Nationals three times in three years, and those games have been decided by a total of four points. While the previous two years they met in games that decided who won their pool, this time it was with the stakes raised. Adding to the predestined aura was the fact that, as has been discussed in great detail this season, four players who were key components in Scandal's back to back titles of the past two years are playing their first season with Molly Brown.
"I wanted this game more than I've wanted a game in a long time," said Scandal coach Alex Ghesquiere, who coached the four players the past two years. "This was a big game for us."
The emotions of the game were palpable throughout, particularly in stark contrast to the subdued feeling of Thursday's games. When Molly Brown opened with a break to Becca Miller, their energy could be felt. When Allison Maddux and Kimberly Beach guided Scandal to get their break back shortly thereafter, you could feel D.C.'s intensity rising in response. And when, following a Sarah Itoh drop to set up a short field, Molly Brown rookie Kirstin Johnson picked up the disc, and stepped around for a slicing backhand for a Denver break, it was clear this game carried with it a heavy weight.
Both teams found that they would need to outgrind the opponent to be successful. The wind was whipping at points, clearly affecting throws, and leading to plenty of zones and lengthy points, especially in the second half. Molly Brown slipped up against the D.C. zone first, sailing a swing which was summarily punched in to bring the game back to serve. But points were physical, marks active, and both teams engaged. It was the kind of game Scandal has thrived in in past years, but Molly Brown seemed primed for now.
Somewhat anticlimactically, Scandal took half after a poor Molly Brown pull set them up 10 yards outside the attacking end zone and they quickly converted for an 8-7 lead at the break.
One of the most pivotal points in the game was at 9-9, Scandal receiving. Opi Payne got a layout D on an upline to Alika Johnston. The two – who have a close relationship after Payne coached Johnston's college team and led her club team the past two seasons – had been in an incredible physical battle that encapsulated the game.
"They're both incredibly good players, and they're friends, but when it comes to a game like this, you're going to do everything you can to take it from the other person," said Ghesquiere of the matchup.
Kath Ratcliff broke up a reset to get it back for Scandal, but Denver responded with a suffocating coverage sack in person defense, drawing a stall that frustrated Scandal's Jenny Fey so much that she spiked the disc. Johnson confidently picked up the disc, rifled an around backhand deep to Becca Miller for a beautiful break to put her squad back ahead, 10-9.
"One of our mantras has been 'Molly Brave', not to wilt under that sort of pressure. If it's the right look, take it," said Molly Brown captain Carolyn Matthews after the game.
"That was one of those moments we knew we had no fear and we loosened up a bit," added Claire Chastain.
There would be no more breaks. The teams traded to double game point. Payne hucked a forehand to Dena Slattery, who just got enough of the disc to gain possession. An errant swing in the red zone was saved by Payne a few throws later, and she quickly dropped it off for Slattery to send Molly Brown to the semifinal. Scandal's former leader had delivered the dagger that ended their season.
"We've worked hard all year to gel as a team, and this weekend is definitely it," said Chastain after the victory.
After years of coming up just short against Scandal, of missing out on the semifinals, Molly Brown had defeated Scandal in an emotional and challenging game. It marks the first time a Denver women's team has made semifinals in 2006 when Rare Air – featuring Matthews and Jana Krutsinger from this year's team – defeated Safari in quarterfinals.
"I feel honored," said Molly Brown captain Maggie Chen. "Honored that we could experience this with a lot of depth on our team and old Molly Brown players who have been there since the beginning of the team."
For Molly Brown, Claire Chastain and Tina Snodgrass led the way offensively; Snodgrass had four goals while Chastain tallied 5 assists; Slattery and Payne also had major contributions. Sarah Itoh contributed three goals and Kath Ratcliff played a huge role offensively, and star Jenny Fey was exceptional, putting up six assists in the losing effort. Fellow playmakers Sandy Jorgensen and Alika Johnston were relatively quiet; Jorgensen couldn't quite connect on deep shots and Johnston was flustered by Payne all game.
Molly Brown moves on to face top seeded Boston Brute Squad in the semifinals. It is an exciting draw for Denver, facing off with the lone semifinalists they've beaten before. Now they'll aim to make Denver's first women's final in the modern ultimate era.