Machine, 0-12 against Ring coming into the game, finally got the win they've be searching for.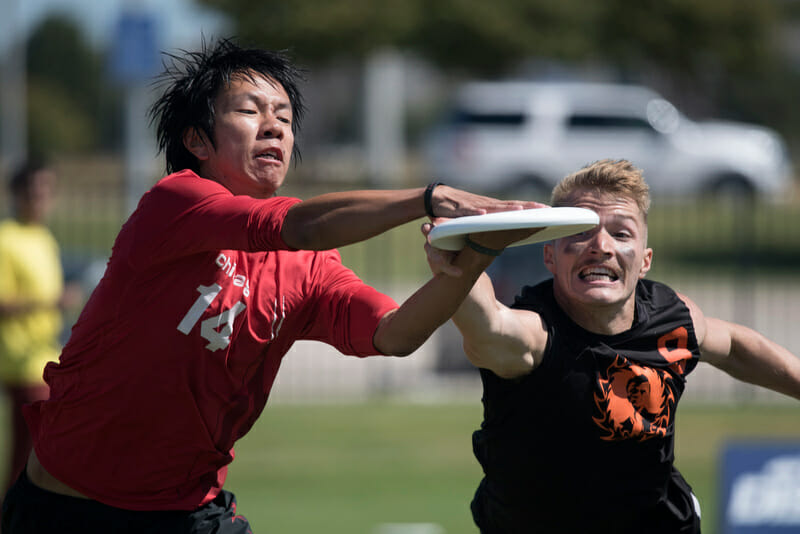 Ring of Fire has never lost to Machine. Until today.
Machine entered today's game 0-12 against Ring in program history with the memory of being knocked out in prequarters a year ago by Raleigh fresh on their minds. But today was different. They entered the game on a roll, having just beaten the defending national champions Johnny Bravo and gritted out a 15-14 victory over Ring to reach their first-ever semifinal.
The game was exceptionally balanced and neither team ever led by more than two points.
Brett Matzuka had an outstanding game for Machine, finishing with three assists and one goal. He was excited about his trip back to the semifinals. "It's great to do it for this group of guys," Matzuka said after the game. "It means a lot to them."
The first part of this game was all offense. Ring of Fire played the cleanest ultimate they played all tournament, but Machine wasn't giving Raleigh any chances. The game had no turns for the first four points, with the offenses airing it out for an exciting start.
Ring of Fire's first break opportunity came at 2-2. Justin Allen caught the disc on the goal line in his first important touch of the game — and of the tournament (he missed all of Thursday and Ring's prequarter). The wind got the better of Allen, as an attempted inside air bounce backhand went straight into the sky. Machine got the disc back, and eventually held.
That small moment epitomized the day for the Ring D-line. They were given plenty of opportunities, but they could never put the game away. They would finish 2/7 on break chances, neutralizing the effect of their defensive pressure.
The Machine D-line was always prepared for their break chances, even with so few.
Halfway through the first half, the Raleigh offense had one turn, while Chicago had four. But with more opportunities, Ring of Fire still failed to capitalize. Ring's go-ahead break finally came when Chicago dropped an open score. Ring found Taylor Pope in the endzone, who emphatically kick spiked it.
At 7-7, Ring of Fire was receiving in an attempt to take half up a break. An ill-advised huck flew past an outstretched Jack Williams, and Machine had a chance for the lead. Williams — who was Ring's most effective cutter — had none of it. In the biggest play of the game, Williams got the disc back with a monster layout interception on a Chicago in-cut. Ring held to take half 8-7.
At halftime, everyone is thinking: this is the moment when Ring pulls away. The same game they always play has now begun to work, Machine is rattled, the run of breaks is coming. The trading of offensive scores that half only delayed what seemed inevitable: Ring had the momentum.
Raleigh held out of half to take their largest lead of the game at 9-7. The wind started to swell as the offenses traded scores with Ring still holding the tight margin. AJ Nelson got a big sky to get it back within one, but Ring held comfortably for 11-9. The energy for Ring was there as they looked to hold out through the finish.
The wind got heavier still with the score at 11-10. Machine's Andrew Sheehan caught the Ring handlers off guard with a great layout block when he correctly anticipated a swing pass. Machine, with a chance to tie the game, called timeout.
Ring's defense awoke. Every look for the Chicago O was completely covered, and they were forced to settle for a high stall hammer. Later, Nethercutt got two hands on the disc for a loud hand block, and after a few throws, went for the dagger. The wind had slowly accelerated to a point that he may not have accounted for, and the huck sailed long. After two turns the entire game for the Raleigh O, they turned the disc over twice in one point.
Schwenk found Goose Helton on a beautiful huck upwind for the goal to make it 11-11. After trading upwind scores, a Ring upline throw intended for Jared Inselmann was too far out in front. Machine picked up and in a blink of an eye took the lead for the first time since 5-4. But without fear, the Ring offense works it smoothly up the field to equalize: 13-13 with Machine receiving in a game to 15.
Remember: Ring of Fire has never lost to Machine.
The next offensive possession was clinical for Machine. They marched down the field, and hit Brett Matzuka, who had an outstanding all-around game. The downwind scoober was on point and he gave Chicago a 14-13 lead. Micah Hood responded with a beautiful flick huck to Justin Allen to force double game point.
The Ring defense faced the need to force a turn and work upwind for the win. With that in mind, Jared Inselmann and Jonathan Nethercutt were sent out to the line. It was Inselmann's first defensive point of the game.
Smooth Chicago offense led to an upline to Brett Matzuka to the front corner of the endzone. Dennis Tarasi came from behind and laid out over Tarasi, forcing a tough play for Matzuka. After some discussion, the disc went back on a contested foul that was not sent to the observer. A few short throws and a swing later, Bob Liu threw a lefty backhand to Matzuka for the win.
Raleigh captain Dennis Tarasi recorded two D's and one assists in a losing effort, while his teammate Micah Hood had a standout performance for Ring with three goals and two assists. For Machine, AJ Nelson was unstoppable downfield and finished with four goals.
A note: Matzuka beat two of his former teams in two straight elimination games to reach semis. "I'm not sure what this makes me looks like, but they're actually two of the saddest wins," Matzuka said. The Machine standout played with Johnny Bravo last year, and Ring for six years before that, making this win a strange one for a seasoned player. "I truly respect and love them."