Brute Squad's defense put the game away in the first half.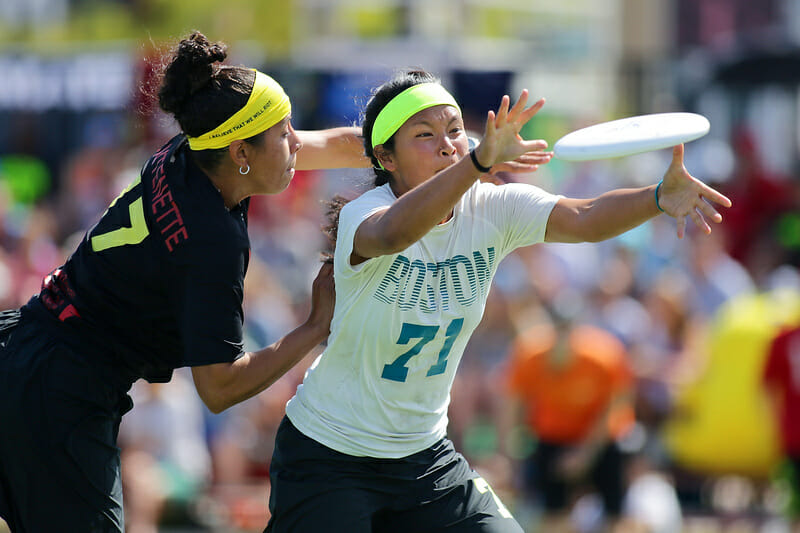 Boston Brute Squad has claimed its official place atop the women's club scene with a 15-12 win over Seattle Riot in the final game of 2015 Club Nationals. Led by an impressive defensive performance that completely took Riot's offense off of its game and blew the game open with a 7-0 run to close out the first half, Brute capped off a perfect tournament with a beautifully played game in the final.
Riot started very well, with a clean hold to start the game and a break on its first defensive point of the game. In a surprising strategic move, Riot started by flipping its usual lines, playing its D-line on offense to start and then trotting its O-line out for its first defensive point.
"We liked our O-cutters on their O-cutters and we thought our D's O was playing well," said Riot coach Andy Lovseth. Captain Kate Kingery elaborated that the team anticipated Brute Squad to have not game planned for facing Riot's vert stack.
The strategy backfired very quickly thereafter, with Brute easily holding on each of its next two offensive points and then going on a six break tear to take half at 8-3. On paper, the decision made sense. Riot's D-line offense had been very efficient all weekend and, more-so, Riot's O-line defense had been spectacular. But during Boston's initial three-break run, Riot's D-line was broken twice. Lovseth said he would do the same thing again given the chance. "We would have been [successful] had we not thrown a bunch of stuff away," he said.
Boston's Leila Tunnell said that she did not even notice the tactic, laughing, and saying that she was "just focusing on what was ahead."
Tunnell, though, did credit Brute's defense with causing Riot's problems on offense. "We have the best D-line in the country," she said.
Head coach Ariel Jackson, too, cited the Brute defense as being the difference in the game. "We have been working all season…on priding ourselves on our person defense and D points," said Jackson, who also noted that the team spent its last practice working on "finding our marks because we knew that was going to be important."
Riot felt that mark pressure, as its handlers struggled to reset the disc for much of the game. Lovseth said that Riot's "aggressive person defense suffocated us" and commended Brute's marks for taking away Riots deep game as well. Seattle's deep looks were challenged at every turn by active marks that helped defenders recovered and forced the few shots taken by Riot to be ineffective. After the first two points, Riot did not have a single point in which they completed four or more passes for the rest of the half.
Out of half, Riot was able to gain a couple of breaks to get back within 9-6, but was broken again on its next offensive point, killing any momentum towards a comeback. The teams largely traded points, each claiming a break to set up a 14-10 Brute lead. Riot then broke twice and had an opportunity to break a third time but was unsuccessful; the potential comeback run was halted by a rhythmic Boston team.
Brute Squad played well across the board, but a few players did stand out as difference makers. Kami Groom, especially, left her mark on the game's biggest stage. With an astounding plus/minus of eight on 12 points and four blocks, Groom was a monster that stood out even on a D-line that played as well as Brute's did from top to bottom. She also had three assists and a goal for good measure.
Jackson highlighted Cassie Wong as his most influential player. "Whoever [Wong] was guarding, all the time she was great," he said.
Wong contributed a team leading three goals as well, but her – and indeed the whole team's – greatness shown brightest on her defensive performance. Two of Riot's main cutters, Sarah Griffith and Calise Cardenas, had been dominant throughout the tournament but were limited to a shocking combined six touches in the final. Wong had a lot to do with that. Shellie Cohen, Amber Sinicrope, and Becca Ludford also stood out as parts of a Boston defense that put pressure on Riot's core handlers; Rohre Titcomb, Alyssa Weatherford, and Gwen Ambler averaged just under 83% completion percentage in the game.
Unsurprising for a team as talented as Riot, they had some players stand out despite the outcome. Rookie Jaclyn Verzuh was perhaps the team's most productive element, recording a pair of goals and a pair of assists. Kelly Johnson turned in a strong performance as the quarterback of the Riot D-line's offense and perhaps its best individual defender, leading Riot in touches while adding a goal, two assists, and block.
Brute Squad was dominant in a game that was expected to be at least be close, if not end in a Riot win. Their ability to rebound from an early break and then dominate a team that had played so well in its semifinal will go down as one of the more impressive finals showings in recent memory.
Riot will certainly be disappointed in its many execution errors, but Brute Squad's defense deserves a lot of credit. Boston was a deserving winner and now will enjoy a year of being the team to beat in the division. That's a challenge worthy of a team that played like a champion.