Matt Bennett is gone, but the team is looking forward.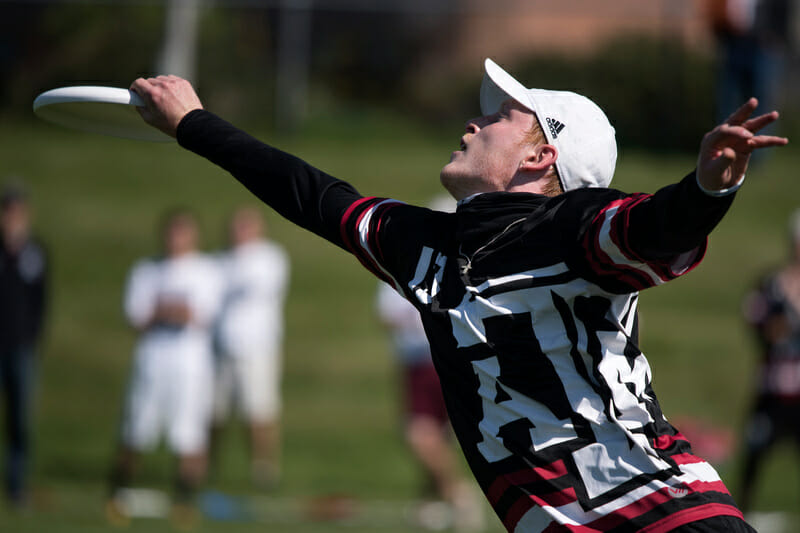 When you hear "Texas A&M ultimate," you probably think of two names: Dalton Smith and Matt Bennett. Starting with their near Nationals qualification in 2013, this do-it-all duo ruled the ultimate scene in College Station and the South Central region. Take last year's Nationals for example: The two players racked up a staggering 47 assists combined, while no other player on their team even reached more than seven. They just love to throw goals. They've even drawn comparisons to another high-profile sports duo: the "Splash Brothers" of the NBA's Golden State Warriors.
Dallas Roughnecks owner Jim Gerencser recently bought into the hype, signing the two handlers to his recently formed AUDL team. It's safe to say that Dalton Smith and Matt Bennett are the real deal. However, 2016 is a new year, and as tends to happen in college ultimate, change comes.
Matt Bennett, the throwing wizard of College Station, finally graduated.
The Basics
Coaches: Bobby Lewis, Jose Cespedes
Captains: Scott Campbell, Ben Lewis, Nick Ochoa
2015 Results: T-9th at Nationals, South Central Regional Champions
End Of An Era?
During Bennett's time at the helm, A&M turned from an afterthought in the South Central into the beginnings of elite level ultimate program. In 2013, they lost in the game to go at Regionals. In 2014, they made Nationals. In 2015, they made it even into pre-quarters, after rolling through all contenders in the South Central. This year, they are looking to continue that trend, but without Bennett, they know it will be different.
"Matt was obviously huge for our team," said Smith. "He took a lot of pressure off other players – not having another guy that knows that game as well as Matt does is hard."
Matt Bennett burst onto the national scene in 2014, leading all players at Nationals in goals thrown by a wide margin. Not just assists, but beautiful assists – offhand scoobers, lefty backhands, and full field blades. He's been characterized as having his own gravitational pull, as he draws the eyes and attention of offensive and defensive players alike. He is one of the players you have to specifically game plan around, and for A&M, this yielded huge dividends. How can Dozen hope to replicate the success that he brought this team?
Or A New Era?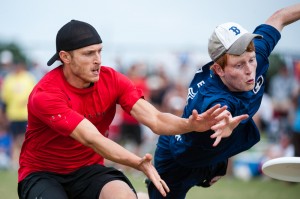 Smith has something to say about that. While most in the country assumed he was a fifth year senior last year (probably due to his emergence on the scene at such a young age — it's hard to forget his first throw layout block for Austin Doublewide [left] in the 2012 Club National Final as a college sophomore), Smith actually has one year left.
He "pulled all the strings [he] could," double minoring so he could make one more run at the National Championships.
It's hard to say that Smith is overlooked, considering the accolades he has achieved in his four year college career. In fact, he is probably one of the most accomplished players in college ultimate right now. He has spent years playing club on Doublewide. He played on two US National U23 teams, winning gold with both of them, and filled crucial roles on both offense and defense. He won South Central rookie of the year honors in 2012.
In contrast to the flashiness of Bennett, Smith is a surgeon, preferring his hammer and forehand blades to scoobers and air bounces. He is a player who uses his legs to win games, but has killer throws to boot. While he has struggled with injuries in years past, he says he is "feeling as good as [he's] felt in a long time." Even slightly hobbled with his ever-nagging hamstring at Classic City Classic this past autumn, Smith commanded a young-faced Dozen squad, looking very much the picture of a leader.
If you are looking for a superstar to lead Dozen, look no further than Smith. He is poised for a big season and, in his own words, he "hates losing."
The Core
A team isn't just about your stars, no matter how talented they may be. Last year, A&M ran a vertical stack filled with speed and height. Thomas Slack, Ben Lewis, Robert Lewis, Kevin Land, and Ian Smith provided big targets for Smith and Bennett to throw to and provided competent and safe resets when their two quarterbacks needed a release valve. Of those players, only Ben Lewis remains. Frankly, A&M's biggest cause for concern isn't the loss of Matt Bennett, but rather the loss of the veterans that surrounded him.
This year is largely about who will step into those roles. We know captains Ben Lewis, Scott Campbell, and Nick Ochoa will all feature heavily for Dozen, along with Smith. But in terms of new faces, look no further than sophomores Connor Ughetta and Nico Ceaser, who shined with Smith in the backfield at CCC in November. According to Smith, it was their first time ever handling at this level.
"After watching the film, it was evident that they were comfortable with certain throws," he said. "First tournament, first time seeing zone…I think they did a phenomenal job."
In their vertical stack, these new handlers' constantly improving chemistry will need to relieve pressure when the downfield cutting options aren't clicking. However, when the cutters are clicking, Ben Lewis and company should see plenty of goals thrown their way. Lewis, in particular, is poised for a monster year. He led the team in goals scored last nationals, and if his hammer catch at Nationals is any indication, he looks to be one of the better athletes in the South Central.
On the defensive side of things, questions remain. Smith and Lewis are phenomenal defenders, and great on a turn. However, can A&M afford to have them play both ways for entire tournaments? Their needs on offense are just as important as their ability to convert breaks. This is where the importance of calling lines comes into play.
For college teams with limited depth and experience, it becomes about line management and choosing your battles, not about playing every single point that you can. Not only does this save the legs of your stars, but it gives your team a future. It allows your rookies to get their legs under them, and eventually puts them in a position to carry the team on their own. Smith acknowledges this, and praises the "open conversation and dialogue" that exists between the coaches and captains.
"In the past, Matt would go over every single point, or I would go over every single point, but its not gonna be that anymore," Smith said. Expect to see a more opportunistic Smith, who will be available to play every point (he says he has been conditioning for just that), but will only play defense when he needs to. Other veterans will do the same. For A&M to go deep this season, they will have to find that tricky balance between relying on their experienced players and developing their new ones.
The Beginning Of A Program
While Smith might not be a captain or coach, he is involved in almost every decision on the team. He watches film constantly, already having pored through his team's CCC footage. He rehabs, he conditions, and he trains with the rookies.
Smith's philosophy is simple: "It's just a matter of putting in an efficient amount of time and effort…you know how you make that next step, in any sport. It's outside practice. You do more than what you are supposed to do. As a team, if we do that, I think we can go pretty far at Nationals."
It seems like the team has bought in, rolling through a revamped tryout process, a new practice strategy, and winter break workouts, all with Smith leading by example. Programs are built by a few skilled players and leaders who pass that mantle down to other. While questions exist if A&M can possibly continue their steady improvement following the loss of Bennett and, after this season, Smith, it seems clear they are working to put those concerns to rest.
Regardless of their results this season, don't expect Dozen Ultimate to fade away anytime soon.
Likely Ceiling
Pre-quarters appearance.
With Lewis and Smith rolling, this team is dangerous. Both are phenomenal athletes, and Smith's improved handling ability makes him one of the most complete players in the game. If they figure out their line management, qualifying for Nationals and making it out of pool play on the back of their veterans (who are quite good) should be no problem.
Still, the lack of depth is a big concern, even bigger than it was last year when the team found adversity at Nationals.
Likely Floor
Loss in the game to go of Regionals:
Smith has struggled with injuries in the past. If he is hobbled at all, Dozen is in trouble. A&M has speed and height, but without Smith, they lack the true playmaker they need to make it out of the always-tough South Central. Colorado and Texas are good every single year, and if the region doesn't secure three bids, A&M could easily find themselves on the wrong side of a nailbiter in the game to go