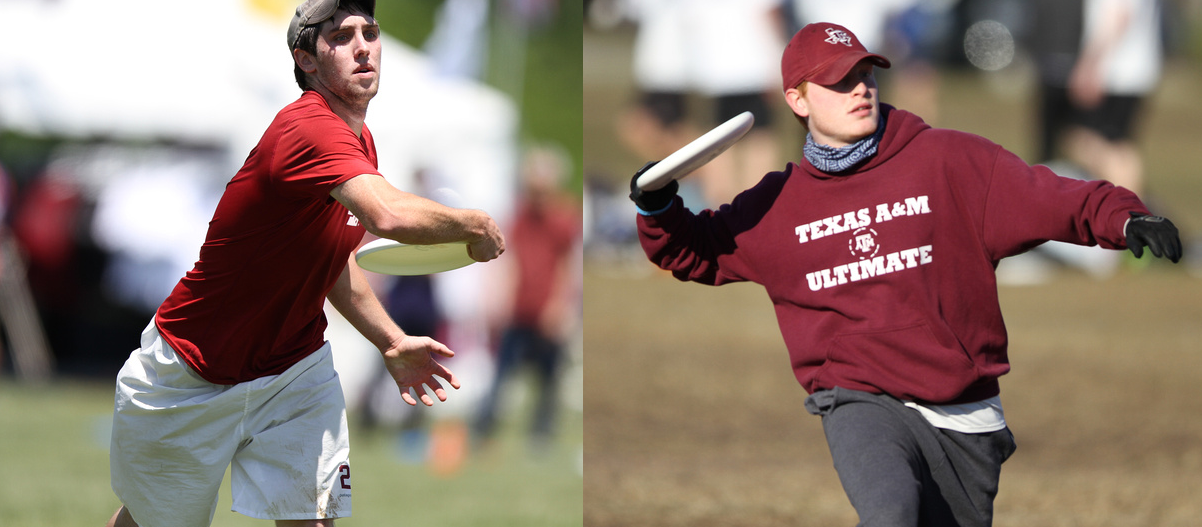 When Texas A&M's Matt Bennett and Dalton Smith leave their shared dorm room to get in a throwing session, you're not going to see them sticking to the template, throwing fifty backhands and fifty forehands.
"We don't really practice conventional throws," said Smith. "It's more of something you would not really recommend to someone to throw."
You don't have to look far to see that practice paying off. At Centex last weekend, you could enjoy watching Smith fire off forty yard hammers for scores against UNC in the semifinals or Bennett unleashing an array of scoobers, low release lefty backhands, and blading on-a-dime flicks to tally eight straight assists against UNC Wilmington in the final.
That is not an aberration: the Texas A&M offense looks better than ever with Bennett and Smith playing together as a backfield, creating scoring chances with an aggressive, unique approach.
Now in their fourth year playing together, the two star handlers have seen their unorthodox style pay off as Texas A&M has shot to #4 in the Ultiworld rankings with an impressive Centex. And everything has flowed from Bennett.
Growing The Program
Bennett has long been a special talent in college ultimate, but it's taken years for Texas A&M to transition from a group with bubbling potential into a team that's prepared to win. In 2013, they were one of the buzziest up-and-comers in the Men's Division, but they fell on double game point at Regionals and failed to make it to Nationals. Last year, they were even better, but late injuries — including a season-ending hamstring injury to Smith — cost them any chance at a significant Nationals run, though they did qualify for the Championship tournament.
This year, things are looking up. "We've always had talent," said Bennett. "But we haven't always had commitment…Everyone is finally going to things. We went to Florida [Warm Up] with finally more than 16 people, and you can see the difference it makes immediately."
Nobody could pinpoint quite why this year has seen more dedication from the entire roster, but it could be in part due to new head coach Jose Cespedes.
After years of running the team as the captain/coach/treasurer/president (and convincing Smith to play ultimate in his freshman year), Bennett has finally been able to focus on flourishing as a player. Cespedes has taken over strategic adjustments and game planning, which has been a source of legitimacy for incoming players and stability for the starters.
He's already made one key change: he moved Bennett from the defensive line at Warm Up back onto offense alongside Smith. Instant success.
"I like the way it looked with me and Dalton on the same field," said Bennett. "It was just so much more comfortable."
The pair dominated possession at Centex, sharing reset duties and pinging the disc back and forth until a cutter found an opening. It helps that the opening could be basically anywhere on the field, especially when the disc is in the hands of Bennett. "If he sees a space," said Smith, "he's going to do whatever he can to get it to there." That means everything from lightning fast break backhands to wild helixing scoobers. He might even throw it through your legs.
Risk v. Reward
Smith is not so quick to make those kinds of crazy throws. He describes himself as "a lot more conservative" and says he doesn't like turning over the disc. You certainly wouldn't say the same of Bennett.
But Cespedes thinks that their contrasting styles are a vital part of the team's much improved offense. "They know each other really well, and they're not afraid to tell each other if one is doing too much," he said. "So when one feels like they have the hot hand, we roll with that."
That often means they share central handling duties, depending on who is more in the groove, or even who turned it over most recently. And as long as they're scoring, they're happy. "We don't care if it looks pretty," Bennett said. "As long as it works. And I think Dalton is finally embracing it and I really like it. A lot."
Because both players have different skill sets (you'll rarely see Bennett throw a hammer; it may be Smith's biggest weapon), they can create different looks. How do you stop a team that is almost more likely to throw it to the break side than to the open side?
Mostly, you hope they make a mistake. And they do. If you can capitalize, you can beat them, like UNC Wilmington did in the Centex final by scoring on a number of Bennett's 10+ turnovers.
"I definitely have room to improve," said Bennett. "Every year it seems I learn up until Nationals and all of a sudden I reset after the year is over. Then I go to Florida, make too many bad decisions, then reel it in. Then Centex: I make fewer bad decisions. That's kinda how it is every year. After Centex, I feel like I know where my shots are and where my shots aren't."
Finding the line between dangerous to the opponent and dangerous to his own team will prove to be a critical part of Texas A&M's success in the postseason. There is great value in having the opposition believe that you will throw anything at any time. It creates chaos in well-orchestrated defenses, and teams are often forced into junk looks as Bennett's gravity pulls them out of man. He knows it: "Teams have to do a little bit more crazy stuff to get to us because if they don't, I'll throw it."
Their opponents have taken notice. Florida coach Cyle van Auken said at Warm Up that playing against Bennett is unlike playing against anyone else in the country. UNC Wilmington coach Greg Vassar was equally impressed. "That guy is crazy good," he said at Centex. "He's really good and really fun to watch. Beyond his throws, his field vision is amazing. He sees things that nobody else does."
As you might expect, Cespedes is very high on both of his senior captains. He considers them both among the best college players in the country and has particular praise for Bennett. "He's up there with any of the handlers," Cespedes said. "He may not have the power of a [Jon] Nethercutt flick huck. But his will, and the fact that he can play so many points, and the creativity — he's learned a lot. I would definitely put him there if we're talking about the best players in college."
Is It Their Year?
It's obvious that the team sees a huge opportunity coming up in the postseason. The combination of a strong senior class and a more skilled and dedicated group of underclassmen has everyone feeling optimistic. It doesn't hurt that they've hung tough with many of the country's best teams, including top-ranked Pittsburgh.
"I would love to make it to finals and win it all," Smith told Ultiworld. "I think we have a great chance of doing that this year. The style that we play — offensively and defensively — is much different than other teams. It's harder to game plan for that."
Even Cespedes didn't shy away from sharing the team's objective.
"The end goal is to make it to finals," he said, "and once we're there, we'll see what happens."
Correction: An earlier version of this article said that Jose Cespedes had a connection to Florida head coach Cyle van Auken. That was inaccurate.