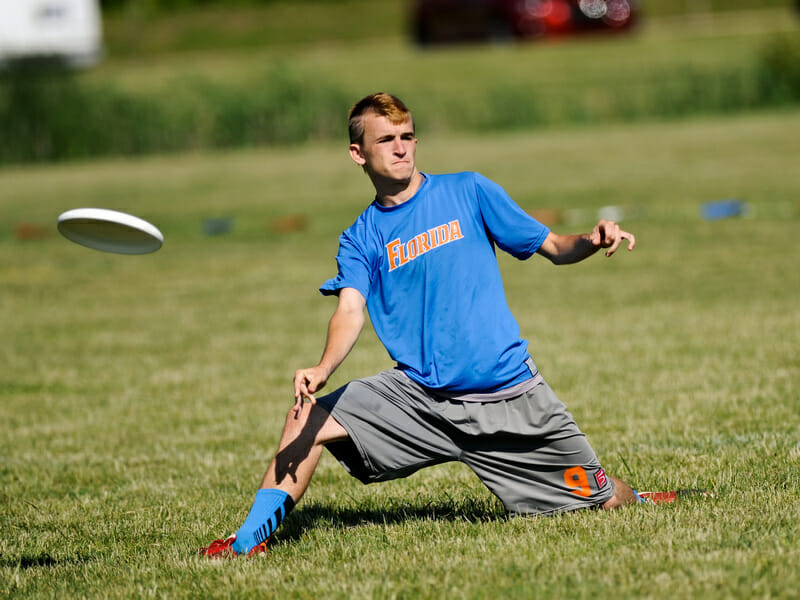 The article is presented by Nike Ultimate Camps; all opinions are those of the author. Please support the brands that make Ultiworld possible and participate in Nike Ultimate Camps!
Here are recaps of the semifinals at the 2016 Florida Warm Up.
Minnesota 15-9 Texas A&M
Minnesota exploded out of the gate with four straight breaks and never looked back as they blew out Texas A&M for the second straight day.
Defensive handler Sam Bumsted was the game's MVP, ripping two huge hucks to get Grey Duck's first two breaks and getting an excellent deep block against Texas A&M's best big, Ben Lewis, that led to another break.
Minnesota's offense was untouchable for most of the first half, finishing with just one turnover. Grey Duck does an outstanding job of isolating their best players in space — Ryan Osgar was primarily the first under and 6'4″ Ben Jagt the first deep. There were multiple 1-2-3-score points for Minnesota.
A&M did have some limited success trying a zone or a saggy handler set to stop the huck, but Minnesota consistently punished the poach. Dozen managed just a single break in the game that came off of a rare offensive execution mistake — a turfed hammer from Soham Shah.
Minnesota's defense was equally impressive. They pressured A&M on every possession, forcing turnovers on all but two points. It wasn't anything special — just good, hard man defense and good denial of easy resets to Dalton Smith. A*M, especially early in the game, was complacent after turnovers, lamenting that they had made a mistake, and Minnesota used the fast break to rip off scores in quick succession. By the time A&M settled down, the game was out of reach.
Minnesota will face Florida in the final. The two teams have been consistently the most impressive at the tournament.
Florida 12-11 Wisconsin
It was a rough first half for the Wisconsin offensive line, which posted 15 turnovers as a unit. Florida maximized a small roster (only 16 players in cleats) and used effective switching to further frustrate the Hodag offense. Down 8-4 at the half, Wisconsin head coach Hector Valdiva made some personnel changes on offense and threw out some different defensive looks at Florida's Bobby Ley-led O line.
There were some bright spots for Wisconsin in the second half. They played two points of clean, turnover free offense for the first time all game and seemed to be more effective at creating flow when starting out of a side stack. Chris Wilen made a big skying catch over two defenders before dishing a quick assist for the Hodag's first break of the game.
Madison started to make a run in the second half  — and got some breaks the way you would expect with a classic Wisconsin defense – but still looked inept at times when receiving the pull. 12-11, Florida won in the cap.
When Florida gets a lead they're tough to beat. Their starters are game sharp. Ley, Billy O'Brien, Patrick Gettino, Jake Dummeldinger, Tanner Repasky – these dudes see tons of points and keep an even pulse. Mental toughness goes a long way in college ultimate.
They beat Minnesota 13-4 earlier at Warm Up… it'll be interesting to see if they have the gas to finish the bracket.