Numerous double game point endings and upsets were the defining trends at an exciting weekend in Tallahassee.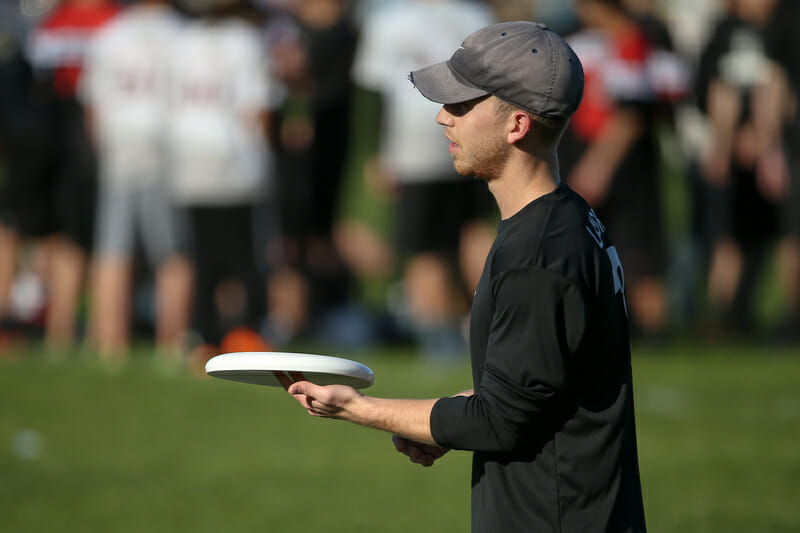 An unprecedented field competed at Tally Classic XI this past weekend, making the tournament relevant on a national stage for the first time ever. North Carolina and UNC Wilmington came down to Tallahassee and joined a host of Southeast regional powers and up-and-comers to round out a strong Men's Division I field with four ranked teams, and the action did not disappoint – even if it took it a little while to really get going. Here's a look at what went down.
Stale Saturday
With a top-heavy field and uniform scheduling between the pools, Saturday was largely uninspiring. In three of the four pools, the top seed went undefeated and the second seed lost to only the first seed. Most games weren't close. Pool B winner Florida outscored its opponents by a combined score of 52-25. Georgia and Auburn combined to beat the other teams in Pool C 78-32, with Alabama scoring 11 of those in its game with Georgia. North Carolina and Florida State did not run up quite so impressive score lines, but neither had any real trouble with the three bottom teams in Pool D.
The top two seeds in each pool played each other in the final round of the day, but, even then, the competitiveness of the day did not improve much. Florida, which was the most impressive team on day one, beat Georgia Tech with as much ease as they had any of the other teams in their pool. The Gators played with more open lines than many are used to seeing them play with. Relying on a deep squad of playmakers — led by captains Bobby Ley, Billy O'Brien, and Tanner Repasky — Florida looked poised for a run to the tournament final.
Georgia and Auburn were fairly evenly matched in their battle for Pool C supremacy, but Auburn was unable to put any real pressure on Georgia and did not record a single break in the 13-10 loss. UNC Wilmington did have a bit more trouble with LSU than expected, but was never in any real danger of dropping the game to the only top eight seed to miss quarterfinals.
Saturday went largely to seed and was relatively dull in doing so. There were, however, some exceptions.
Tulane Stuns Wilmington
The game of the day came in the second round of play in Pool A. The number one ranked team in the country took on 13 seed Tulane, fresh off a win over eight seed LSU. Tulane came out with a tremendous showing defensively and got two early breaks. Wilmington could only get one break back as Tulane took a surprising 7-6 lead into half.
In the second half, Tulane's offense was simply too clean to allow a Wilmington comeback. The Seamen were only able to generate one or two break chances and were unable to punch those in. Tulane did not dominate Wilmington by any means, as the teams traded holds for the duration of the second half. But Tulane was surprisingly strong on offense and unphased by any of Wilmington's defensive looks.
"Our defense took really responsible risks at the beginning of the game…and our offense clicked. It felt very, very simple," said head coach Drew Galiger. "We have seven guys [on offense] that all know what their job is on the field. We run on a really efficient, effective offense that just opens up a lot of space for our guys to win one-on-one matchups."
That was perhaps the most impressive element of Tulane's victory. There were no out of the ordinary, outstanding performances, though the team's stars like Alex Glick and Evan Walter did play quite well. Tulane beat Wilmington by playing within themselves in a very simple and assured offensive performance. Even on double game point at 12-12, Tulane made it look easy, working the disc downfield before a pair of strike cuts to the force side opened up the game winning score.
North Carolina & Florida State Go Neck-and-Neck
In the other notable game on Saturday, four seed UNC and five seed FSU squared off in the game to win Pool D. Both teams seemed to save their best for the final round of the day and provided an exciting back-and-forth game that was not decided until double game point.
Both teams started sloppily, with FSU's D-line offense struggling in particular, but two long holds started the game off.
UNC seemingly had more star power in its side, with Aaron Warshauer, Matt Gouchoe-Hanas, and Elijah Long doing the heavy lifting for the Darkside offense. But FSU's depth and tenacious defense held its own and it was Florida State who grabbed the first break of the game to go up 6-4.
The teams traded holds into half for the 7-5 FSU lead. UNC got its first break of the game at 9-9 and then quickly earned another to take an 11-10 lead. The two squads again traded holds to force double game point at 12-12.
Florida State created two near turnovers, but possession saving layouts from Gouchoe-Hanas and Long kept the point alive for Darkside. Gouchoe-Hanas eventually caught a pass on the goal line, and after a lengthy discussion was adjudged to be in, resulting in a rather anticlimactic ending to an otherwise enthralling game.
Quarters
UNC vs. FSU was the final game to finish on Saturday and the intensity shown in that contest proved to be an omen of how things would pan out on Sunday.
After perfect weather on Saturday, a windy Sunday morning made for some interesting quarter finals action.
UNC Wilmington 12-9 Florida
Florida's reward for being the best team in the field on Saturday was getting to play the number one ranked team in the country in quarterfinals. Wilmington broke early, but Florida got it back on serve quickly and the teams were evenly matched in the game's early stages. Points were long in the early going, with both teams looking to attack deep but unable to do so with much effectiveness due to the wind.
Florida's cutters became a bit stagnant and the offense was at times overly reliant on Ley's deep shots, which were often getting caught in the breeze. As Repasky said after the game, "We never adjusted to the wind. We kept trying to play like we did on Saturday."
As a result, Wilmington took half at 8-6, up two breaks. After a Florida break on the first point of the second half, Wilmington got a break of their own and held the rest of the way in a game that got increasingly chippy as it wore on.
Despite their quarterfinal exit, Florida did go on to finish the weekend well, winning over Tulane and North Carolina in the fifth place bracket. They will feel hard done by drawing Wilmington when they did, especially since the wind died by the second round of play on Sunday. But as head coach Cyle Van Auken said, "That's the way tournament formats happen, unfortunately. Upsets happen and you just have to play the team in front of you."
Still, Florida showed nice resiliency after a frustrating loss to beat two Pool winners and cap off a strong showing in the tournament with two impressive wins.
Auburn 12-11 North Carolina
Auburn and North Carolina both provided a number of double game point thrillers on the weekend and the two combined for a great one in their quarterfinal. UNC started quickly and jumped out to a two break lead at 5-3. Auburn slowly worked their way back into the game and were back on serve when they broke to take half after a UNC red zone turnover.
Auburn broke again early in the second half and managed to hold the lead until soft cap. From there, both teams stacked their lines but neither team could earn another break, setting up double game point at 11-11 with Auburn receiving. The UNC D-line — featuring Nathan Kwon, JD Hastings, Vikram Sethuraman, as well as some of the O-line mainstays — finally generated a break chance, but turned the disc back over a couple of throws later. Auburn ripped a deep shot to Michael Volz, who got huge over Kwon for the game-winning score. The late game play was a sign of things to come for Auburn, and ended North Carolina's shot at a finals berth with their first loss of the tournament.
Georgia Tech 12-11 Tulane
Georgia Tech and Tulane provided another game decided on double game point and another comeback by the underdog. Georgia Tech had not been particularly impressive on Saturday, getting easily dispatched by Florida and not looking especially dominant against the lower teams in Pool B. Tulane was the story of the first day of the tournament, knocking off Wilmington en route to a perfect Saturday.
The game started as expected, with Tulane grabbing two early breaks to go up 5-3 and maintained that advantage into half at 8-6. Though Tulane was not able to put away Georgia Tech, they maintained control of the game to 10-8, but a Tech hold and break set up an interesting finish.
Tulane's offense regained its composure for an easy hold to make it 11-10, giving their D-line an opportunity to break for the win. They had two chances to do so, but were unable to work the disc down the field. A Tech deep shot to Devon Rogers on their third possession earned the long hold and set up double game point.
Working downwind, Tulane turned the disc cheaply, giving Tech possession at midfield. Doing what Tulane's D-line offense failed to do the previous point, Georgia Tech effortlessly worked it up the short field to complete the comeback and pull off a surprising victory.
Florida State 12-9 Georgia
Florida State was able to maintain its momentum from its strong showing at the end of Saturday into Sunday morning. Again, long points characterized the game early for FSU, but this time around they were able to capitalize to the effect of two breaks and a 3-1 advantage that they would never relinquish.
Parker Bray, Sam Little, and company had decent enough weekends for Georgia, but the wind and FSU's defense were enough to keep their offense from hitting its full stride. Florida State's offense, led by Bobby Patterson and Connor Holcombe, impressed and the athletes on their D-line continued to create break chances on their way to a relatively comfortable win.
FSU would go on to lose its semifinal matchup with UNCW and lose a shocker to Georgia Tech in the third place game, but overall they were fairly impressive on the weekend, particularly against Georgia and North Carolina.
"I thought we were a much better team than we've ever been this season," said head coach Peter Van De Burgt. "We are playing at a much higher level than we did at Warm Up a couple weeks back and we saw improvement as a result of the work we've been putting in the past couple weeks."
Van De Burgt was unhappy with the defensive performance against Wilmington and the general let down against Georgia Tech, but overall Florida State showed signs of improvement and put together a relatively strong showing at their home tournament.
Auburn's Ascendency
After the two easily won their semifinal matchups, Auburn and UNC Wilmington squared off in an instant classic of a finals match. Auburn capped off their superb Sunday with another double game point win and announced themselves as a team who can play with the top teams in the country.
The team is full of star-quality players that went head-to-head with some of the best players in the country and came out on top. Ryan Landry is a known commodity, of course, but Blake Galloway, Evan Boecking, Eric Sjostrom, and Martin Newman played to that same level as well.
Head coach Stephen Brandon was, of course, more than pleased with his team's performance and results, but viewed the tournament as a springboard into the rest of the season. "It's a long season," he said. "The best teams in the country continue to get better as the season goes on. The goal is to peak at Regionals and make sure that we've put ourselves in a position to earn a bid to Nationals. That's the goal again."
He referred to last year's team's Nationals birth and seemed to think that this group was even stronger than it was a season ago. "Last year we earned a spot at Nationals, you know, it didn't feel like a fluke last year, but a few things had to go our way in order to do it," he said, referring to their back door entrance to Nationals after Tulane's disqualification. "This year, I think, this team has a ton of potential and has everything in their corner to do that again. To win this [tournament] is the first step in that direction."
Landry saw the victory as the result of five years of hard work, a sentiment his coach echoed. "It feels rewarding," said Landry. "This team works really hard and we really embrace the team mentality…It's nice to see the hard work over the years kinda culminate and it's nice to be on top of a crop of good teams. We're not usually in that position as a program and it's nice to be here."
Of course, that rewarding feeling will be for not if the team does not peak in the post season as Brandon suggests. But it's not as if Auburn played perfectly in Tallahassee. Even in the championship game, Auburn's offense struggled to play clean points at times. The team's O-line defense was so tremendous it just did not matter. And against Georgia on Saturday, it failed to record a single break. So there is definitely still room for improvement. But the kind of confidence that can come from a season-defining win like this should go a long way in the rest of Auburn's 2016 campaign.
*
Ultimately, the first Tally Classic with a field of this sort lived up to the billing. Numerous double game point ending and upsets were the defining trends of the weekend. It will be interesting to see what kind of tournament it is next season. After a dreary Saturday at Stanford Invite, will more schools join the Carolina teams in flocking to Florida for their early March tournament?
As for this year, where do the teams go from here? Will Auburn and Florida be able to peak at the right time? How do UNC and Wilmington bounce back after disappointing trips south? As usual with midseason tournaments, more questions were asked than were answered, but it sure made for a fun weekend of ultimate.