A big DIII test this weekend in Pennsylvania.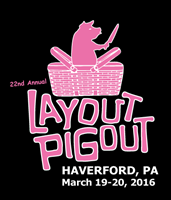 For the past 22 years, Layout Pigout has quietly been making its name as one of the most enjoyable weekends of the spring season. Just outside Philadelphia, Haverford College's Big Donkey Ultimate has hosted the tournament since 1995, making it one of the oldest continuously-run college tournaments in the world.
This year, it has become one of the biggest D-III men's tournament in the country by bringing in some of the top D-III teams east of the Mississippi, highlighting some of the best ultimate that the division has to offer — many matchups this weekend could be previews of Sunday's championship bracket play at D-III Nationals in May.
Power Pool A: #17 Franciscan, #1 Brandeis, #19 Richmond, Amherst, East Carolina
With a rematch of last year's D-III National Championship game between Franciscan Fatal and Brandeis TRON, this will be a pool to watch. Richmond and Amherst will look to spoil and steal the pool, and definitely have the potential to as they have proven themselves to be consistently competitive programs.
#17 Franciscan (#14 USAU) sitting as the one-seed of the tournament may be an overestimation, as they have struggled this season without a majority of their 2015 top-end talent. This weekend may not be an exception: Tommy Koch and Dom Schuster will be playing, but the team will once again be without Tony Bort, Jay Ratacjzak, and Stephen Babcock for the weekend. JP Bort, who was injured at D-III Midwestern Invite in February, is also questionable.
They will look to redeem themselves after a semi-finals loss to Wheaton, which, according to Koch, "was the kick in the pants that we have been expecting for a while." He emphasized performing well at D-III Nationals being the goal, elaborating to say that the team isn't as concerned with ranking as they are with improving and gaining depth this weekend as the college series approaches. "Unless any of the other teams in the Ohio Valley can prove that they are capable of [earning a strength bid], strength bids are meaningless to us and it would be more beneficial for us to develop our younger guys," Koch said. With Tony Bort and Stephen Babcock projected to return for D-III Nationals, such a strategy could provide for a scary Fatal squad, provided they make it there.
#1 Brandeis TRON, on the other hand, enters the weekend without any sanctioned play yet in the spring. That said, they have certainly proved themselves to be a consistent force, appearing at D-III Nationals three years in a row. Senior captain Elan Kane emphasized the focus on development throughout the fall season: "We had a decent fall, but focused on improvement over winning games to be honest." With nine seniors leading an experienced, deep squad, they should be the favorite to win it all on Sunday.
#19 Richmond (#10 USAU) looks to play a darkhorse role and continue a solid spring season. Losing ten seniors to graduation last year, they have focused on developing fundamentals and discipline. "Rather than seeing it as a loss we saw it as an opportunity to change our team dynamic. We wanted to get every single player on our roster ready to play the last point of Regionals," captain Dennis Maclaine commented. "We believe we are already better than we were at Regionals last year and we still have a ways to grow." With huge wins over New Hampshire and Messiah at Bring the Huckus two weeks ago, the Spidermonkeys certainly seem to have made up for their losses and will look to continue their success at an even higher level this weekend.
Amherst (#22 USAU) looks to redeem themselves after a disappointing performance early in the season at D-III Warm Up. While they had only one week of practicing as an A-team before that tournament, this Army of Darkness squad should be much more cohesive heading into the weekend. Look for them to re-establish their reputation as an elite program, and play competitively in every game. After losing in the game-to-go to D-III Nationals last year, they will be eager to earn the New England region a strength bid.
East Carolina may be heavily overmatched this weekend, as they have finished last in their section (D-I Carolina) in the past two years.
Power Pool B: #15 Williams, SUNY-Geneseo, #14 Bowdoin, Haverford, Muhlenberg
The weaker of the two power pools, Pool B still features some exciting matchups. Williams and Bryant look to bring strength bids to the New England region, along with Brandeis and Amherst in Pool A. SUNY-Geneseo, who lost on universe to Franciscan in the semi-finals of D-III Nationals last year, lost a majority of their key players and will try to prove themselves once again as an elite contender on the national level. Haverford and Muhlenberg, consistently average regional programs, will look to play spoiler.
#15 Williams (#4 USAU) is currently the only team in the New England region ranked in the top 16 by USAU, and they certainly deserve to be. With a third place finish at Bring the Huckus that featured wins over Temple, Boston College, and Messiah, they look to be in good form entering the latter half of the spring season. This weekend, they will have the opportunity to prove themselves against some of the best D-III competition the nation has to offer, and solidify themselves as a favorite to make it to D-III Nationals. After finishing sixth in a four-bid New England region last year, they'll look to continue their success in pursuit of a Nationals berth. Look for them to challenge teams and be competitive in the championship bracket on Sunday.
The story of SUNY-Geneseo so far this season, despite not playing in a sanctioned game so far, has been of rebuilding. Losing almost all of their top players to graduation after a stellar performance at D-III Nationals last year, they have been expected to drop off significantly. Unless they have had a great recruiting season and developmental fall, look for SUNY-Geneseo to finish third or lower in this pool.
#14 Bowdoin, like regional opponent Brandeis, looks to burst onto the scene with their first sanctioned tournament of the spring. In a historically strong New England region, they will need to prove themselves as a D-III Nationals contender once again. If they can win their pool and avoid an early Sunday exit, they should do just that.
Haverford and Muhlenburg have been middle-of-the-road regional teams in the Ohio Valley in past years, and will be hard-pressed to get past the quarterfinals on Sunday. However, the two sectional foes will feature in a preview of the likely East Pennsylvania Conference championship game.
Pools C and D feature ten more teams, none of which should challenge late into Sunday. St. Joseph's should win Pool C, and could make it to the quarterfinals of the championship bracket; however, the rest of the teams in the lower pools are not likely to make a bracket run.
What To Watch For
Look for Pool A to dominate on Sunday. The top four seeds in the pool

 

(Franciscan, Brandeis, Richmond and Amherst) should all challenge each other in pool play and then look to go far in the championship bracket. All four should make it to the quarterfinals, and could end up meeting again in the semis.
Can Richmond and Williams continue their regular season success? This could certainly be the weekend where both teams, solidify themselves as D-III Nationals contenders after regional exits in the series last spring.
Can Franciscan still compete with the elite teams they defeated last spring? Though Tommy Koch says that the focus will remain on developing depth on the team, it will be interesting to see where Fatal is at as the series looms.
Will Amherst and SUNY-Geneseo surprise? Both teams have been irrelevant in national discussion so far this year, and it remains to be seen whether they can re-emerge as elite programs.