Allen, Korver also set new distance marks.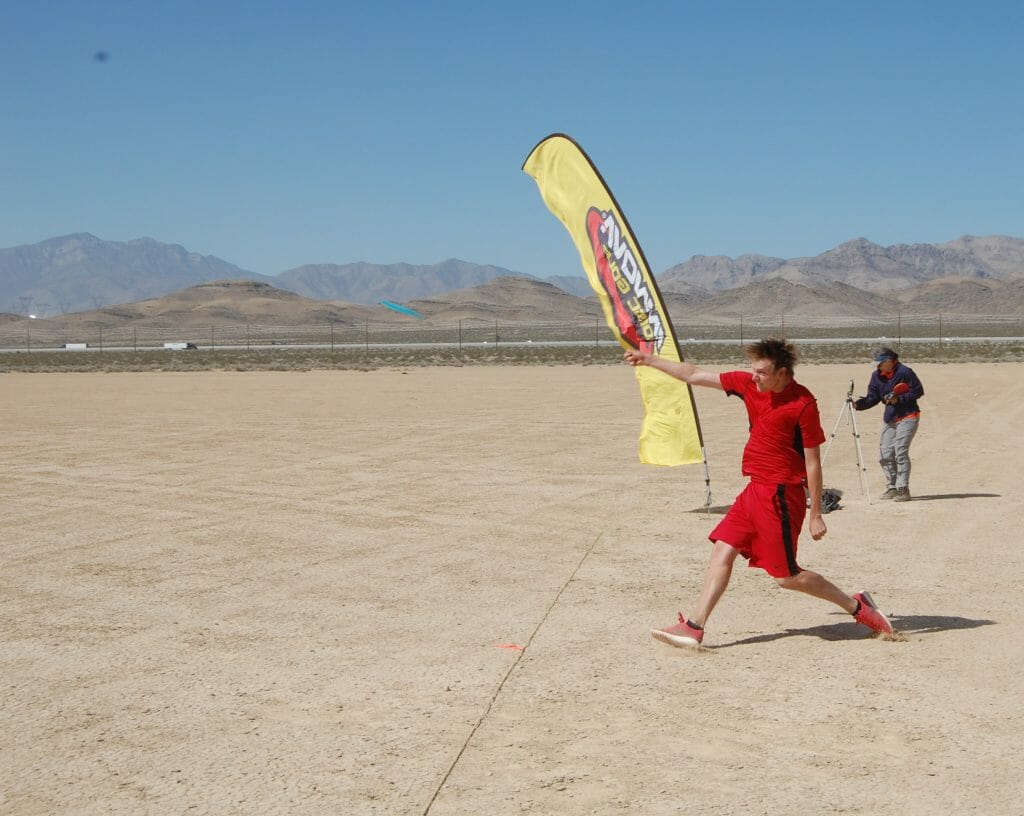 PRIMM, NV – Simon Lizotte made history today, shattering his own World Flying Disc Federation (WFDF) distance record at the High Desert Distance Challenge with a 275.5 m (903.9 ft.) blast among clear blue skies and a 30 mile per hour tailwind.
The throw bested his previous mark by 12.3 meters and was the first recorded throw to travel more than 900 feet.
With the record-setting flight taking place during participants' second set of throws, Lizotte paced over the hard-packed desert floor for much of the rest of the event. Afterward, he insisted he was not anxious, but rather that he knew his competition was strong.
"Not nervous, just hoping it would hold up because I know [David] Wiggins and Alex [Geisinger] definitely have the potential to throw over 900 feet," Lizotte said. "I just got lucky with the good winds, got the angle just right, and the same disc I threw one and a half years ago [a 157 gram Innova Blizzard Boss] got the record again. So that's pretty awesome."
Wiggins maxed out around 850 feet, while Geisinger also broke into the 800-foot club.
The 23-year-old German also said he has had success with his first throws in many distance events. The record breaker was on the first shot of his second round of five attempts.
"Just from experience I know…you don't really want to throw a bunch of shots before you go for max distance because usually your first throw has the best potential to be the furthest," Lizotte said. "Once all your muscles and tendons get loosened up by your first shot, then you don't have that pop anymore. So far, every time for me, my first shot was my best."
Another thrower also made the most of her first shot, as Jennifer Allen broke the women's world distance record with a 173.3 m (568.6 ft) throw right out of the gate, using an Innova Star Wraith. And while she was excited to be the new world record holder, she still had her eyes on another prize during the final two days of the event.
"I have 30 more throws to get my new record of 600 [feet]," Allen said.
Juliana Korver broke the women's over 45 record twice on the day, once tossing a 129.7 m (425.5 ft.) strike and later improving on her own mark with a 135.2 m (443.6 ft.) throw. She threw an Innova Starlite Tern.
The event continues through Monday, though conditions are set to be less favorable for maximum distance. Wind speeds will be lower tomorrow, and gusts into the 40 mph range on the competition's final day might make throwing unmanageable.
Still, there is time for records to fall. It was a reality of which Lizotte was well aware, even as he contemplated not throwing tomorrow unless someone topped his mark from today.
"It's like leading a tournament by five with three holes to go," Lizotte said. "You think you've got it, but it's never over until it's over. So I don't want to celebrate. I'm of course stoked about my throw, and being the first one to ever throw over 900 in competition – which that will stay forever, that I'm the first – that's awesome. But keeping that record for another year, that's what I came here for."
He did, however, have one small celebration in mind.
"Sleep," he said. "Sleeping is one of my favorite activities in the world."
***
Here's Lizotte's Instagram video of the throw:
Simon Lizotte World Record Throw