Edina Green Lantern and Rush took home the boys and girls titles respectively.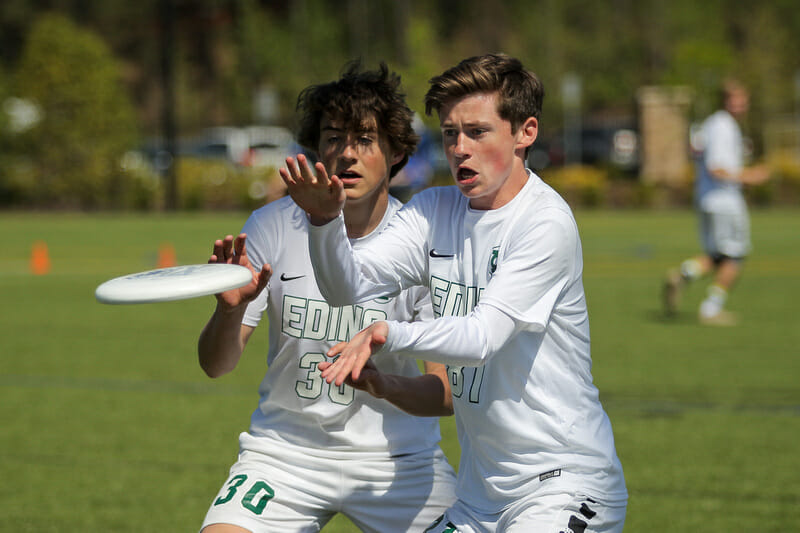 The article is presented by CUT Camps; all opinions are those of the author. Please support the brands that make Ultiworld possible and participate in CUT Camp!
In its second year, Neuqua Knockout proved itself to be the newest premier youth tournament in the country, with 84 teams descending on Joliet, IL to compete. The Neuqua Valley Ultimate Frisbee Club orchestrated the full tournament, with a heavy focus on spirit of the game:
"Our tournament is based on spirit and we want to hold true to that," said tournament director and Neuqua Head Coach Arnoush "Java" Javaherian. "I am proud to say that it was a very successful tournament and we will continue to promote the game with Spirit of the Game as the first and foremost thing."
Boys Open A
Edina Ultimate
While Edina Green Lantern would prove themselves worthy of their top seeding with a close 11-8 win in Sunday's final, the team almost wasn't allowed to compete at all. Their spirit throughout this season combined with their abysmal spirit scores from Paideia Cup1 prompted the Neuqua Knockout tournament coordinators to tell Edina they could no longer attend. After much discussion with the team, the tournament reversed their decision and allowed Green Lantern to compete, under strict conditions that they display good spirit. If they displayed poor spirit, the TDs reserved the right to kick them out mid-tournament.
Throughout the weekend, from what I and other spectators saw, the Edina team played excellent, physical, and spirited ultimate. Perhaps the team had an honest, tough talk after Paideia. Or perhaps Neuqua's strict spirit guidelines forced them to shape up. Whatever the reason, Edina proved they can win without the arguments or the calls that have characterized their previous performances this spring.
Neuqua Valley Cruises To Finals Through Talented Play
Neuqua Valley reached the final of their hometown tournament with plenty of star power and smart defense. Their offense was defined by one combination: Dylan Power throwing assists to Ben Swiatek. Swiatek, a 2016 WJUC alternate, was on the receiving end of over 50% of Neuqua's goals on the weekend. Nobody could beat him in the air or in a foot race.
On defense, Neuqua was stoic. Sometimes they threw a quick 5-pass zone, and sometimes they held flat marks, waiting for the other team to make a mistake so they could convert. This plan only faltered when they matched up with Edian, a high-conversion team who didn't make those unforced errors.
Center Grove Has A Strong Saturday
The Center Grove Trojans earned the only upset in Pool A with a 10-9 victory over Black Ice. Heath Kalaba put his Indianapolis AlleyCats experience to work in the deep space for the Trojans, and Trey Dynes displayed a composed, mature playing style that outlasted his matchups. The Trojans used their athleticism to play sticky person defense throughout the day and their patient offense earned them the second seed out of the pool and carried them past Nashville in a Saturday afternoon prequarter. Their run would end in Sunday morning's quarterfinals against De Smet.
Monarch Physical, But Overmatched
Monarch is a tall, physical team who used their height to their advantage with a big zone cup and long hucks to space. These hucks meant they also had more turns than other teams, but their athleticism and close defense meant they earned a lot of their discs back. It was not enough to earn any victories in their Saturday power pool, though they did win a crossover against Pool C champ Madison Memorial, before ultimately falling to Edina Sunday morning.
Black Ice Energetic And Confident
This Massachusetts youth club team was rowdy and athletic all weekend. Their momentum and tight person defense carried them to semifinals, where they would suffer a second loss to Green Lantern on the weekend. Black Ice's handlers were confident with the disc; they would hit tight spaces and rely on their cutters to land the catch.
Players to Watch
Ben Swiatek (Neuqua Valley) – Hard to call him a player to watch when he was already the most high-profile player at the tournament, but watching him perform was a joy and he's only going to get better come college. He jumps higher than he has any business reaching — he just seems springy. The team relied on him heavily through the weekend, and only in the final game did his fatigue start to show.
Dylan Power (Neuqua Valley) – Power reset the disc reliably and swung when he needed to, but his true potential shone in the nearly full-field bombs he sent Swiatek at least ten times a game. Power exhibits strength even from a standstill position and his throws float into the perfect space for his receivers, when many hucks this weekend sailed out of bounds or far past their intended marks.
Sam Hammar (Edina) – Whenever Hammar was on the field, it was clear he was in charge for Edina Ultimate. When cutting downfield stagnated, Hammar took responsiblity for moving the disc up the field, which often meant he had possession on every other throw. Hammar was quick, efficient, and a presence that opponents had to account for.
Joe Lagorio (Edina) – Lagorio ran, bid, and competed like an athlete twice his age and with triple his experience level. He set the kind of defense you only see from players who truly see the field and he scored many of Edina's goals.
Girls A
Rush Finishes Strong
Entering the tournament as the second seed overall, Rush's performance in Joliet cemented this Massachusetts team's place as the clear Champion. They only let 9 points past them in pool play, and while St. John's Ravenscourt refused to relent in the finals, it was always in Rush's control. They claimed the tournament tile with a 10-8 victory.
The youth club team won on their depth; they brought a small roster, but every girl was ready to contribute and could push the play forward. Tess Johnson and Casey Banta-Ryan (both members of BUDA's YCC contingent) were particularly confident and dynamic downfield, while Sarah Nadler was crucial behind the disc. Other teams occasionally found a way to score, but they struggled to force Rush out of their game.
St. John's-Ravenscourt Showcases Athleticism
St. John's-Ravenscourt not only traveled from Winnipeg to compete, they brought the best name of the tournament: Toba Party. This Canadian squad set the tone for their weekend early by upsetting the 1-seed Neuqua Valley with points to spare on Saturday, 13-7. SJR used their space on the field better than the rest of the division and it showed: players weren't afraid to fully clear to the sidelines, and handlers took the risks to hit these clears in stride with excellent inside breaks.
SJR struggled to contain Rush in the finals, but they should have no regrets after their weekend in Illinois.
Neuqua Mentally Strong, But It's Not Enough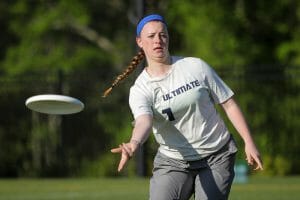 The Neuqua Valley girls have all the right pieces in place to compete, but they too left their hometown tournament with no hardware after a tough loss to SJR on Saturday bumped them from the 1st place game. Neuqua fought back in that game with several breaks that showed they're able to rally. eNVy has a lot of experience at the top of their roster and their skill level is high: Mindy Radike, Kat Sandstrom, and Allie Swiatek maneuvered around the field like chess pieces in sync. But in the high-stakes round robin format — which was essentially the girls' bracket — their skills weren't enough to overcome the upset loss to Toba Party.
Walter Payton Is Scrappy And It's Amazing 
Walter Payton may have been my favorite team to watch this weekend. This program comes from Walter Payton College Prep in downtown Chicago and is notable because they don't have a boys team. Just the girls. And these girls were so fun to watch. While their play style wasn't polished, the hard work and skills were evident. The Grizzlies began their day by upsetting Edina Ultimate 8-6. Opponents consistently underestimated this team and they were consistently full of surprises.
Players To Watch
Vanessa Tran (Walter Payton) – On a team that excelled through energy and grit, Tran stood out for her skill. She could get open, advance the disc, and then be part of the next play immediately.
Tess Johnson (Rush) – Johnson put her height, athleticism, and disc skills to work for Rush from the first game all the way through the final. She comes from an ultimate family — her brother Tannor plays for UMass and Boston Ironside — and her ceiling is high. I can't wait to watch her in the college division.
Delaney Johnson (Center Grove) – The Center Grove Trojans are still a new team — they were founded in 2015 after splitting away from the boys team — but Delaney Johnson played like a seasoned veteran. She participated in the WJUC tryouts and the experience shows when she's on the field.
Allie Swiatek (Neuqua Valley) – In moments when Neuqua was struggling or behind, you could look at Allie's face and see her frustration; then she would burst into action and make the play her team needed. She's quick, skilled, and has the capacity to become a much bigger playmaker.
Stray Observations
There are a few choice cheers that will never die in girls' ultimate. I started playing in 2003, and we used the same cheers I heard this weekend. Over a decade of ultimate has passed, and teams still seem to have the juice, the fire, and the heart's desire.
The equipment call myth is still alive and well in boys' ultimate.
At one point, a boys' team coach told his team to stop throwing around the endzone and to huddle together on the sideline of their girls' team. He said: "You won't understand this now, but it's important that you watch the girls' team play. Don't just throw nearby and goof around. Watch and cheer. It matters, and they'll notice if you're not here." The boys then split the sidelines and helped echo cheers and support the girls as they played. We need 100% more of this in youth ultimate… and in all ultimate. Love it.
---
The team had an overall score of 1.7 on a scale from 0 to 4 ↩