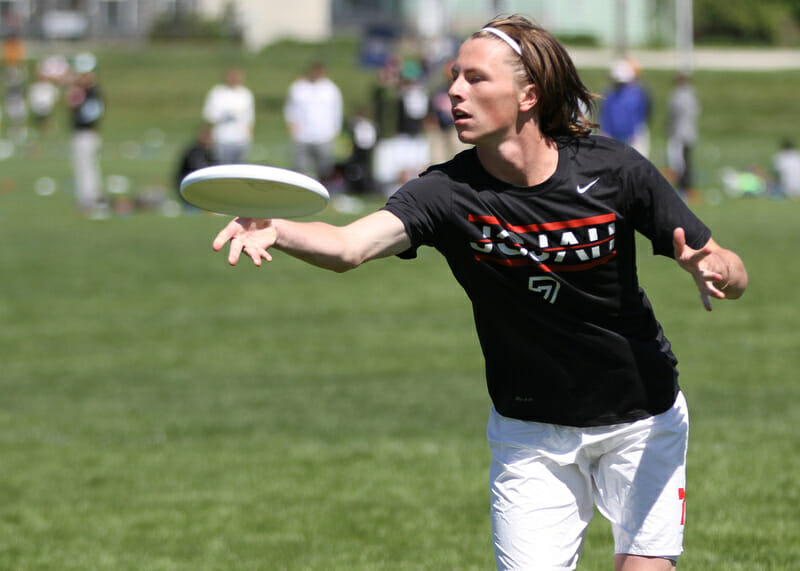 COLUMBUS, GA — On a hot and humid weekend near Atlanta, three teams persevered to claim bids to the College Championships: Georgia, Florida State, and Auburn.
The presumptive favorite and overall #1 seed Florida got off to an inauspicious start to the weekend with a double game point loss to the #8 seed, Tulane. A loss to Florida State on Sunday sent Florida to the win-or-go-home third place bracket and they ultimately came up short against Auburn in the game-to-go.
Discussion of the weekend truly has to begin with Georgia, the most polished and impressive team at the tournament from the first pull on Saturday. They comfortably beat Alabama, LSU, and Florida State to reach the Sunday morning final against Auburn, who benefited from Tulane's upset over Florida and took out their Conference rival in semis, 15-10.
Georgia and Auburn opened the final with three easy offensive holds before a block on a huck from Georgia's Neal Raines set up a beautiful Sam Little huck to Raines for the bookends score and the game's first break to make it 3-1. Auburn turned it over almost immediately on the following point on a throw into a poach and Ryan Pappafotis tossed in an easy score to Nathan Haskell to extend the lead to 4-1.
Discussions bubbled on the sidelines about whether Auburn should already think about pulling their starters, knowing that a loss would simply drop them into the second place game. However, perhaps to their long-term detriment, Auburn kept it close the entire game. They recorded two breaks in the exceptionally clean first half that featured zero D-line turnovers; all five offensive turnovers were turned into breaks.
Georgia continued that trend in the second half with three more spotless breaks to finish 6/6 on their chances. They also answered every single one of Auburn's breaks with a hold, followed by a break. Auburn would close the lead down to one; Georgia would get it back to three. Georgia never trailed and the game was tied just once, at 1-1.
"We haven't been broken twice [in a row] since Easterns," said Georgia captain George Summers, hearkening back to a brutal loss at the tournament when Georgia dropped a game-winning score against Harvard and then gave up a 5-0 run to lose. The team has been working hard on its mental game with extensive preparation — heavy conditioning, lots of work on throwing and catching, and getting into a winning mindset.
"I think a lot of teams come to Regionals trying to go to Nationals," said Summers. "And our goal was definitely to win the region. I think that definitely gave us an edge in some of our games."
Summers, a long-time disc golfer, also gave Georgia an edge with some of the best pulls you'll see in the college division. "It's invaluable," said Georgia assistant coach Nathan Kelly. "At Queen City in the game against UMass, the pulls got us three or four points. He was dropping blades two or three yards off the sideline that directly resulted in turnovers."
"I find myself saying 'that's mean' or 'that's so unfair,'" added head coach Ben Gray.
What also might have felt unfair to Auburn was having to contend with Georgia's Parker Bray point after point. Bray, who started playing ultimate as a freshman at UGA, has developed into one of the best talents in college. He marshaled the Jojah offense on both O- and D-lines and finished the game with a jaw-dropping seven assists and three goals. He was directly involved in half of Georgia's breaks. He had just one turnover.
That turnover — a stone cold drop on an in-cut — came late in the second half and set up an eventual Auburn break as Ryan Landry poured in one of his five assists to close the deficit to one, 12-11. Bray responded by taking over the final points of the game, throwing the final three Georgia scores, all pinpoint blading forehands.
Georgia turns its attention now to Nationals, where they will be a dangerous two or three seed. "The goal is to win it," said Summers.
Is that realistic? If Georgia plays their best game, they will be in the mix for a deep run. They have hung tough with top teams like UMass (12-9 loss at QCTU) and Minnesota (16-14 win at Easterns).
"All season long, we've talked about how when we lose games or when we win games, it's because of us," said Gray. "We legitimately feel that we control our own destiny in any game that we're playing."
Tulane Can't Capture Magic Twice
Tulane was one of the first teams eliminated on Sunday, falling to the same Florida team they had just beaten 24 hours earlier in quarterfinals. After a tumultuous season, Tulane found themselves in the same situation after day one of regionals that they saw in 2015. But after a hard fought Saturday, they were too depleted to show Florida the same sort of game again in the same weekend. "We expended a tremendous amount of energy getting our breaks in our first game," Tulane coach Drew Galiger said after the game. An injury to Ben Lamport in the first matchup also hurt the squad later in the weekend, taking away a strong offensive threat.
Galiger is ending his tenure as coach for Tulane, and he can be confident that he is leaving the program better than he found it. Galiger inherited a lofty goal originally set by former coach Tyler Conger: look to Sunday at Regionals. "The last two years we were there," Galiger said. "We finally reached that goal and then after that it was to really compete in the games to go." Tulane is not a program that will quickly decline. The return of Chance Cochran will certainly give them a good chance to be competitive in 2017.
Florida State Rises To The Occasion
When Florida State began their weekend many didn't consider them very likely to qualify for Nationals, despite them sitting as one of the three bid earning teams (thanks to BYU's bid being vacated from the Northwest). But it became clear over the course of the weekend that while much has changed since 2015, much has remained the same. Coach Peter Van De Burgt has created a program that is not as reliant on star power as it might seem, developing young talent into a deep athletic team. Still, it helps to have a player like Connor Holcombe at the helm.
"We've struggled with our defensive pressure pretty much all season," Holcombe told Ultiworld after the game. That was not a problem for DUF this weekend, as the constant onslaught of layouts forced consistent offenses to rethink their decisions. "We tried to just work hard all year…we always felt like we underperformed." But this weekend things changed. "We had our young guys taking some of the hardest matchups and making a huge difference," he added.
Depth was absolutely the reason for DUF taking home silver this weekend. The mentality of defense hasn't changed despite the roster turnover, so expect FSU to be fearless against their nationals competitors.
Florida v. Auburn: The Game-To-Go
In Auburn's final chance at Nationals, they faced a familiar scenario. Just like in 2015, Florida and Auburn faced off in an elimination game late in the second day of Regionals. Both teams were exhausted. Florida had just held off LSU to advance to the third place game, while Auburn was fighting against FSU to avoid having to play this game at all. But regardless of the circumstance, seeding, and expectations, two teams were fighting for one spot.
Auburn had a clear advantage in the first half. They quickly scored two breaks to take a 6-3 lead and things were looking good. "In our previous game against FSU, we just didn't pressure them on defense," Auburn coach Stephen Brandon said after the game. "But in this game we really made a point to slow them down, and not let them throw hucks." Forcing several throws proved to be worth it in the first half, when a long possession from Florida forced an eventual drop, leading to the second break for Auburn.
Florida wasn't without chances of their own, but a lack of offensive firepower on the D-line made it difficult for them to convert break chances. A few trading holds gave Auburn the 8-5 halftime lead. In the first half, Auburn was patient. Near the end of stall counts they knew where to look, and even the immense pressure of this game didn't seem to effect the young standouts like Michael Volz and Martin Newman. But the second half presented challenges for the leading team.
Florida increased their defensive pressure in the second half, and after a turn, their D-line was more aggressive with the disc offensively. Auburn wanted to race to the end of this game, to somehow find it with short O points and quick D breaks. But their race to the finish translated into some impatient decision making. And a turfed flick from Ryan Landry lead to Florida regaining the lead 10-9.
With the game tied at 11, Auburn was realizing they needed a break to win with cap quickly approaching. "They're willing to let you make your own mistakes," Ryan Landry told Ultiworld after the game. "They have a big huck game, and we got beat by that a lot." Auburn switched Blake Galloway and Ryan Landry over to the defense, and then slowly molded every D-line into the "kill line." Yet Florida continued to break the mark, and Bobby Ley continued to rack up assists. With the game tied at 13-13, the pressure was mounting. "Honestly I felt like we were in control of the game," Brandon said afterwards. "Whenever we put that line on, I was very confident."
Unwavering confidence is built into Auburn's character. Whether it was Hank Womble's joyous trombone on the sideline or the consistent fight of the D-line, Auburn never looked like they had accepted defeat. Even at times earlier in the day when accepting defeat might have been the strategically sound choice, it never happened. It's not part of their DNA.
In the pivotal moment, Martin Newman made the play of the weekend when he intercepted a high swing pass meant for Tanner Repasky. An immediate huck from Newman was called back for a travel, but an overruling from the observer gave Auburn a short field. Some calm passes gave them the break they needed, and a 14-13 lead. A dropped under on the ensuing Florida offensive point meant Auburn could clinch their bid on a short field. Dump, swing, score, and a trip to College Nationals.
"Honestly I didn't sleep very much at all last night," Landry said after the game. "I didn't want to be that team that lost three straight." Despite their early losses, Auburn stayed resolute. Their depth shined late in the day when energy was scarce, and some players even called on a special kind of motivation to see them through.
On July 29th, 2012, Auburn Ultimate tragically lost then rising sophomore John Caleb Kearley to a car accident. Kearley would have been one of three remaining players from the Auburn class of Ryan Landry and Evan Boecking. "Before the first point, one of my younger teammates asked me, 'Hey is it just you and Evan left from your rookie class? And I said yeah. Me, Evan, and Caleb would have been here too," Landry recalled. "I had to recover, because I basically started crying on the line." Auburn managed to replicate what Kearley embodied in his short time, hard work and compassion for teammates. And for that they should be proud.
Florida was given a difficult route to this matchup because of a Saturday loss to Tulane that forced them into the backdoor bracket. But despite the circumstances, coach Cyle Van Auken was proud of his team. "It was nice to see the team battle all day," Van Auken said after the game. "Even to get to that point after being down 8-5 at half." In the top heavy system of Florida, the obvious question is whether or not the legs gave out from underneath them in what was their eighth game of the weekend. But Van Auken denies that that was the case. "I don't think we lost the Auburn game because Bobby [Ley] and Billy [O'Bryan] ran out of legs," Van Auken said. The departure of Bobby Ley and Jacob Dummeldinger will certainly be the start of a new era at Florida, but don't be surprised to see them back in the mix this time next year.
Central Florida Knocked Out Early
A fiery team flamed out early this year as Central Florida lost in the second place bracket to Georgia Tech on Saturday and were consequently knocked out of Nationals contention before sunset of day one at Regionals.
UCF, a semifinalist at last year's College Championships, never had the same presence on the field this year and looked lackadaisical at times, even at Regionals. Though they had controlled the game against Georgia Tech most of the way, the team seemed to be thinking ahead to their next opponent — Florida — before actually finishing up against Tech. It cost them. Georgia Tech went on a late tear and put UCF away with multiple second half breaks.
It seemed like we played timid; got scared," said coach Andrew Roca. "And we let that dictate the way we play[ed]. Sometimes we got timid, scared and we play through it. I think I've seen more games than I can imagine this year, us playing scared and trying to grit through it. I think maybe the pressure was just a little bit too much to bear at that point in time. And I don't think they realized the game they were in throughout the entire game. It was so close but they didn't act like it. I didn't act like it. A lot of errors in that game, but players don't lose games. Coaches lose games."
UCF had to deal with the loss of tremendous talent, including Jeremy Langdon and Alex Bullock. They never found a real rhythm this season.
"I think it's really hard when you think Jeremy is coming back," said UCF star Michael Fairley. "Jeremy was very underrated in the nation last year. Alex Bullock was very underrated player in this region and he played the game of his life at Nationals. I think it's hard because you wanna say we're gonna get better and you don't wanna say it's a rebuilding year but you lose three players that were honestly were in the top 15 players in the nation last year.
"It's hard to take that next step forward when it is the national finals. It's hard but we are really excited for the future. I think we do have national finals next year or the year after that with the rookie class that we have now, because honestly, like last year, they were thrown in the fire and it's hard. But it's what makes players great. It really is. It's not 'well, we need to do you a specific thing in this system' like in club when you get put in. It's 'hey, go out and guard Bobby Ley. Go out and guard Dalton Smith.' I think maybe not right now, playing at Stanford and Easterns, but next year, I think, I'm really excited about that."
Closing Thoughts
– The Southeast is a deep region with quality teams from #1 through at least #8. The results this weekend bear that out.
– Sam Little, Parker Bray, and Nathan Haskell form a very formidable trio for Georgia. They are a great team to watch and should be a sleeper semis contender at Nationals.
– Some other really impressive players from the weekend: Ryan Landry (Auburn), Bobby Ley (Florida), Connor Holcombe (FSU), Tom Echols (LSU), Bobby Patterson (FSU), Blake Galloway (Auburn), Evan Walters (Tulane). There were many others, both that group, plus the Georgia contingent, were particular standouts.