Central Florida finished, as expected, an undeterred champion at Southeast Regionals.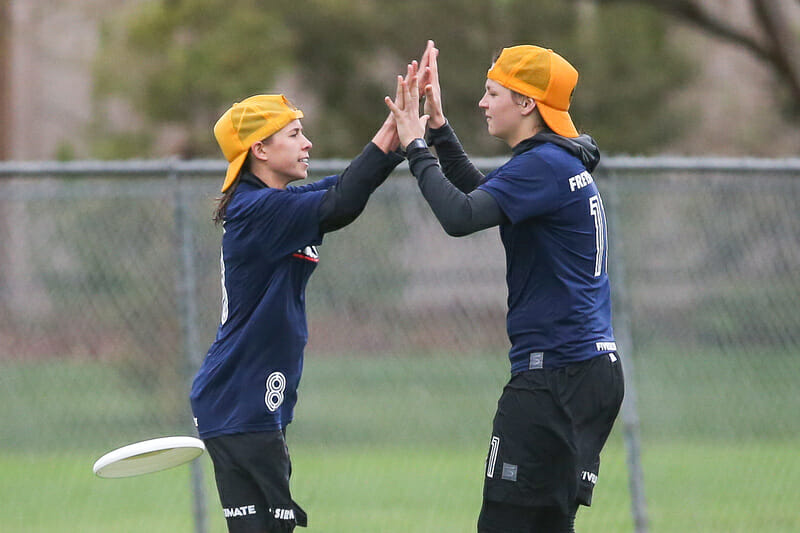 We had the Southeast as one of our "chalk" regions, but few would have predicted UCF's Regionals run to be quite as dominant as it was. The toughest challenge the Sirens faced on their way to the lone Nationals bid from the Southeast was its semifinal matchup with Florida State, a 15-8 UCF victory, in which the team took half at 8-2.
The Sirens topped their pool with a combined score of 55-6 on Saturday and that preeminence continued on Sunday, apart from the second half of the FSU game. UCF started bracket play with a perfect first half against Alabama, taking an 8-0 lead in less than half an hour. They lost the shut out in the second half, but won 15-1 to set up the semifinal showdown with FSU.
The Seminole Ladies were on the UCF side of the bracket as a result of a close loss to Florida in pool play, but came out on Sunday playing well and handily beat Georgia in quarterfinals. FSU started with a clean and impressively patient hold against the UCF zone, but were unable to capitalize on a couple of break chances on the ensuing point. From that point on, the first half was all UCF. The Sirens won with the formula they have used all season – force the other team into frustration-fueled mistakes and use their elite athletes to go on spirit-crushing break runs, burying teams quickly.
A somewhat surprising opponent awaited UCF in the final. Florida was the favorite to face the Sirens for the regional championship once bracket play started, but FUEL came out flat in semis against a solid Georgia Tech team and were unable to dig out of an early hole.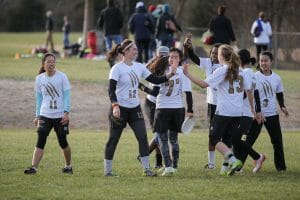 It was an impressive weekend overall for Georgia Tech, which took second in Pool B nearly as easily as UCF took first, but Wreck saved its best game for the semifinal against Florida. Handlers Julia Ting and Ashley Brown led an impressive attack and the team's defense was the first of the weekend to slow down Florida deep threat Danielle Cordes, who had seemed uncoverable prior to that point. Florida's offense took too long to adjust and Georgia Tech booked its spot in the game-to-go as a result.
Head coach Maddy Frey said that the team's goal coming into Regionals was to make the final game and attributed her team's success to its ability to compartmentalize individual moments in games. "We have this thing called J-T-P, which is 'just this point.' Whatever happened that point, we're done, now we're on to this point." She elaborated, "With that kind of mentality, you wipe the slate clean. I think in women's ultimate especially mistakes can be devastating…but it just doesn't happen with that team."
In the final, though, UCF again left no doubt as to which team was the best in the region. The tournament favorites scored the first three points of the game and took half 8-1. The team did not let off the gas in the second half and cruised to a 15-3 victory, clinching the lone Southeast bid to Nationals.
It was a well-rounded team effort in the final, with all of the usual suspects playing well. Another player emerged for UCF in the game, though – freshman Sarah Gifford has become a dependable and integral part of the team's offense. She filled an important role last weekend, consistently getting open all over the field and quickly moving the disc to the team's stronger throwers. "Tuna," as Gifford's teammates refer to her, should be one of the first names on the Southeast Freshmen of the Year list.
Perhaps the most impressive aspect of UCF's weekend though was the team's ability to maintain a high level of intensity in spite of the relative ease with which it dispatched its opponents. "I just keep reminding them…that the mistakes we make, even though we're up big is going to effect the games later on that weekend," said head coach Joe Tilley. "I always say, 'every extra point we play is another chance that someone could get injured; it's extra running that we have to do.' I try to make them focus on that each time we play."
And that is something that the team has clearly bought into. Even in the final, players were vocally upset about getting broken late in the game to make it a 13-3 score.
With Regionals behind them, UCF now has Nationals to look ahead to. Prior to the start of this season, Tilley said that his goal for the team was to make Nationals. Now that his team has achieved that, he has a new aim for his team. "Our goal for this team is to win. They've all been striving to work for that. I think that's our new goal. Not just to make Nationals, but to win it."
Tilley knows that will be tough, especially with the well-known limitations of his squad — namely their lack of depth. But he seems to have a game plan that will give the Sirens a chance. "The biggest thing is we've just got to be efficient," he said. "I know we have a small team. We're going to be playing against teams that have loaded rosters, so we just have to be really efficient and that's going to be something that's mental a lot more than physical."
With their dominant performance at Regionals — and really the entire season — UCF has proven itself as one of the elite teams in the women's division. If they can find the level of efficiency that Tilley talks about, they are surely in the conversation as contenders in Raleigh. UCF has been one of the big stories of the division this year and they only added to that story last weekend. Now the question is, just how much longer can they make that story last?