The Northwest, Ohio Valley, and Southeast qualifiers look clear.

While you can never rule out some wild results at Regionals, these three regions are the most likely to finish just as you'd expect. The top teams are obvious, the underdogs are too far under, and the odds are heavily in favor of the top seeds.
Northwest
Tournament Profile
Location:Walla Walla, WA
Bids Available: 5
Top 25 Teams: 5
The Northwest region has been a deep and dynamic source of women's college ultimate for many years. This year, the region holds what could end-up being all four semi-finals teams. That's how deep the top-tier talent is in British Columbia, Oregon, Whitman, and Washington. Western Washington has a good chance to lock-up their third straight bid to Nationals, but Victoria will challenge them for the same accomplishment.
The Favorites: Oregon, British Columbia, Whitman

However the seeding shakes out, the three top seeds of the Northwest Women's Regionals holds three of the top five ranked teams in the entire nation: Oregon Fugue, UBC Thunderbirds, and Whitman's Lady Sweets.
Fugue returns nearly the entire roster from their 2015 championship, losing just a few players and adding a few more, including Maggie Kennedy, a U23 player transferring from Wisconsin. While Lou Burruss has moved on, former Fugue players Katie Weatherhead and Claire Sharman move up to coach the talented roster that hasn't dominated like Oregon teams of recent years past, but still placed #1 in the final regular season power rankings. The team has compiled a 13-3 record against Regionals opponents, losing twice in three games to Whitman earlier in the season, and once in a blowout loss to UBC to finish the Stanford Invite. Since that loss, Fugue have not lost a single game, and enters the tournament with the #1 seed.
The biggest note on Oregon's weekend is the probable return of Hayley Wahlroos and Alex Ode after several weeks off with a knee injury and concussion complications, respectively. The roster should be healthy up and down, save Kennedy's nagging injury that will likely follow her for the rest of the season.
UBC, in a similar vein, changed coaches and returns many players after a successful 2015 season. Jeff Cruikshank steps in as head coach, replacing Tasia Blading, but the strategy looks mostly the same from an offensive perspective: Mira Donaldson runs the show. UBC's long-time cutting threat Victoria McCann is joined by Kate Scarth, an All-Star Tour player, who has taken on a "whatever the team needs" role, frequently playing on both lines and finding success everywhere on the field. With arguably the deepest roster talent in the region, the Thunderbirds won 10 of their 12 games against the Regionals field this season, losing just to Oregon in two of their three match-ups. They played Whitman only once at the Northwest Challenge, winning 15-10.
The Lady Sweets of Whitman jumped out to a great start this season, winning Oregon State's Flat Tail tournament against Oregon Fugue in late January and the Stanford Invite in early March. Whitman is the only team of the triple threat that return coaches from last year — Jeremy Norden and Ben McGinn —  which may have been a bigger factor earlier in the season, and may be an advantage this weekend and in Raleigh in a few weeks. The Lady Sweets went 6-3 against their weekend opponents this season, playing fewer games against them than others due to the fact that they are the lone qualifiers from the Big Sky section, and the other seven qualifiers are all in the Cascadia section.
Any one of these teams could end-up with the #1 spot at the end of this weekend, and it won't necessarily change too much. These three teams will all earn #1 or #2 seeds in their pools at Nationals, and have all traded wins and losses with each other. Their bids are as guaranteed as any in the Nation.
In Contention: Washington, Western Washington, Victoria
Washington Element have had a strange, highly variable season filled with great wins and bad losses, making them almost an impossible team to predict. They will definitely find their way to Nationals, and it wouldn't really surprise to see them challenge for first in the region or sputter into the last two spots. Their most notable win was handing the Sirens of Central Florida their first loss of the season at Stanford Invite, and have good wins against UCLA and Pittsburgh, as well as a near upset of UBC at the Northwest Challenge, a 13-15 loss in which Element led for most of the middle part of the game. While they have been able to surprise teams for a half or two, their season has mostly gone chalk with some odd losses, most recently a 5-13 shellacking from UBC.
All that being said, this team lead by coach Kyle Weisbrod, an intense video scout and advocate of underdog playing strategies, could likely muster up a win against any of the three behemoths ranked above them.
Western Washington Chaos is favored, while the Victoria Vixens are attempting to attend their third consecutive National Championships. While pretty similar the past two seasons, Chaos has been the much better team in 2016, twice beating the Vixens this season 13-7 and 13-4 — not particularly close games. But Victoria, with an underclassmen-laden roster, is the only real challenger for the fifth and final bid in the region as Portland State and Oregon State have yet to beat any Regionals opponent other than each other. At the same time, Western and Victoria haven't been within striking distance of any of the top four teams in the region (save one 11-14 Chaos loss against Fugue).
Ohio Valley
Tournament Profile
Location: West Chester, PA
Bids Available: 2
Top 25 Teams: 2
The Ohio Valley, for the second straight year, is a two bid region with two top teams firmly planted in position to advance to Nationals. #7 Pittsburgh and #12 Ohio State have been two of best teams in the division all season and Fever earned a strength bid to make this year's Regionals look very comfortable. No other team in the region has even entered the Top 25, but per usual, Penn State and Case Western lurk to pounce on mistakes. But if history is any indication, there will be little violation of expectations in West Chester this weekend.
The Favorites: Pittsburgh, Ohio State

Away from the spotlight, the tug of war between Ohio State Fever and Pittsburgh Danger has developed into a great rivalry. OSU has been the dominant one in the matchup; Fever has ended Danger's season three of the past four years, with the only exception being an 11-10 victory in last year's regional final that sent Pittsburgh to the backdoor game. In 2012, 2013, and 2015, the two clashed with the Ohio Valley Championship on the line. While Pitt only rung up four combined points in their first two efforts, they nearly upset the Columbus team last year.
Now, Pittsburgh begins the tournament as the favorite and the #1 seed. The pair have not matched up this season and their records against common opponents are fairly similar. The Pitt stars — Player of the Year candidate Carolyn Normile, Linda Morse, and Vaughan Skinker — make for pretty good matchups with Fever's best — Stevie Miller, Sadie Jezierski, Katie Backus, and Alaine Wetli. Normile and Miller were teammates on the U23 team and All-Star Tour; at this point, they are probably very familiar with each other.
Pittsburgh is having the better 2016; Ohio State has a better history. Take your pick.
In Contention: Case Western, Penn State
The other two teams that look like the best upset threats are Case Western Reserve and Penn State.
The veteran duo of Sophia Knowles and Danielle Runzo have been an engine for Case for years and helped them to an early win over Carleton and a close loss to North Carolina. They'll need to be playing their best and catch a top seed in an off game.
Penn State Crisis has some of the best wins in the region. They've felled Michigan, Vermont, and UNC-Wilmington, demonstrating the potential to beat top teams. That makes PSU the scariest team from the field despite their 5th seed after an unnerving 15-4 loss to West Chester at their Conferences.
Southeast
Tournament Profile
Location: Columbus, GA
Bids Available: 1
Top 25 Teams: 2
The Favorite: Central Florida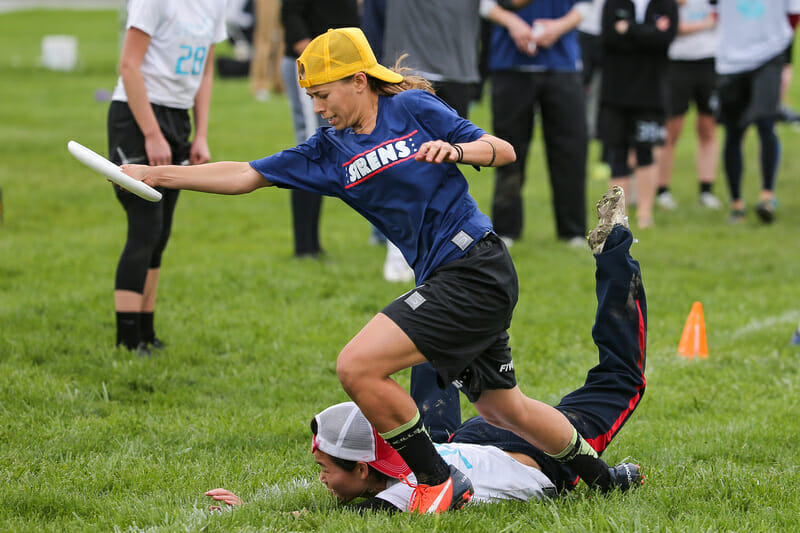 The UCF Sirens are the heavy favorites in the Southeast and for good reason. They have been one of the biggest stories in college ultimate this season due to their tiny rotation and success in spite of that.
They were not as dominant in the last couple of months of the regular season as they were in the fall and January and February, but no team in the region has come close to competing with them and they waltzed to a first place finish in the Florida Conference Championships – home to two of their biggest challengers this weekend.
The team is full of likely All-Region players. Shayna Brock and Janina Freystaetter are two of the more dominant players in the country and their supporting cast – led by Stephanie "Eli" Williams, Alexa Wood, and Mia Griner — all play well in coach Joe Tilley's system.
Many still have doubts as to how far they can go if they qualify for Nationals, but there is little to no expectation that they will have any trouble in Columbus, GA. For UCF to not take the lone Southeast bid, they would likely have to play their worst ultimate of the year or suffer a number of injuries – or maybe both.
With that said, here are the likeliest teams to take advantage of said scenario if it does happen…
Top Challenger: Florida State
The Seminole Ladies are an interesting case. The Southeast winners from a year ago have largely flown under the radar, thanks in large part to underwhelming performances at Queen City and Tally Classic, but the team played well at Centex and took second in the Conference with one of their best played games of the year against Florida.
Florida State has yet to really hit its full stride this season. The team has rarely played with tight lines, and the team has rarely had its full roster at its disposal. Hayley Plants will likely still be out this weekend, but Zoe Stapleton should be back for regionals and would give the team a huge boost if she is available to play. Kristen Lloyd, Skylar Taggart, and Lisa Fitton absorb a lot of the touches to lead the Seminole Ladies offense.
FSU is the two-seed this weekend, which means it will likely not play UCF until the championship game. If they play to their ability, the Seminole Ladies should have little trouble through the quarterfinal round, allowing the team's banged up bodies to take it easy en route to a showdown with the Sirens. It will take FSU playing the best ultimate its played all season to pull it off, but they are the likeliest team to shock the regional favorites.
In Contention: Florida, Georgia Tech
FUEL has seen plenty of the team it will need to topple in order to take the region, but they have as yet been able to really challenge them. Throughout the season, Florida has shown an ability to hang with Nationals-level teams but have not been quite able to beat any of them. Like Florida State, they will need to play their best ultimate of the season and probably hope for some luck as well.
The goal for Florida should be to win Pool B over Florida State, stealing the easier road to the championship game. They showed on Saturday at the Conference Championship that they are capable of beating their in-state rivals.
The team is veteran-laden and has some genuine playmakers like Jaime Estes, Tori Taylor, and Courtney Testa that can win close games with big plays. They probably have the best depth in the region and will have to find the way to best use that this weekend if they are going to take the Southeast's bid to Nationals.
Wreck showed an ability to upset the top Florida teams with a win over FSU at Tally Classic in March, but Georgia Tech has not been able to beat any other high-level teams yet this season. Still, Julia Ting is one of the best players in the region and Taylor Hartman is a bona fide playmaker as well, and they get support from handler Ashley Brown and experienced cutters. Georgia Tech has the disadvantage of playing in UCF's pool, but then, assuming they take second place on Saturday, they would not meet UCF again until the final.
Georgia Tech would have to reach a level of play that they have not yet shown this year to qualify, but they feel just as likely to do that as FSU or Florida. They play tough defense and came very close to big wins against Virginia and Notre Dame.