Could Utah be this year's Cinderella story?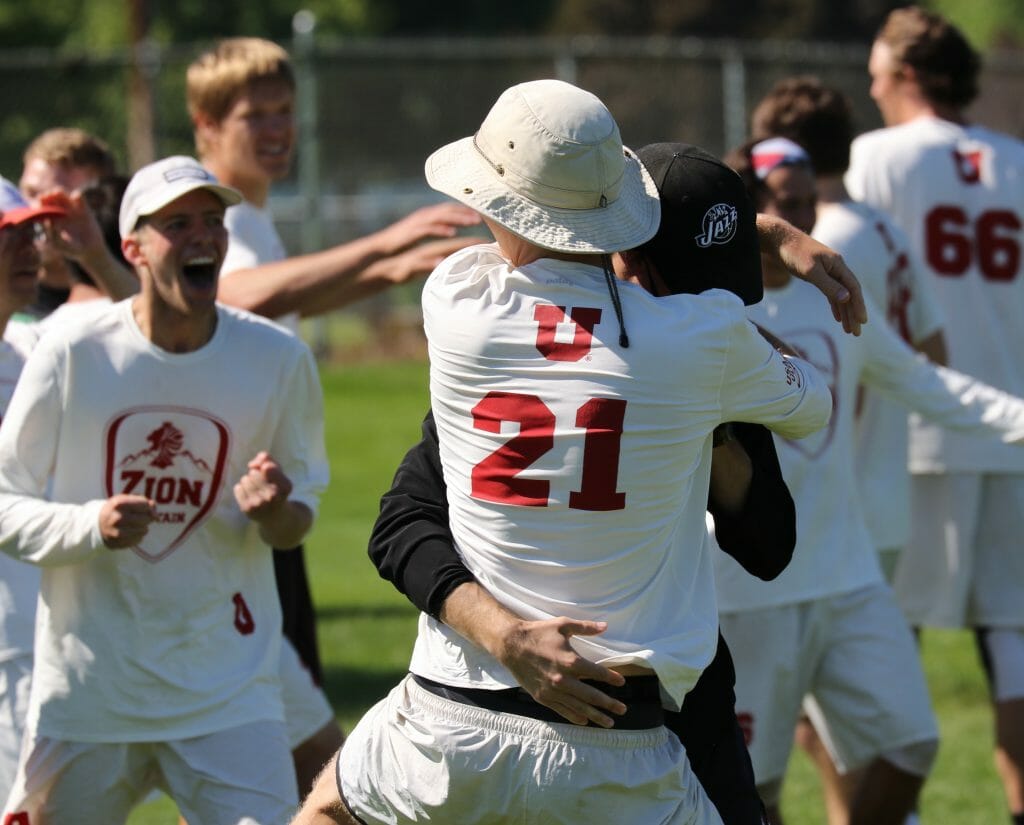 SEATTLE, WA — Yesterday marked two full weeks since Utah Zion Curtain Ultimate made program history, qualifying for D-I Nationals with a third place finish at Northwest Men's Regionals. In the hectic buzz of last week, ZCU fielded attention from the national scene, their captains appeared on Sin the Fields, and the team entered May with a full extra month of practice to plan and ultimate to play.
The excitement and added pressure of the trip to Raleigh has had time to set in now on a group of players that, though at the time the final point was scored to beat British Columbia and qualify, half of the team had no idea what the goal meant, or even that the game was over.
"I didn't mention the score because that wasn't their job. As players, we play ultimate. Coaches worry about timeouts, score and everything else," ZCU head coach Josh Letsinger said of the timeout before the winning score. "Half of the players didn't have a clue what that point meant."
ZCU sealed their fate with a relaxed break –a few quick throws up field after the timeout. Even as the team rushed the field, no one seemed to have a grasp of what they had just accomplished. "It was an unreal experience. I don't think anyone knew what to do after that," Letsinger explained.
It wasn't until players reached for phones to share the news that shouts and a few tears of joy set in.
With the nationals field set, there will be plenty of doubt surrounding Utah's ceiling in Raleigh. They entered regionals seeded ninth, and gritted out each of their pivotal wins by small margins. ZCU kicked off Saturday by going 3-0 against Western Washington, Montana State, and Whitman –with a total point differential of +4. With a top two finish in the pool secured, they rested starters in their fourth and final game on Saturday against Ego, losing 13-2. Even with Sunday's win over UBC, a team that posted bipolar performances throughout the season, this slate of wins doesn't list as impressive when compared to other regions.
Mentally, however, Utah has a lot going for them. Aside from the quintessential nothing-to-lose attitude of a probable five seed in their nationals pool, Letsinger and team leadership have worked hard to keep players focused on playing their game, sticking to the system, and worrying about little else. Their opponent in every game? Shelbyville.
"You have to go into every game with the mentality that you are playing Shelbyville –the team that Springfield always plays on The Simpsons," Letsinger shared. "You aren't playing a team that beat so-and-so at this-and-that tournament in the Fall. Those are intangibles that don't matter."
If the concept sticks in two weeks, the tall, huck-friendly team will see all oncoming opponents as the same silly cartoon adversaries. They will need the focus too. Oregon is the only top 10 talent that Utah has seen this year, and those games finished 13-2 and 15-7 respectively. Ramping up intensity to stay competitive in pool play will be one tall task for this new-to-the-big-show team.
Zion Curtain players are done with their academic year, so they'll continue to practice and prepare without distractions until they fly east. We'll see then if Springfield can get themselves on the map.