An accomplished Italian international player and European ultimate leader now brings his passion for ultimate to bear on youth in the San Francisco Bay Area.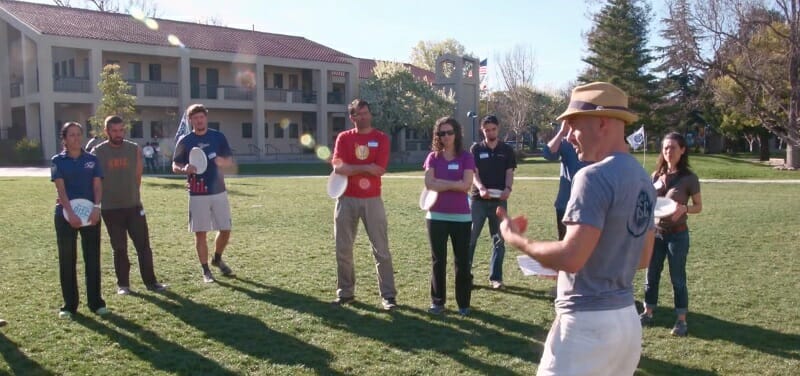 The article is presented by Nike Ultimate Camps; all opinions are those of the author. Please support the brands that make Ultiworld possible and participate in Nike Ultimate Camps!
When it comes to youth ultimate, there's one name that's pretty much guaranteed to be connected with any manifestation of a kid throwing a disc in the San Francisco Bay Area: Val.
Since moving to California in 2011, Valerio Iani has worked tirelessly to expand the opportunities for young children looking to get involved — or more involved — in the sport. As a result, youth ultimate in the Bay Area has exploded. When Iani arrived, there was really only the high school state championships, a handful of scattershot tournaments, and occasional one-off events for children to play and compete in. Now there are more than 30 youth-focused ultimate events held each year in the Bay Area — and that number keeps growing.
To say that Iani has been instrumental in that growth would be an understatement on par with noting that "Jimmy Mickle is tough to guard" or "Leila Tunnell has pretty good throws."
Brought on in 2011 initially as just a camp director, within a year Iani had become the Bay Area Disc Association's first-ever full-time, paid employee as the organization's Youth and Operations Manager. Naturally, such an honor came with great expectations.
"My first job was really to create a whole calendar of programs," Iani said.
It didn't take long for the industrious and organized Iani to provide a very real and unequivocal return on BADA's investment.
Creating Opportunities
Five years ago, there were just two summer camps for ultimate in the Bay Area: one in Berkeley and one in San Mateo. Now there are ten. All thanks to Val.
In his new role, Iani put these camps together, organized more formal youth leagues leagues, connected with local high schools and parents, helped foster middle school programs, coached various squads including the U-16 and U-19 YCC teams, and put in countless hours training various players on an individual basis — often meeting up for just two of them to work on throws. Through project funding courtesy of the then-Ultimate Players' Association in 2009, Iani even put together a website to help introduce physical education teachers to the sport and aid them in implementing programs at their respective schools.
A good deal of the culmination of all this work can be easily seen and digested in the Youth Ultimate Coaching Conference. Started for the first time in 2014, the annual conference just wrapped up its third iteration in March. The theme of 2016 was "Gender Equity and Girls' Ultimate" and featured panels on methods for increasing participation, reviewing curriculum and strategies, and discussing how to learn from recent successes like the All-Star Ultimate Tour.
This focus on fostering inclusiveness and brainstorming how the ultimate community can best help children grow both as players and as people is at the core of how Iani approaches all of his coaching and leadership with Bay Area youth.
Building a Coaching Community
Though it's often tempting within sports to cultivate simplified perceptions and paradigms that rely on false binaries such as Us vs. Them and Good Guys vs. Bad Guys, Iani strives to promote environments that emphasize more positive traits like respect, empathy, and friendship. He wants to build communities that cultivate relationships, with both feeding into each other and expanding the reach and strength of the ultimate community as a whole.
Perhaps nothing epitomizes this better than the coming together of the Bay Area Happy Cows and Washington D.C. Swing Vote at the Youth Club Championships mixed final last summer. Despite the game featuring a very controversial call on double game point that could have easily led to heated tensions and mutual bitterness between the teams, the two squads sorted it out with great spirit and even ended up merging together as one team for a college tournament later that year — all driven by the players themselves, independent from the coaches and parents.
That's exactly the kind of camaraderie and sportsmanship that Iani strives for and sees flourishing in his players across all platforms and is further exemplified in the desire for so many of his pupils to become coaches, even at quite young ages.
"We have so many freshmen and sophomores in high school excited about coaching. They come back and ask us to be counselors or help coach a middle school," Iani said. "It shows that they love the sport. It shows we did a good job transferring the love of the sport into them."
This maturity and self-driven responsibility ties directly into another fundamental aspect of Iani's tutelage: social-emotional learning.
Better Players, Better People
In addition to helping children get active and potentially discover a passion for athletics, Iani also believes that one of the greatest features of ultimate is its ability to help children (and adults) exercise and strengthen their social-emotional skills.
"When we play, we still need to manage our emotions and solve conflicts," he said. "It translates to what you do in your life, not just on the field."
In fact, Iani and a number of his colleagues are currently trying to partner with researchers to conduct experiments on the connection between ultimate and social-emotional learning, with the hope that meaningful links can be attributed to the sport. He then hopes that such findings — should they turn out to be true and documentable — will aid schools in putting together effective programs for fostering social-emotional learning through ultimate, which would be much more cost-effective, easier to set up, and more fun for participants.
Similarly, Iani and his friends in the Bay Area youth ultimate scene are also focusing on strengthening children's motor skills and physical literacy, both for the sake of long-term athlete development and also just for the general necessity and usefulness of such concepts in everyday life.
While this might seem like a great deal of work and overly ambitious aspirations for one person to handle, Iani has been thinking about and working with these ideas since his ultimate career began more than 20 years ago.
Boots and a Dog
Iani first started playing ultimate on a rainy day in college at the University of Bologna in Italy. He read in a magazine somewhere that students often played in one of the sports complexes on campus and, having thrown the disc around with friends a number of times before, was interested in checking the sport out.
When he showed up, however, nobody was there. Just a mostly empty complex in the rain.
Sure enough, though, players began trickling in shortly after, running on classic Frisbee People Time (FPT).Though it was raining and all he had on him were his street clothes, a pair of boots, and his dog, Iani still decided to join in. A few points and horizontal bids into the mud later, he was hooked for life.
Iani would go on to become a pivotal player across various European organizations and teams, competing in three World Championship tournaments with Italy. He coached in Italy and Spain and helped start the first team at his next college, the University of La Laguna in Tenerife, part of the Canary Islands, just off the coast of Africa. He became the first president of the Spanish Flying Disc Federation (FEDV) as well as the first paid employee of the Italian Flying Disc Federation (FIFD), where he helped start the first youth national team.
In 2009, he immigrated to the United States and coached soccer while helping organize local ultimate events, many of them with the leaders of Columbia High School in New Jersey, where the sport has its roots. When his wife got a job offer in San Francisco in 2010, however, he moved out to the West Coast and began getting involved with the youth ultimate scene in the Bay Area.
One Community
Iani has one other big focus that he's quite passionate about, one that's related to a folly of perception that can be seen in numerous parts of the ultimate community.
He wants to break down the hard distinctions between how we see and classify certain players — and people. Iani sees little use for labels like "rec league player" or "Nationals level player" and the separation between these perceived classes. He thinks this kind of thinking holds everyone back from realizing and embracing the interconnectedness of everyone who plays the sport.
"We need to see that we're one community," Iani said.
The Nike Ultimate Camp at California State University, East Bay — led by Valerio — will be held June 26-29.