Three strong teams sit atop the prototypical pool of death.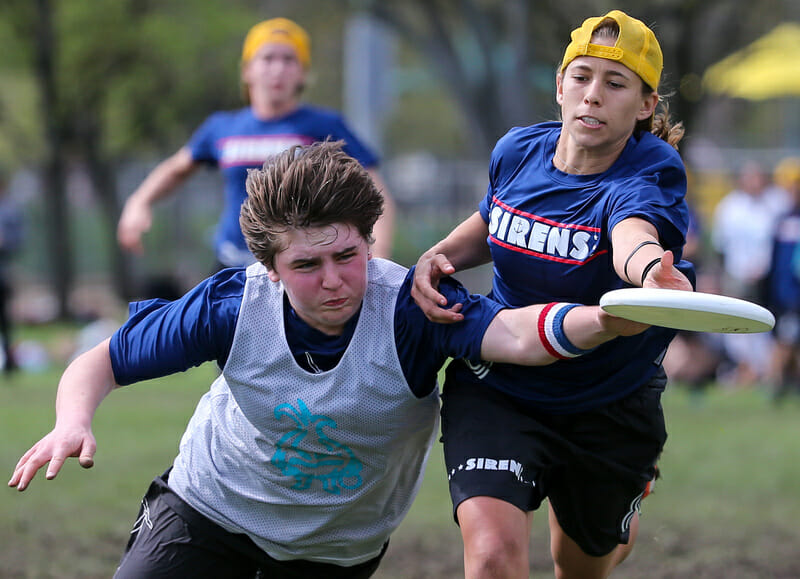 This article is presented by Spin Ultimate; all opinions are those of the author. Please support the brands that make Ultiworld possible and shop at Spin Ultimate!
As is often the case, Pool D appears to be the most intriguing pool in the women's division this year. It features two teams that will consider themselves contenders to win the whole tournament, and a third seed in Texas that has already proven itself capable of defeating the top team in the pool.
Wisconsin, a 12-time Nationals competitor, and Ottawa, a somewhat mysterious team making its first Nationals appearance since 2013, round out the pool. With multiple playing styles, an abundance of talented players, and plenty of story lines, Pool D could set the tone for the always exciting pool play at college nationals.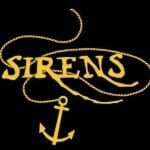 Central Florida Sirens
Seeding: D1, Overall #4
Overall Record: 37-6
Against the Nationals Field: 11-5
Against the Pool: 1-1 v. Whitman, 0-1 v. Texas
Key Matchup: Whitman, 4:30 PM Friday
The Sirens enter the tournament as one of the true contenders to win the championship, though they are not the only team in the pool of which that could be said. UCF famously relies on a small rotation of players, but the team has made that work to great success this year. The club won Florida Winter Classic and Queen City Tune Up, going undefeated at both, and have yet to even come close to losing a game in the series.
Coach Joe Tilley has built his team around a crop of stars in Shayna Brock, Janina Freystaetter, Stephanie "Eli" Williams, and Alexa Wood, but there is also a handful of important role players that allow the team's offense to function and the team's zone defense to attack the way it does. The team should benefit from the tournament format, which will only ask them to play than two games a day in pool play. But the team has also not played in many tournaments that have presented them with elite teams before bracket play, and the team has played fewer games against Nationals teams than both Whitman and Texas.
Central Florida is, however, the only team in the pool that has played more than one team within the pool at some point this season. The Sirens split two games with Whitman at Stanford Invite, besting the Sweets in pool play before losing to them in the final. The rubber match between the two will likely determine which team tops Pool D. UCF also lost Texas at Centex, but were missing a key contributor in Gentry Maddox that weekend.
The Sirens will attack pool play the same way they have all season long. "The mindset is pretty much the same as what we had all year," said Tilley. "We're going play Ottawa first and then Whitman. We're just going to go really, really hard and try to win both those games and try to put teams away early if we get a lead, not let them hang around."
Tilley also knows that his team does not have some of the luxuries that having a bigger roster allows. "We don't have as much room for error as other teams," he said. "We can't afford to go back and forth with a lot of teams. [We need to] just try to be really, really efficient on offense and play really, really hard defense and not give up easy scores."
If the team can play with that mindset, stay healthy, and continue playing as they have all year, they should not have too much trouble finishing in the top two of the pool, with first place presumably coming down to the Whitman matchup. Central Florida obviously has goals that reach much further than pool play, but topping the pool would likely go a long way in helping the team reaching those goals.
Whitman Sweets
Seeding: D2, Overall #5
Overall Record: 25-7
Against the Nationals Field: 10-7
Against the Pool: 1-1 v. UCF
Key Matchup: UCF, 4:30 PM Friday
The other most likely team to top the pool and make a run at semis is Whitman. Just like their foes at the top of the pool, the Sweets are attending their fourth consecutive and fourth-ever Nationals. The team had its best season to date this year and will seek to make it beyond quarterfinals for the first time in program history.
Whitman started the season on fire. The Walla Walla, WA, school swept through Flat Tail, beating number one overall seed Oregon in the final, and then bouncing back after an opening loss at Stanford Invite to top UCF in the final.
The Sweets also started an incredible 8-1 against Nationals teams, including wins over Stanford, Central Florida, Colorado, and two wins over Oregon and Washington. But the team has since cooled a bit. They went just 4-3 at Northwest Challenge and 4-3 again at Northwest Regionals to finish third in the stacked region. Since the hot start against Nationals teams, the Sweets have gone just 2-6.
Still, Whitman has put together one of the best seasons in the field and the team will feel like it can compete with any team in Raleigh. The team's greatest strength, beyond its obvious talent, is its experience. The Sweets have a large core of returners, many of whom played together even before college.
The likes of Claire Revere, Ari Lozano, Nina Finley, and Margo Heffron make up one of the most talented and experienced cores in the country and the team has plenty of experienced depth behind them as well.
This group of players has been building towards this moment over the least four seasons and will look to improve on their first ever quarters appearance from a season ago. They have proven their ability to beat the very best in the country this year and if they can find the same form that they head earlier in the spring, then they could make a real push at winning it all. The game between Whitman and Central Florida should be one of the best games of pool play and could go a long way in shaping how the rest of the tournament will pan out.
Texas Melee
Seeding: D3, Overall #9
Overall Record: 21-9
Against the Nationals Field: 12-8
Against the Pool: 1-0 against UCF
Key Matchup: Whitman, 2:30 PM Saturday
Melee will feel hard done by receiving the #9 seed. After barely qualifying for Nationals a year ago, the team put together an impressive season, headlined by winning Centex for the first time in program history. Along the way to that win, Texas defeated Central Florida on double game point in quarters in the only game Melee has played against any of its Pool D opponents this year.
Texas has played more games against the Nationals field than any other team in the pool and had great success against those teams in the second half of the season. The team struggled at President's Day and in the first few rounds of Stanford Invite, but after starting 2-6 against current Nationals teams, Melee has gone 10-2 since.
Boasting more than just experience against the top flight, Texas has plenty of talent as well. Shiru Liu is an elite handler with an absolute cannon. She plays well with her lightning-quick handling partner Domenica Sutherland, and the two of them push the offense together. The two will often target Julia Schmaltz, who lit it up at Centex, when the team looks to attack deep.
Melee is also dangerous on the defensive side of the disc and they manage to force a lot of turns. Captain Andrea Esparza, in particular, is a great downfield defender and very good in the air. Her fellow captain Marissa Land will return from an Achilles injury that had caused her to miss time and the team should be 100 percent healthy heading into this weekend.
In spite of all the games Texas has played against Nationals qualifiers, it has played just one against an in-pool opponent. Because of that lack of head to head experience against its poolmates, Melee is attacking Friday and Saturday with a fluid mindset. "From our pool, we've only played against UCF," said Esparza. "So we will focus on adjusting game to game based on the new looks other teams throw at us. More than anything, we want to start each game off strong and set the pace for the rest of the game."
One advantage that Texas does have is their schedule for the weekend. The team plays the two bottom seeds of the pool, Ottawa and Wisconsin, on Friday, which presents them with a great opportunity to start off 2-0. At least one of Central Florida and Whitman will have at least one loss after Friday, and that could give Texas a mental advantage as they square off for one of the top spots in the pool on Saturday. One thing is certain, though – Texas will feel they have equal right to the top of Pool D as any other team, so do not be surprised if they upset at least one of the higher seeded teams and go on a run into Sunday.
Wisconsin Bella Donna
Seeding: D4, Overall #16
Overall Record: 26-8
Against the Nationals Field: 0-2
Against the Pool: N/A
Key Matchup: Texas, 12:30 PM Friday
A relatively young team this year, Wisconsin makes its return to Nationals after a two year absence. The team broke seed at Regionals in order to do so, taking the lone bid from the North Central. A decisive, 15-6 victory over Carleton in the game-to-go indicated the potential firepower this team possesses, but Bella Donna has not faced much in terms of Nationals-level competition this season.
The team's lone two games against fellow Nationals qualifiers came at Queen City Tune Up back in early February. They lost both. They also played Minnesota, the one seed at North Central Regionals, just twice – both losses.
Perhaps those reasons are why the team is adopting a 'happy to be here' attitude, in the words of head coach Robyn Wiseman. "We're just happy to be there," she said, acknowledging the cliché. "We're in a really good place as a team. We're just going to celebrate the fact that we did it – it takes off the pressure. They're excited to match up against teams we haven't seen yet."
Do not think, though, that Wisconsin will roll over without competing. Bella Donna is fast and athletic and Wiseman has the team playing with more nuanced defensive looks than in the past. The offense is built around veterans Lo Guerin, Anna Hrovat-Staedter, and Anneke Vermaak. Vermaak's emergence this year has been especially important to the team. She has relieved a bit of the throwing burden on Guerin and Hrovadt-Staedter from a year ago, allowing them to attack opponents with more versatility and wreak havoc in the deep spaces, unlike a year ago.
Bella Donna has also been buoyed by a pair of breakout rookies in Caitlin Murphy and Kaitlynne Roling, two layout demons who have really blossomed into important players for the team. With the mix of high level vets and star rookies, Wisconsin could potentially disrupt the power of balance in the pool if things go just right for them.
Keep an eye on the team's second round matchup with Texas. If the team manages to pull off the upset and go 1-1 on Friday, it could change the whole landscape of the pool as well as Wisconsin's tournament goals.
Ottawa Lady Gee Gees
Seeding: D5, Overall #20
Overall Record: 17-2
Against the Nationals Field: No games played against the field
Against the Pool: No games played against the pool
Key Matchup: Wisconsin, 8:30 am Saturday
Metro East qualifier Ottawa comes into the tournament as a bit of an unknown at the bottom seed. They have played the fewest amount of games in the field. The team played in just one sanctioned tournament prior to the Series and played just three D-I teams there. Ottawa has won everyone tournament it has played and is on a 10 game winning streak, but the competition at Nationals will certainly be a large step up for them.
The Gee Gees will look to use that unknown factor to their own benefit. "We will be coming out strong," said captain Camille Bedard. "Many teams will underestimate us and we're hoping to use that to our advantage." The team hopes to use that mindset to make a stir in pool play and not get too ahead of themselves. "We want to prove that we deserve to be at Nationals," said Bedard. "Our philosophy is 'one point at a time, one game at a time.'"
Bedard, her sister Izzy (a member of Team Canada U19 in 2014), and Corinne Giorgetti captain the group, but Maude Carrier-Laforte may be the most dangerous player on the team. She aggressively uses upline cuts from the handler spot and attacks the break side well, proving to be a player that other team's defenses have to worry about.
The expectation is that Ottawa will fail to win any games in the pool, but their best chance of pulling off an upset will be on Saturday morning against Wisconsin. More than anything, though, this tournament will give them an opportunity to play against some of the best teams in the country with virtually no weight of expectation on their shoulders.
***
The pool is chock-full of potential stories and teams that will feel like they can make some sort of splash this weekend. Central Florida and Whitman are both very much in the picture as national title contenders, while Texas will have its eyes on a run at quarterfinals. Wisconsin is the young and talented team that could prove capable of messing things up for the teams seeded higher in the pool, while any success that Ottawa is able to find would be an exciting surprise. College Nationals always holds its fair share of unpredictability, and that so often is seen in Pool D; this year should be no different.