British Columbia drops to 0-2 in Pool B, with plenty of work to do on Saturday to earn a spot in prequarters.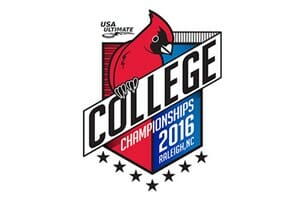 2016 D-I College Championships Logo" width="300" height="200" />
This article is presented by Spin Ultimate; all opinions are those of the author. Please support the brands that make Ultiworld possible and shop at Spin Ultimate!
Pool B
UCLA 14-11 British Colombia
UCLA took their first lead of the game when it counted — late — in a win over UBC that sends the overall #2 seed to 0-2. Both teams walked into the stadium showcase field already 0-1 on the day. They both needed a win, but in Round 3, they both seemed like they were just playing not to lose.
The first half was close: both teams love their deep game and handlers like UCLA's Han Chen and UBC's Mira Donaldson sent their share of bombs. UCLA set a tall zone with Chen in the deep space, while UBC stuck to person defense for most of the first half.
The heat got to a lot of teams in Round 3, and it showed in the final point before half. BLU and the Thunderbirds – two athletic and fast programs – were clearly tired, particularly the stars like Donaldson, Pojunis, and Chen. UBC took half 8-7, and everyone was relieved.
The second half had more of the same: long points with few turns. UCLA and UBC traded until UCLA broke 11-10 to take their first lead of the game with an athletic grab from Melissa Kan. Another break changed the tide of the game, on a classic huck from Chen to Pojunis. BLU was up 12-10 in a capped game.
In the hot, sticky heat, UBC couldn't fight back; they held once, but UCLA broke to finish off the game and earn their first win.
Pittsburgh 15-10 Chaos
Chaos started their day with a shocking upset over UCLA, but that energy couldn't translate to their next game, where Pittsburgh earned a commanding win 15-10.
Chaos' fatigue showed in the first half: Pittsburgh went up 5-0 before Chaos made it on the board. Danger has spent their season running through Vaughan Skinker, Linda Morse, and Carolyn Normile, but in the first half, their scores came from deeper down the roster: Abby Bomberger, Sarah Russek, and Megan MacGillivray all had goals in that initial run.
Danger took half 8-3, and the game seemed locked up. Chaos was walking back to the line and sitting in whatever shade they could find. But Danger couldn't close the game; a few sloppy offensive choices gave Chaos opportunities to convert and Chaos took them. Abbie Abramovich was phenomenal; she threw four assists and scored three goals for Chaos.
Beyond a few mental lapses in the second half, Pittsburgh delivered an excellent game in the third round. They played more open lines and rested their stars. Russek ran laps in the deep space, and Morse played versatile, smart offense. Their win may be the only game that holds seed today in their pool, and they'll need that victory.
Pool D
Central Florida 15-2 Ottawa
In a game that was never a contest, the Sirens waltzed to a resounding opening victory over the bottom seed Gee Gees. UCF's defense suffocated the Ottawa offense and took half 8-0. Ottawa was just unable to keep up with Central Florida's athletes.
The second half was more of the same story. The Sirens stretched their lead to 13-0. Their desire to end the game with the shutout intact was evident on the game's 13th point, when Shayna Brock sprinted down a disc from about 30 yards behind the intended target to get the block in the endzone. The shutout was lost the next point, but by then it was a decidedly moot point.
Ottawa got one break on the ensuing point as UCF began to look a bit fatigued, but the Sirens recollected themselves and finished out the game to start their run at a national title in dominating fashion. Freystaetter was all over the stat sheet in the win, racking up three goals and five assists. The whole Sirens line pitched in in the rout, though, with Shayna Brock, Eli Williams, and Gentry Maddox also putting up particularly impressive numbers.
Texas 15-14 Wisconsin
In what was easily the most exciting game of the pool to this point, Melee topped Bella Donna in an absolute thriller. Texas took the initial advantage by snatching two beaks in the first six points, giving Melee a 4-2 lead. The rest of the half was characterized by two big runs. After falling behind 4-2, Wisconsin scored each the next four points to take a one-break lead of their own at 6-4. But Texas answered right away with three straight to go up 7-6. From there the teams traded holds to an 8-7 Melee advantage, with the Texas club set to receive out of half.
Out of the break, the teams largely traded points. Wisconsin was able to generate a few break chances, but could not capitalize. Down 13-10, though, Wisconsin did start to take advantage of those break opportunities. Lo Guerin, Anna Hrovat-Staedter, Anneke Vermaak and company began to make some huge plays and turn the tide of the game. Wisconsin went on their second four point run of the game to take a 14-13 advantage with the game to 15.
Bella Donna had a single break opportunity at 14-13 to win the game then and there, but were unable to convert. Texas scored to set up a double game point showdown. Wisconsin started with the disc, but both teams traded multiple turnovers and called a timeout each. Eventually, Shiru Liu was able to connect with favorite target Julia Schmaltz in the endzone for the dramatic game-winning score.
The win moves Texas to 2-0 on the day, and gives them a jumpstart towards qualification for prequarters at the very least. Liu and Schmaltz were the big players, Liu contributing four assists and a goal and Schmaltz registering five goals and two assists. Hrovadt-Staedter may have had the best game of them all, though; in spite of her team's loss, she recorded seven assists, six of which came in the second half, to go along with a pair of big late dame D's.