UNC- Wilmington eliminated from Championship contention less than 24 hours after their Nationals began.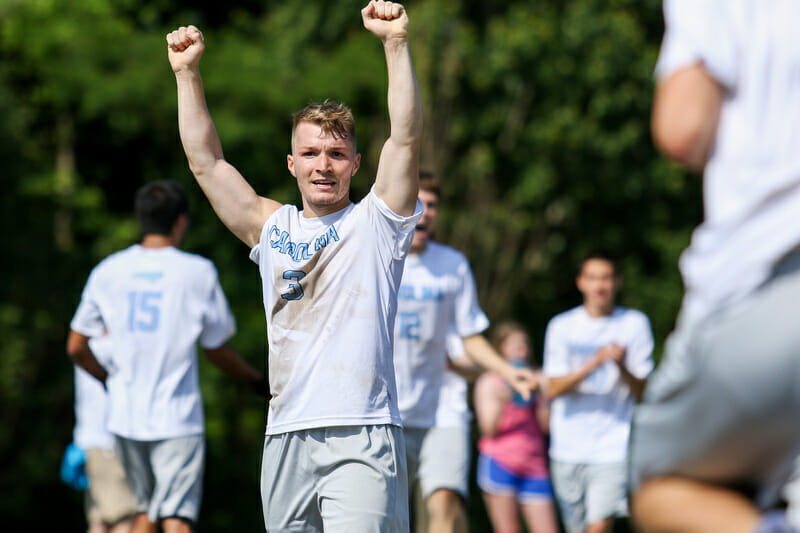 This article is presented by Spin Ultimate; all opinions are those of the author. Please support the brands that make Ultiworld possible and shop at Spin Ultimate!
Ultiworld is happy to provide all of our written and video coverage of the 2016 College Championships free of charge. However, if you are enjoying our work and want to contribute to our site, please consider making a donation to our completely optional tip jar.
Pool B
North Carolina 16-15 Case Western Reserve
Case Western has had some heartbreaking losses this week. Their game against Darkside started as well as they would have hoped, with the Gobies capitalizing on their first break chance. For the rest of the first half, UNC couldn't find an offensive rhythm. The favorites found themselves down 7-6 when an Elijah Long drop set up an easy huck for the Case offense. Case Western would eventually take half 8-7.
At this point, Case Western was a combined +3 at the end of first halves for the tournament, but a disappointing -5 at the end of their first two games. Thus far in the tournament, UNC has utilized halftimes an opportunity to adjust and get into comeback mode — this round was no exception. UNC immediately took control the game back with a quick hold followed by a break. In what could have been a nightmare moment for Darkside, a wide open up line cut was dropped in the end zone. What could have been a 13-11 scoreline, was now a 12-12 draw.
The nightmare took hold when Case Western's Jake Rovner came up big with a huge sky in the end zone, giving the Gobies a late lead. The three captains for UNC played the rest of the game, needing a break to win. On double game point, both teams relied heavily on the players that got them here. A forced upline to Joe Marmerstein led to a UNC block, but a forced huck to Warshauer gave the disc right back to Case. After a few more turns each way, JD Hastings unleashed a full field flick to Matt Gouchoe-Hanas who reeled it in for the game winner. Gouchoe-Hanas had three assists and one goal in the second half, and was the main key to Darkside's success down the stretch.
Case now has a first half point differential of +3, and an overall differential of -6. Tough breaks.
Colorado 15-9 Oregon
Colorado likely wrapped up pool B with an absolute thrashing of 2nd overall seed Oregon. Ego's first half offense was predictable, using handler slashes as their main weapon. Like in previous games, Oregon's early miscues gave the opposition plenty of break chances. Colorado was the first team this week to truly capitalize, going up 4-1 early.
Mambird's offense was technical and precise, using the full width of the field to find the most open cutter at any moment. Good options were looked off in favor of better options, and 20 throws a point was no problem for Wes Chow and Pawel Janas. Colorado took an easy 8-5 halftime lead.
Oregon has consistently come out better in the second half this week, but they've yet to play a team where they need to earn all of their blocks. Colorado didn't have one turnover in the second half as they put on a clinic for the rest of the contest. Pawel Janas' six assists and two goals were a huge part in Mamabird's success. But standout performances from Wes Chow and Erik Hotaling proved that Colorado is more than just a one trick pony. Their 15-9 victory will more than likely give them a break before a quarters matchup tomorrow.
Pool C
Wisconsin 15-9 Connecticut
Wisconsin picked right up where they left off yesterday and rolled passed an already eliminated UConn team to move their record to 3-0 on the weekend.
The Hodags were unstoppable on offense, rolling through both the zone and man looks that Connecticut threw at them. Up 8-3 at half, Craig Cox and a couple other members of the Wisconsin offense decleated to conserve energy for their afternoon showdown with Harvard.
After emptying the tank against Michigan the round before, UConn looked gassed. Even at full strength they likely would have had trouble keeping up with the blazing speed of Wisconsin's cutters, and coming directly off of a tough loss, they had no chance.
Harvard 15-12 UNC Wilmington
In less than 24 hours since their first game of the tournament kicked off, Pool C's top seed UNC Wilmington has been eliminated from contention at the hands of Harvard Red Line. It was a must win game for both teams and Harvard showed they had the composure necessary to weather the ups and downs of an elimination game and move on to bracket play.
It was another sluggish start for Wilmington as fundamental offensive errors gave Red Line break opportunities that the boys from Cambridge were more than willing to convert. John Stubbs gave Harvard a 3-1 lead on nasty flick bomb to Alex Hem that curved just over the outstretched arms of two Wilmington defenders. Hem, Harvard's primary big man downfield, was instrumental to Red Line's success all game long, finishing with three goals, three assists, and numerous big plays downfield.
Harvard would take half up 8-5 on the back of a Stubbs and Vandenburg handler weave. Wilmington had finally begun to resemble their old selves at the end of the half, applying lots of physical pressure, but it wasn't getting to Harvard's steadfast offense.
Inspired by a raucous North Carolina crowd, Wilmington continued to ramp up their intensity in the second half and were finally able to put some breaks on the board, most notably on a stupefying sky in the endzone from Kyle Warful on a Maxstadt huck that made it 10-10. It was more of the same form Maxstadt in this game: a few incredible shots, but a noticeable lack of polish with his fundamental throws that would end up really hurting Wilmington.
With the score now tied and the crowd bellowing a deafening Wilmington cheer, Harvard's offense proved they were up to the task, punching in the goal when Stubbs was able to squirm his way free in the endzone. After notching that crucial hold, Harvard's offense seemed to calm down, and were able to withstand Wilmington's pressure for the rest of the game. The same could not be said of Wilmington's offense, as physical errors led to two more Harvard breaks and the end of their season on a huck from Milan Ravenell to David Reshef.
Pool D
Pittsburgh 15-7 Utah
Pittsburgh looked like a team that had been to Nationals 12 years in a row playing a team making their first appearance. The game was tied at 5-5 before Pitt pulled away to go up 11-6 and begin to open the rotation in a cruise to victory.
As we've seen all weekend, Utah's big men, Brady Ohlsen and Josh Zdrodowski, made spectacular plays on any matchups at this tournament. The struggle for Zion Curtain at this point is depth and, well, sustainability when asking the same two dudes to roof opponents over and over.
At 0-4 in the pool, Utah will not make the bracket but they do still have a chance to break seed in consolation. But what a Cinderella story. What a fun team to watch. Utah's sideline entourage was very noticeable this weekend and even rivaled well-traveled ultimate fan bases like CUT.
"As soon as everyone found out we were going to Nationals all of our alumni, half of our girls team were like 'Holy fuck! We've gotta go.' This might be a once-in-a-lifetime experience. Let's go support them,'" captain Hunter Levis explained. "It's a long flight completely across the US but we're stoked they could make it."
Making Nationals for the first time can do a lot for a program in terms of recruitment, culture, and mentality. Maybe a hoard of crazy Utah supporters will storm Cincinnati in 2017.
Coming up next is a big round for Pool D. Auburn, Minnesota, CUT, and Pitt are all 2-1 and one of them will fail to make the bracket.