Disclosure: This post is brought to you by the National Ultimate Training Camp. All opinions are those of Ultiworld. Thanks for supporting the brands that make Ultiworld possible!
Ultiworld is pleased to announced the third annual College Awards. The award criteria can be found here — we considered both regular season and postseason performance in our selection of awards. Though the input of Ultiworld reporters is weighed heavily, final decisions for awards were made by the editors.
For the Player of the Year Award, go here.
Offensive Player Of The Year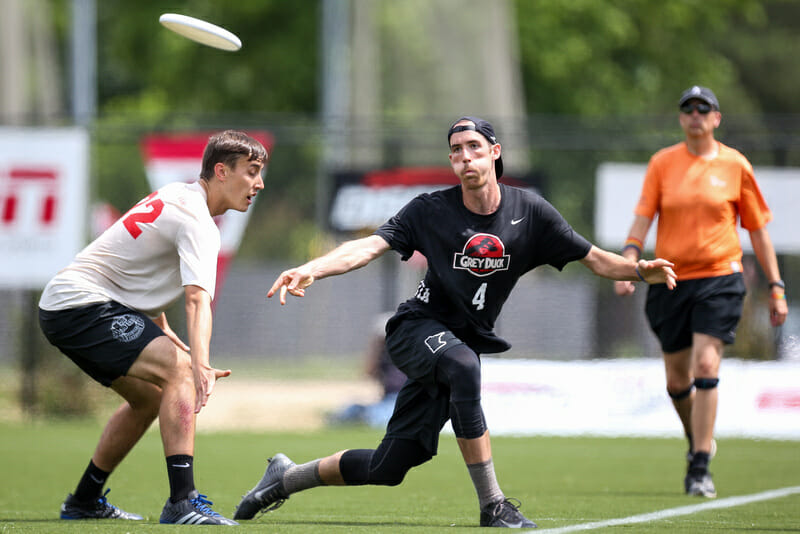 Ben Jagt (Minnesota)
6'4″ Minnesota Grey Duck cutter Ben Jagt arrived on the national consciousness at the 2015 College Championships as a big-time deep target. Fast forward through a club season with Sub Zero and the 2016 Jagt Club was newly renovated.
Adding potent throws and a much sharper field sense to his game, Jagt exploded into the college season at Florida Warm Up as the best player at the fields.
Jagt was an incredible offensive asset for the team, both as one of college's most dangerous deeps but also a creator of space for the rest of the Minnesota O-line. He was often the focal point of the country's best offense.
Never was that more clear than in the bracket at the College Championships. During the semifinals, Minnesota Callahan nominee Ryan Osgar was out with a swollen knee. Jagt rose to the occasion, pouring in five goals, two assists, and two blocks to lead the team past Pittsburgh and into the final.
But it was Jagt's ability to open up the field that made him so vital. Wide swaths of underneath space were created in his wake, sometimes filled by other Minnesota cutters, sometimes filled by him as he chewed up 30 yards on an under. Harvard's game plan in the final was to stop Jagt from scoring deep. While they limited him to three goals, Grey Duck simply worked underneath — often through Jagt — and killed Red Line with a thousand cuts.
Jagt was brilliant all season long and was the season's most potent offensive player.
Runner-ups: Dalton Smith (Texas A&M), Aaron Speiss (Wisconsin)
Defensive Player Of The Year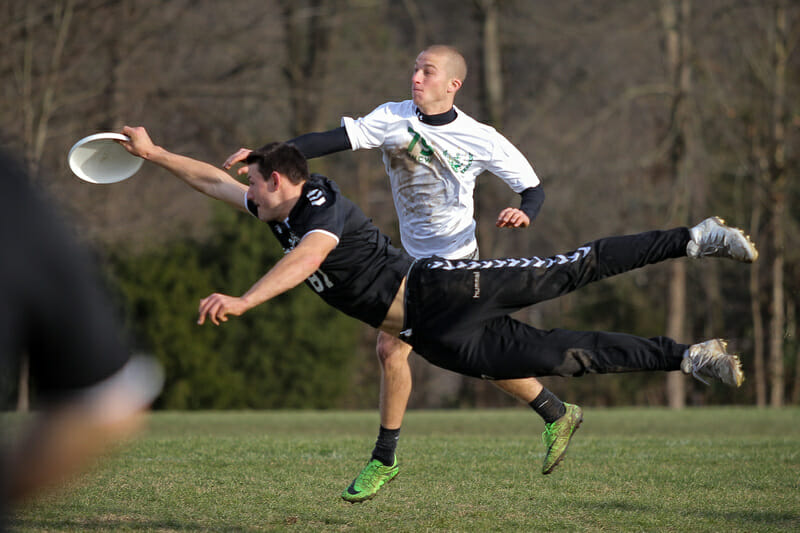 Jeff Babbitt (Massachusetts)
UMass' Jeff Babbitt wins his second consecutive Defensive Player of the Year award in 2016 after another truly dominant season.
Babbitt may have been the college game's most intimidating player, pairing elite athleticism with an unmatched physical stature. He anchored the exceptional UMass zone from the wing position, ranging around the field and coming up with stunning layout blocks and chase down skies. He could also match up one-on-one and win battles with the best deep cutters in the game, including OPOTY Ben Jagt.
Babbitt is the rare college superstar that plays almost exclusively on the D-line. But how better to maximize his impact? He gets the block, then does literally whatever is needed — handling, cutting, every-other — for the offense on the turn.
It must be mentioned here that Babbitt was a blade of grass away from winning the Player of the Year award. He was undoubtedly the regular season's best performer, standing out as the best player at the tournament at every tournament of the year before Nationals. However, an injury at Nationals limited his explosiveness. He was still a standout player at Nationals, and there is more than a solid argument that he deserved the POTY nod.
What went totally unquestioned was his DPOTY selection. He was truly dominant as a defensive player, changing the entire way offenses played against UMass. You literally could not risk throwing in his direction. He was going to have the advantage on any jump ball, and it was difficult to throw outside of his range on a throw to a cutter.
Babbitt had a tremendous season and will go on to be a dominant defensive player for any club or professional team he plays on.
Runner-ups: Chris Strub (Oregon), Sterling Knoche (Wisconsin)
Rookie Of The Year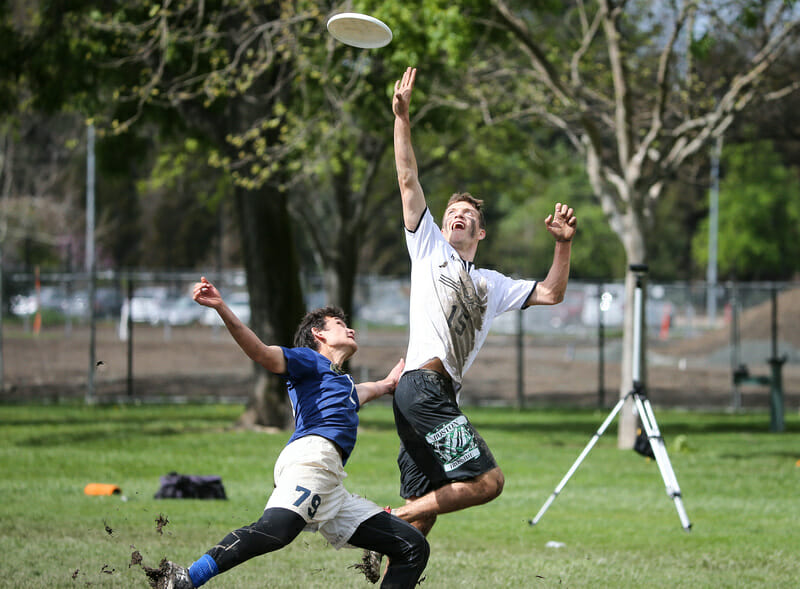 Tannor Johnson (Massachusetts)
It's been a while since we've seen a rookie come into the college game and be as important to a team as Tannor Johnson was to UMass. Johnson put on one of the most impressive freshman seasons ever as perhaps the key member of the UMass O-line.
Johnson was a heralded high school player and widely considered the top recruit out of the 2015 graduating class. It was easy to see why. His disc skills were already elite. His physicality matched up with anyone in college. He was constantly open in the middle of the field.
While Johnson — like all rookies — had some moments of inconsistency, he was unbelievable in multiple big games, including the finals of Easterns and the New England regional final. He may well have deserved MVP awards in those games — and that's saying something when you play on the #1 regular season team.
Johnson has the tools to be a Player of the Year candidate in two years. (That's what Harvard's John Stubbs did — win ROTY in 2014, win POTY in 2016).
He had such a dominant regular season that even a less-than-stellar Nationals could not dent his status.
Johnson will be the piece that UMass builds around for at least the next three years. Good luck, everyone else.
Runner-ups: Xander Cuizon-Tice (Oregon), Cole Wallin (Minnesota)
Breakout Player Of The Year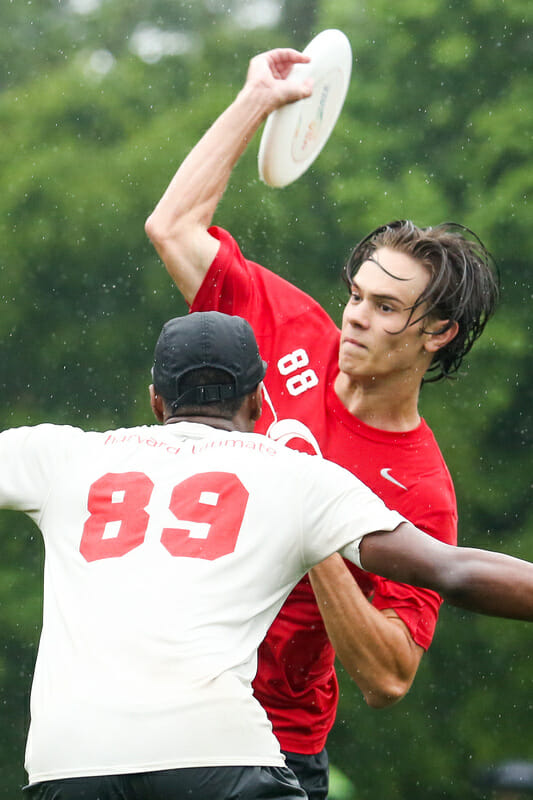 Nathan Haskell (Georgia)
Nathan Haskell had a good rookie season last year, but his growth as a sophomore for Georgia was unbelievable. Haskell became a part of the "big three" for Georgia alongside Sam Little and the injured Parker Bray. He was a dominant offensive player all year long and saved his best for Nationals.
Despite missing their biggest offensive weapon in Bray, Georgia took down UMass and wrapped up Pool A easily. They fell to eventual finalists, Harvard, in quarters. Haskell led the team in assists (19) at the College Championships, seven more than the next closest player Sam Little. He led the team in blocks (6). He finished second in goals scored (8).
Haskell is effective almost anywhere on the field. He can operate in the middle as a cutter and then deliver a wide array of throws — including a signature hammer — as a distributor. He can handle. He can cut deep.
With Haskell leading the charge next season alongside Bray, Georgia is in good hands for years to come.
Runner-ups: Wyatt Mekler (Minnesota), Henry Fisher (Carleton)