And the award goes to...
Disclosure: This post is brought to you by Nike Ultimate Camps. All opinions are those of Ultiworld. Thanks for supporting the brands that make Ultiworld possible!
Ultiworld is pleased to announced the third annual Ultiworld Coach of the Year. The award criteria can be found here — we considered both regular season and postseason performance in our selection of awards. Though the input of Ultiworld reporters is weighed heavily, final decisions for awards were made by the editors.
Coach Of The Year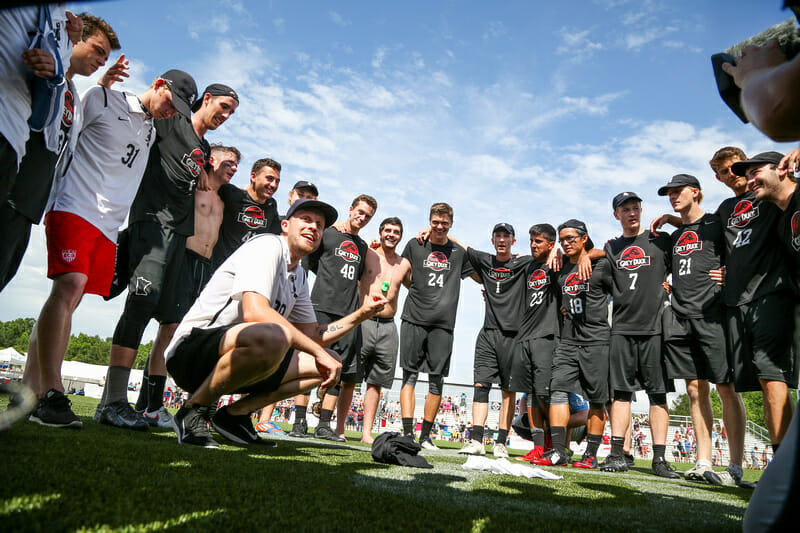 Tallis Boyd (Minnesota)
Think back to 2013, when Minnesota entered Regionals as the #1 ranked team in the country and stunningly missed Nationals in a three-bid North Central region. Since then, Grey Duck has progressed immensely, winning the region for the first time ever in 2015, making the bracket at Nationals last year, and rolling through the best season in the school's history to claim a National Championship this year.
At the heart of the team is coach Tallis Boyd, who has forged a program that could weather the mental and physical storms that crossed them this year. At Regionals, they had to fight through the backdoor bracket just to make Nationals. They learned to beat a UMass zone that crushed them to the tune of 15-9 at Easterns and convincingly knocked off the #1 seed in the quarterfinals.
Then, playing without their Callahan nominee, Ryan Osgar; their best D-line player, Sam Bumsted; and their most outstanding rookie, Cole Wallin, Boyd orchestrated one of the year's great coaching performances as he coaxed tremendous efforts out of his reserves as Grey Duck defeated preseason #1 Pittsburgh on double game point.
A team that has had a rap for choking delivered the opposite, a win that was never meant to be against a team that had defeated them just two days before. With the country's best offensive line, Minnesota continued on to knock off a red-hot Harvard team in the final.
Minnesota was not on the elite National radar to begin the year and, thanks to Boyd's efforts, defied the odds and secured gold.
Runner-ups: Bryce Merrill (BYU), Mike DeNardis (UNC)