Minnesota's bench players stepped up in a big way.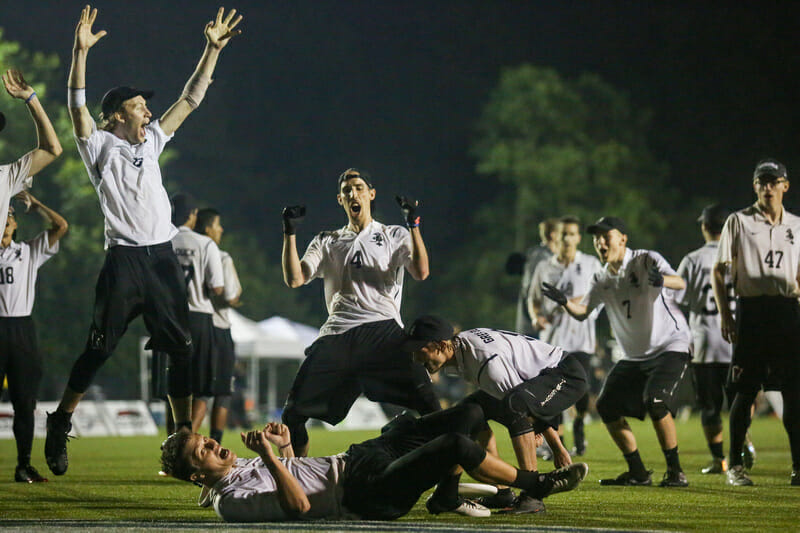 In an unforgettable semifinals victory over Pittsburgh, Minnesota underscored a simple fact: they were the deepest team in the country this season.
While Minnesota (#4) had started the tournament as a narrow favorite over Pitt (#5), a rash of injuries that would have devastated lesser teams made Grey Duck anything but. This should have been a very different team than the one that started elimination play. In prequarters, they lost freshman sensation Cole Wallin and D-line star Sam Bumsted in an upset of the top seeded Massachusetts. Minnesota's Callahan nominee Ryan Osgar, whose six assists led them to a win against Colorado a round earlier, was ruled out with a lingering knee injury. Then in the middle of this semifinals match against a Pittsburgh team trying to become the first modern dynasty, Tristan Van de Moortele (who already had three goals) pulled up lame with an apparent hamstring problem.
If you look at the situation from a Moneyball perspective, when Van De Moortele went down, Minnesota was replacing guys who accounted for a staggering 26 goals and 43 assists thus far at Nationals.
Perhaps most enigmatic is that each of those players were available for a Friday pool play meeting with Pitt — a game in which Minnesota blew a 13-11 lead.
But it's hard to beat a team twice.
Through intermittent downpours and with a well-lubricated crowd behind them, the boys from Minneapolis put on a gutsy performance that would become the game of the tournament.
***
The contest started the way it was supposed to for a squad missing as much firepower as Minnesota. Pitt capitalized on the first Grey Duck turnover of the game when rookie Mike Ing made a heads up play on a huck intended for a teammate to go up 3-1.
At this point if you're Vegas, Minnesota objectively had no chance. They are just too snakebitten with injury. Pitt is too stacked. If they were going to win this game they were going to have to hold on every O point and at the very end…pray, maybe.
The next offensive possession wasn't perfect, though Duck would hold. Then, in an incredible sequence, Minnesota would rattle off three breaks.
Trent Dillon missed on two deep flick hucks that carried just a little too far for their targets, and Soham Shah dealt a lefty backhand to Connor Anderson at the front cone for 3-3. Max Thorne muffed an inside throw and Wyatt Mekler hit Alex Jirele with a touch flick for Jirele's second goal of the tournament. Anderson poached his man for a layout block on a Pitt in cut then Mekler found Van De Moortele for Grey Duck's fourth straight point. Minnesota now led 5-3.
This is where you really start to notice the matchup differences from the first meeting between these two teams on Friday. With Cole Wallin out, Van De Moortele and freshman Zach Trosvig took Thorne. Connor Anderson was now covering Dillon, who won the Callahan Award earlier in the day, in place of Sam Bumsted (who is five inches taller than Anderson). So many unfamiliar faces were coming into the game on defense you had to have your program folded to Minnesota's roster at all times. And the madness of it is that they were all playing well.
"We got some huge contributions from freshmen like Zach Trosvig coming out and D'ing up Max Thorne on a couple hucks," said Grey Duck head coach Tallis Boyd. "Alex Jirele, Neil Peterson, Blake [Trantina]… they just don't stop running."
Rain was coming down in sheets just before halftime. Pitt trailed 7-5 and desperately had to hold but Ben Jagt got a sneaky block on what seemed like one of three dozen around backhand breaks from Dillon near the Minnesota goal line and Grey Duck called timeout to give themselves the best chance to break. After some high stall throws, Jagt found Tony Poletto at the cone. Minnesota went ahead three breaks and held to start the second half for their biggest lead of the game at 9-5.
Minnesota was invigorated but all parties at WRAL Soccer Park seemed to know that some kind of Pitt comeback was inevitable. It just wouldn't have made sense for a team with Dillon, Thorne, and Pat Earles to close the book on their college careers without some pushback.
The Pitt stars got assists on the three of the next four goals to rally back and knot the game at nine. As if there weren't enough grounded ducks, at 9-6 Minnesota's Tristan Van De Moortele, who had been critical for the offense in the absence of Ryan Osgar, went down with a hamstring injury.
Pittsburgh's D-line had started to generate some consistent pressure running force flick and funneling cuts to the forehand side. Minnesota's stack drifted too deep from time to time. Trapped Grey Duck players had to put up some high stall shots on a few occasions. If you're going to do that, it helps to have Ben Jagt.
"Luckily the bailouts worked for us more often than they didn't," said Jagt, who was on the receiving end of most hopeful throws. "During the breaks Tallis was just saying 'Just execute. Just do your thing.'"
The atmosphere in the stadium was like a home game for Minnesota. The lightning delay in the earlier semifinal gave soaking wet fans some extra time to get crazy. Through the hit parade of Jock Jams coming from Auburn's Hank Womble's trombone, the crowd rallied around Jagt and his Grey Duck team in a way seldom seen. Jagt's unique combination of size, speed, and pun-versatile last name propelled him to cult hero status. Twitter was ablaze with Jagt-related memes. His big plays (like the five goals and pair of assists he registered) were almost always celebrated by those in attendance with a Jagt-centric rendition of Shots by LMFAO ft. Lil Jon. Between pulls, the masses joined the Minnesota Quack!… Quack!… chant.
While there was a strong Pittsburgh contingent (southwestern Pennsylvania is only about seven hours from Raleigh), Joe Ultimate Fan was pulling for Minnesota. This new fan base also rained poignant heckles down upon Pitt, like "Leeeeeeeeeee-hiiiiiiiiiiiiiiigh!" a reference to the D-III sized school that upset Pittsburgh at Ohio Valley regionals.
"That was the most unreal feeling," veteran handler Soham Shah reflected at tournament's end. "On the field, we were so excited to play. When you have every single player in the stands cheering for you, there's no way we can lose that game."
Pedigree, injuries, weather… none of it mattered anymore. Minnesota had to find a way to hang on. Excitement would not wane down the stretch.
Duck's offense settled back in and churned out some clutch holds. After a second Trosvig block on a huck to Thorne, Minnesota broke to pull ahead 12-10. Again Minnesota would have a chance to convert on defense with a 40 yard try to the end zone before Pitt's Kyle Hartley would make up the ground for a trailing edge, highlight reel stop. Pittsburgh held and broke back. Minnesota found themselves in trouble with a shaky O point that ended in a Mekler dime hammer to Anderson late in the count. Pitt responded in kind with an all too familiar Earles huck to Dillon. 13-13. Double game point.
Minnesota patiently worked the disc up the force to the goal line and sent it around to the break side. Mekler found Shah in the shallow break space with a low flick. Shah went down and tackled the catch with two hands to be absolutely certain, and there it was. Ballgame.
"No hero ball," Boyd laughed when asked what was going through his mind on the final point. "We're just looking for completed passes. We have an end zone offense that we feel works pretty well. It relies on guys making cuts, clearing space, and hitting open hands. Sometimes that means something a little slippery on the inside and that's what won it tonight."
Next man up. It had been said in conversations with players and by Boyd repeatedly when the injuries started and, let's be honest, sounds like nothing more than coach speak. Yet, somehow this mantra was spoken into reality as top players were dropping like flies. About the only thing going right for Minnesota was that they practice late at night (due to the weather delays, the game ended around 12:30 AM) and they were unburdened of expectation. Who doesn't love being the 'dog?
"We knew we didn't have much pressure on us because these dudes [Pitt] are the ones who want to win so bad and they're a legacy program," Jagt said as security guards started ushering players and fans from the field. "So we knew the pressure was on them and we just sort of took on our last year's persona of underdogs and just played."
Pittsburgh had expectations of their own. Though it didn't work out the way the senior-heavy team had planned, they lost to the eventual champion and staged a late comeback using the full complement of their roster – something they may not have been able to do a year ago.
"They battled like a bunch of warriors," Pitt head coach Nick Kaczmarek said after his team's first trip to semis since 2013. " I think we went 17 [or] 18 deep in semifinals. We certainly haven't done that before and that comeback is 100 percent due to that depth. Without that depth and rotating in, I don't think we could've fought back in that game. I don't think there was a shot."
It was a tournament of firsts for Grey Duck. First time semifinalists. First time finalists. First time National Champions. After this win Minnesota was no longer the underdog. They were just playing too well to be beaten.
Captain Ryan Osgar, who watched all the drama in sandals with his knee wrapped, was asked after the game if Grey Duck could overcome injury one more time in finals.
"We're going to win tomorrow," he said elatedly. "We won this game… how did we win this game without so many of our good players? That just shows how deep we are."
In finals, Osgar suited up against Harvard and caught the game winner.