Let's have some fun thinking through lines for the US Men's National Team at Worlds.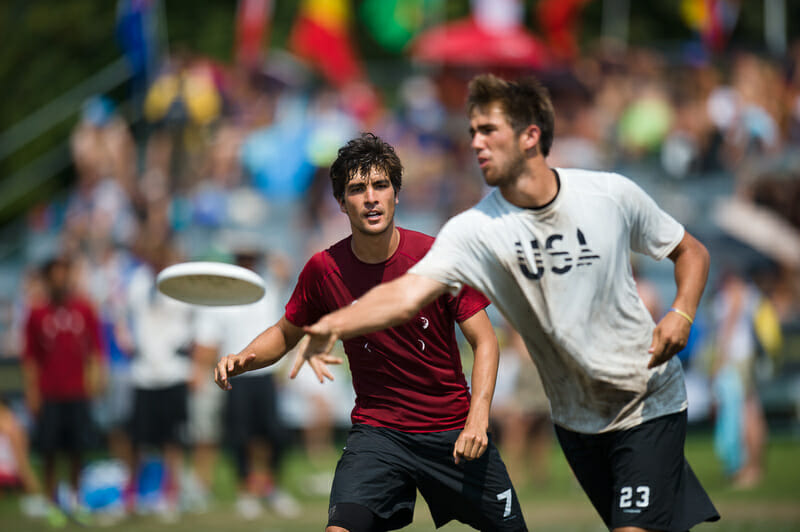 This weekend, the US Men's National Team will make their way across the Atlantic to finish the job that George Washington started — they are overwhelming favorites to come home with another world championship. Regardless of the results in London, it will be exciting just to see what it looks like when this super team, a collection of talent that approximates what it would look like if Seal Team Six were all X-Men, takes the field.
With USA Ultimate opting to send a delegation that consists of the best players in the country — not just the best Club team, as it has done in previous years — we get the opportunity to see what might be the greatest collection of male talent ever put together on an ultimate field. Never before has so much staggering talent all been consolidated on one roster; this is ultimate's version of the Dream Team1.
Part of the fun of this spectacle is getting to put on your coaching hat and sew together potential lines you'd like to see actual coach Alex Ghesquiere try out. Team USA's staggering lineup gives us some sweet toys to play around with when dreaming up potential combinations, and with this kind of quality on the roster, roles and playing time can be analyzed and re-analyzed endlessly.
So without further ado, let's dip a toe into the sandbox, and see what we can come up with. After hours of meticulous tinkering, here are the standard starting O and D-lines I'd prescribe.
Starting Offense
Handler: Danny Karlinsky
Handler: Ashlin Joye
Handler/Cutter: Jimmy Mickle
Handler/Cutter: Dylan Freechild
Cutter: Peter Prial
Cutter: Cassidy Rasmussen
Cutter: Matt Rehder
Karlinsky and Joye are no brainers here, and Freechild/Mickle give us the flexibility to go with either 2 or 3 handler sets and switch between them on the fly… Prial and Rasmussen are both completely unstoppable when they want to work underneath and then distribute continuations downfield, in addition to being lethal deep threats. I honestly have no idea how you even start to guard that combination… Rehder just beats out Stuart for the role of "big guy on the O-Line that will win jump balls whenever we need them" and mostly because I can count on him to stay healthy all tournament, while Stuart usually has one physics-defying play in his legs every year, and then takes rest of the year off to recover
Starting Defense
Handler: Kurt Gibson
Handler: Alan Kolick
Handler: Ryan Farrell
Cutter: Russell Wynne
Cutter: Jonathan 'Goose' Helton
Cutter: Nathan White
Cutter: Tyler Degirolamo
Gibson and Kolick give us a terrifying combination of length and speed in the defensive backfield, and Gibson has the versatility to guard positions 1-7 if we want Farrell to rough up a smaller handler. White and Degirolamo patrol the deep spaces and clean up all the high stall junk that the tight handler D forces, then Goose goes nuts off the turn, running all over worn down O-Lines and bombing continuation hucks to the big men downfield
***
So those are the standard O and D looks. But with this much talent on hand and so many varied opponents to play, it will be necessary for Dutchy and the coaching staff to trot out different lineups from time to time. Here are a few potential wrinkles.
Someone going huge against us with a bunch of 6'4" defenders? We can run circles around their goons with this crew.
Small Ball Offense
Handler: Danny Karlinsky
Handler: Ashlin Joye
Handler/Cutter: Kurt Gibson
Handler/Cutter: Dylan Freechild
Cutter: Joe 'BJ' Sefton
Cutter: Tyler Degirolamo
Cutter: Trent Dillon
Good luck trying to hold a force — or even set a mark — against this squad. Karlinksy and Sefton bring their Sockeye bona fides to the table and keep the disc constantly pinging back and forth, while Kurt has shown that he can cut through a flat footed defense like a knife through butter. Everyone on this line can handle and move with the disc, but I'm actually getting giddy at the thought of Freechild and Kolick running the give-and-go together. Give up an inch to one of those guys and they will never stop running.
We do need some size on the line in case of a turn or if the disc stagnates, but that size needs to be able to move the disc quickly, so Degirolamo is perfect here. He has the speed and handler instincts to run the weave with these other guys, plus the size to stretch the field and open up space for the run and gun.
On to scenario two…
Big Ball Offense
Handler: Jimmy Mickle
Handler: Kurt Gibson
Handler: Tyler Degirolamo
Cutter: Nick Stuart
Cutter: Matt Rehder
Cutter: Tom Doi
Cutter: Jonathan 'Goose' Helton
Can't. Teach. Tall. **Cowers in fear at what the lord hath wrought.**
What happens if we run up against a team that excels with handler dominator sets? Or a team that has one or two guys getting every other and throwing dudes open? Sick this pack of pitbulls on them and it will calm things right the eff down.
Handler Stopping Defense
Handler: Ryan Farrell
Handler: Trent Dillon
Handler: Chris Kocher
Cutter: Joel Schlachet
Cutter: Russell Wynne
Cutter: Dylan Freechild
Cutter: Tyler Degirolamo
Farrell gives off the impression that he would rather tackle his man off a cliff and die along with him than let a handler reset the disc, which is exactly what we want from this line. Everyone on this line has the speed to keep up with a squirelly handler and the positional smarts to pull off intricate switching schemes, but Wynne might be the best example here. He's one of those guys that is just always on your hip no matter where you are on the field. Once again, Degirolamo is the versatile piece that holds this lineup together, that combination of size/speed is just so valuable. Tons of guys can handle on this line, so lots of options off the turn, but we're looking to Schlachet and Ty D to tear it up cutting downfield while Trent, Freechild, and Kocher run the "Nexgen 3.0" weave with the disc.
Now that we've got man defense solved, what else've we got? A four man cup designed to force over-the-top throws, with some huge bodies in the back ready to vacuum up any swill.
Lockdown Zone
Handler: Jimmy Mickle
Handler: Nathan White
Handler: Chris Kocher
Cutter: Russell Wynne
Cutter: John Stubbs
Cutter: Henry Konker
Cutter: Matt Rehder
We've got Nathan White and his cartoonish proportions — see this picture of White taken at the Pro Flight Finale last season — on the mark, with Kocher, Stubbs, and Wynne, who are some of the most intelligent and opportunistic defenders on the team, holding down the rest of the cup. Mickle takes the force side wing, swallowing up in-cuts with his size and then running the show after a turn. Rehder is our imposing colossus on the deep space, and Konker gets to be the weak side wing, tasked with being as aggressive as possible on any swings that float into his space and over-the-top throws that are even remotely in his zip code. Seriously, we want him to play this position like his hair is on fire, and Konker has the perfect combination of hustle, hops, and disregard for his physical well-being to pull it off.
Things getting rocky and we need a hold? Why not run out five Revolver guys and two guys to cut for them, and then let the rest take care of itself.
Team Chemistry
Handler: Ashlin Joye
Handler: Nathan White
Cutter: Cassidy Rasmussen
Cutter: Joel Schlachet
Cutter: Russell Wynne
Cutter: Tom Doi
Cutter: Matt Rehder
"When in doubt, trust Revolver" isn't the worst idea for the team, as the San Francisco guys will already have chemistry and experience playing together in do-or-die moments — particularly the trio of Joye, Rassmussen, and Schlachet. Doi is perfect for this line because he will cut hard, open up space, and get the disc back to this handlers without any complaints, while Rehder is the closest approximation to Simon Higgins on the team.
That line will be so effective and fundamentally sound it's almost boring. This is a spectator event, after all. Let's send out a line that does a ton of crazy shit!
"Shock and Awe" Approach
Handler: Ashlin Joye
Handler: Josh Markette
Handler: Jimmy Mickle
Cutter: Joe 'BJ' Sefton
Cutter: Matt Rehder
Cutter: Nick Stuart
Cutter: John Stubbs
I really love this look. Of course, you've got Joye as the howitzer, ready to unload at a moment's notice, but this is really Markette's time to shine. It gives one of the most creative throwers in the game license to use his paintbrush as he wishes, and then five guys downfield that can GET IT when the disc goes up. No line looking to make a splash would be complete without Joe Sefton and his antics, and I'd like to think that he would be the perfect muse for Cricket.
Ok, this is it. Let's assume, for the purposes of drama, that there has been some Space Jam-esque scenario put in place so that there is an opponent actually capable of challenging this US team. The team's survival will be determined by the upcoming point, who are the seven players we're sending out on the line?
Universe
Handler: Kurt Gibson
Handler: Ashlin Joye
Handler: Alan Kolick
Cutter: Jimmy Mickle
Cutter: Cassidy Rasmussen
Cutter: Peter Prial
Cutter: Tyler Degirolamo
I went back and forth on this for hours, but ultimately, it has to be this seven. You have to value versatility on a universe line, so Kurt and Mickle, who can both play essentially any position, were no-brainers. Next in were Prial and Rasmussen, because they are both super smart defenders and devastating cutters who are just as deadly getting the disc as they are distributing it. Picking the two handlers to play alongside Kurt was brutal, but ultimately it had to be Joye and Kolick. Ashlin has come through in too many big moments to not be on the line when it counts. His upwind jack on universe against Truck at Nationals last year show he has ice in his veins. Kolick strikes the sweet spot among the other handlers, he has more to offer on defense than Karlinsky, more offensive firepower than Farrell, and offers a steadier hand and better ground game than Cricket to compliment Ashlin.
Deciding on the last spot was excruciating. Do you go with the quickness and positional flexibility of Freechild? The sheer athleticism and drive of Goose? The size of Rehder or Stuart? Ultimately, I want to best of all worlds from the last guy, so it has to be Degirolamo. He has the foot speed to guard handlers and the size to punish them on a turn. He's got the cutting ability to command switches and poaches from defenders, and the throwing acumen to rack up assists once he gets the disc. He is the "do everything" glue guy on the line, and with him as the last piece, we're ready to take on anyone else in the world with this seven.
---
To take the comparison to the next level: Kurt is MJ, Mickle is Magic, Ashlin is Bird, Cassidy is Pippen, Kolick is Stockton, and Ryan Farrell is definitely Christian Laettner. ↩