GB has been steadily rising. Can they conquer gold?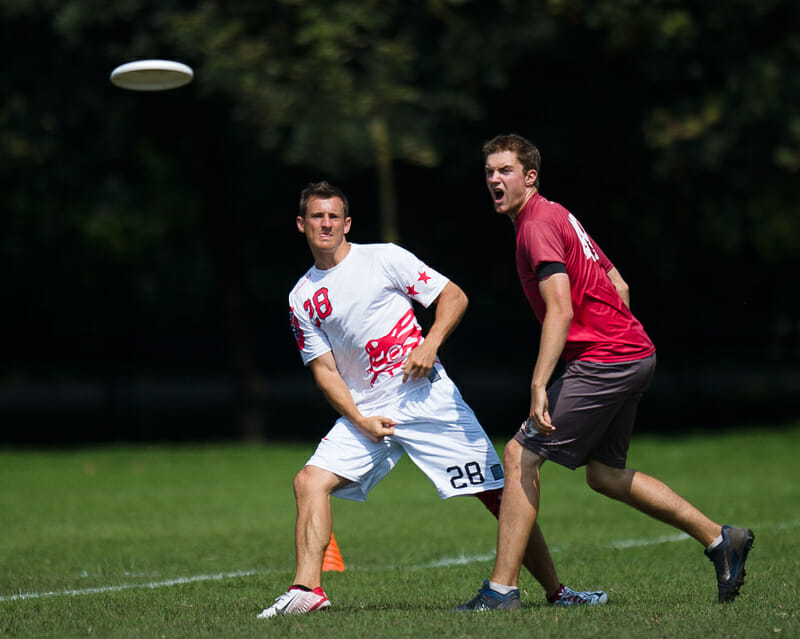 There is a storm building in Europe — spinning in the streets of Salzburg, ploughing across French fields, and lurking in Swedish parks — and it's heading straight for London. With WUGC nearly upon us, it is time to learn a bit more about some of the men's teams who will be competing in England next week, squaring off against the best the world has to offer.
Europe's Finest
The British have always had a taste for conquering. There is something in their national psyche that seems to say, 'no, I think you'll find that we are in charge here.' While for most of its history, Europe resisted this Anglican influx, the last four years have seen the British place themselves implacably at the forefront of European ultimate. They are currently the indisputable kings of the continent, to the point where they started looking further afield to sate their lust for glory. Finding it much cheaper to bring the competition to them, they have resolved to throw the most extravagant international ultimate tournament ever. If you're going to try and beat the world, it's much more comfortable to do it from home.
The recent history of Europe's top tournaments is as anglicized as chicken tikka masala. It is difficult to look up the European results from the last four years without getting the faint scent of crumpets creeping up your nose. Last summer's European Championships were won by Great Britain Open, and 2011 saw them take home silver medals. The intervening years saw Great British teams Clapham (Open) and Iceni (Women) achieve simultaneous threepeats at the European Club Championships. And the 2009 European Club Championships, hosted in London, saw British teams take home gold in all three divisions. That's a feat only surpassed by their achievements at the European championships in 2009 where Great Britain contested every final, seven in total, and won four of them. If the '90s belonged to Scandinavia, then the '00s and '10s belong to Great Britain.
However, when it comes to the World Championships, they have been notably less successful; 2012 was the first time that Great Britain ever medalled at the tournament. While it is impressive, it is difficult to look upon those silver medals without noting Great Britain got them without beating Canada, USA, or Japan. It is important not to undermine Great Britain's achievement in bringing Men's World Championship medals back to Europe for the first time in twelve years, but the success must be considered in context.
Regardless of how the Brits got there, they did get to taste the rarefied air atop the mountains of Sakai, however brief and harrowing to their palette it may have proven to be. The final result had a profound effect on the national approach to ultimate. Since making it to the final in 2012, Great Britain has been preparing to take that last, decisive step into history's golden pages.
At the forefront of Great Britain's drive for international dominance is the London-based club team Clapham. As mentioned earlier, Clapham have exerted their will over European club ultimate for the past four years, as well as in the mid-2000s. Crucially, they have done this by replicating the elite American club team ethos. European clubs will always struggle to contest their American counterparts for player pools and high-level competition; Clapham addressed these disparities by matching American clubs in terms of dedication.
High level intense training twice a week led to Clapham being able to develop a style and philosophy that could stand up to the established powers. The shining example of the success of this approach came at the World Club Championships in 2014 where Clapham lost on double game point to the eventual winners, Revolver. Other British teams like Chevron Action Flash, EMO, and Fire of London continue to drive GB's club scene forward, but have yet to make similarly impactful appearances on the international arena.
While 2014 wasn't the first time Clapham had impressed against North American opponents, it was the first time their mantra had been used to convert the national teams' constitution. Great Britain may not have been built using exclusively Clapham materials, but it was definitely built according to their blueprint. Trainings were held twice a week and all of them in London. If players from other teams around Great Britain were selected they had to be able to make the majority of these trainings. This centralized approach stands out from the philosophies of other European teams attending WUGC, as do the results that it has garnered.
By attracting the best possible players and providing them with consistent, elite level training, the British have built a team who feel like they can beat anyone on their day. Team attitude and spirit remain critical factors for the Brits. Their defeat two weeks ago at the hands of lovable rogues Ireland proves they are by no means impervious to debacle. Despite this minor set back in their final warm-up tournament, the truth of the matter remains, the British represent the best chance a European team has had to bring home gold from Worlds since Sweden in 1992.
Players To Watch
Justin Foord
A name already writ large in the history books of British ultimate, Foord is looking to bring the ultimate glory home with him. The key man on Britain's offensive line, he is capable of doing it all, and doing it faster than people can react. He breaks like an inner city dance crew, makes perfectly tailored cuts, and has been preparing his countrymen for WUGC with Churchillian bravado. If Great Britain are to succeed this week, it will start with Foord.
Ollie Gordon
Capable of launching blockades that would make Nelson proud, Gordon is the lion at the centre of Britain's defensive line. He is always a threat to any trigger-happy handlers, and upon providing the turn, has that irritating habit of making sure it gets converted.
Ashley Yeo
Simply put: he owns the sky. Lightning fast, seasoned at the highest levels since he was a junior, and unafraid of the moment (he already has quite a few to his name), Yeo is the remarkable rising power on this British outfit, literally and figuratively. While the Queen may own the land we will be standing on, Yeo is the prince regent of the air above us.
What To Expect
The British have been looking to reassert their dominance over longstanding prodigal sons since they first took up the sport. 2012 was the closest they have ever come to achieving that goal. While it may not have gone exactly to plan, it was a crucial step, one that has changed both the internal structure of their national team, as well as its external results.
This is the possibly the strongest international side Great Britain has ever produced, and it is undeniably the most cohesive. They have put in the work, made the overseas trips, and sacrificed as necessary, all in pursuit of the ultimate glory. By the end of next week, not only may Great Britain have left the European Union, but they might just have taken the world with them.