The Swiss have struggled to put the pieces together internationally.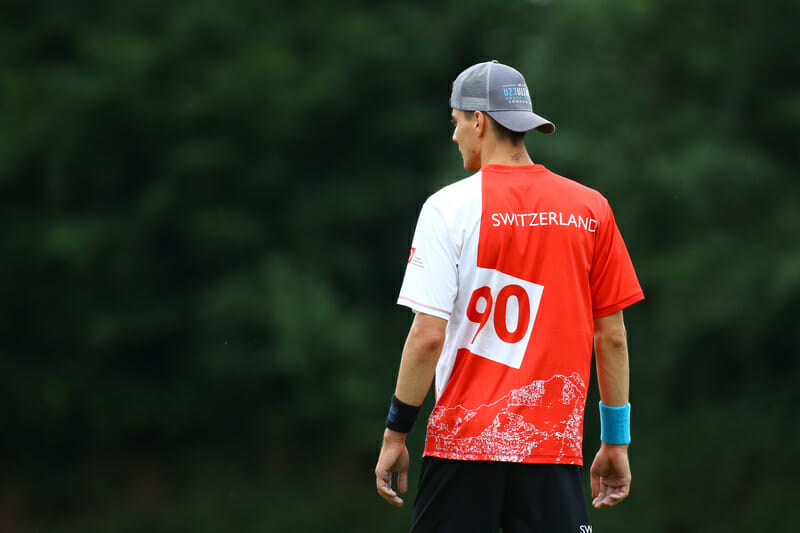 There is a storm building in Europe — spinning in the streets of Salzburg, ploughing across French fields, and lurking in Swedish parks — and it's heading straight for London. With WUGC nearly upon us, it is time to learn a bit more about some of the men's teams who will be competing in England next week, squaring off against the best the world has to offer.
International Underachievers
Residing amongst the Alpine peaks of central Europe is a pool of elite ultimate, waiting for the right season before unleashing squads on the basins below with the elegance of a waterfall. Unfortunately, the federal excellence of the Swiss club scene remains something that they struggle to export at a national level. With club teams like Flying Angels Bern and Basel's Freespeed impressing at European competitions for the last six years, one would imagine it is time for the national team to address the holes in its game.
The success of Switzerland's domestic Open club teams seems almost diametrically opposed to their shortcomings internationally. Flying Angels enjoyed back-to-back success at the European club championships in 2010 and 2011, while in the recent era of British dominance, Freespeed earned themselves hard won silver medals in 2013 and 2014. Juxtaposed to these successes are the disappointing results for Swiss Open. In 2007 they achieved their best international finish at a European Championships by earning bronze in Southampton. Losing to Colombia in the pre-quarters of 2008 was unfortunate but understandable. It stood as positive indication of where Swiss Open could still progress. Unfortunately, the team didn't make the trip to Japan in 2012 and their performances in the intervening European Championships have followed a discouraging trend, one highlighted by their second to last place finish last summer in Copenhagen.
The hierarchy of Swiss Open has a lot of work to do to address the failings of their recent expeditions into international tournaments, a fact their training staff isn't shying away from. "WUGC 2016 is the opportunity to fight back on a position in between the best European teams," said assistant coach Robin Brüderlin.
Motivation is driven by the disappointments of the past, a force that is also causing administrative change. "Last year we didn't have a non-playing coach," said Brüderlin. "We hope this will change our game in difficult moments when we didn't perform at our best at last year's Euros." The man taking on this task is Pedro Schmid.
Schmid is still an active player, representing Crazy Dog Stans at club level, Swiss Ultimate's third domestic power. However, he has decided to take that evolutionary step to the other side of the sideline for the national cause. It is also important to highlight the work of former GOAT Luca Miglioretto in setting up the team and David Moser in helping to keep it running. When Schmid and company went about building the squad they lent on what they know to provide the core for their team.
Approximately 14 players were selected to the national side before trials. The rest of the player base was filled out following two tryout weekends. By utilizing the established veteran core of players from Switzerland's impressive club scene, Schmid is hoping to rebuild the bridge between domestic and international success. Schmid and Moser involved several of their key players in the selection process for the workhorse elements of their squad. This is done with the intention of building team chemistry early and establishing it strongly enough to endure the high pressure moments that hurt their previous campaigns so grievously.
Tactically there is little that the Swiss are trying to do that is too outrageous (or at least they aren't letting us into the vaults to get an in-depth look). That said, they have already shown their penchant for the odd poachy D in the warm-up tournaments they have attended in the last two months. A difficult measurement to get right, the Swiss will need to work on their defensive timing if they want to drive opponents properly cuckoo. Offensively, you can expect to see them lean on the established powers of their tall, athletic cutters who have run rampant across Europe for Swiss clubs.
Players To Watch
Luca Miglioretto
Migilioretto has been leading Swiss offenses since his first appearance for the Swiss Junior team in 2004. He has established himself in the intervening years as one of the most competent handlers in Europe. He has emasculated forces across the world during his time representing Switzerland, Freespeed, and GOAT. Well accustomed to the elite level from his routine appearances at Europe's top table and impressive displays at World Club Championships, he will be unfazed by the challenges awaiting the Swiss in London.
Aaron 'WF' Riedle
Riedle announced himself on the world stage in 2014 with his stellar performance for Freespeed against Vancouver's Furious George. While that game being televised may have earned him the moniker 'world famous,' it was his thorough downfield dominance throughout the week that really declared his prowess internationally. No matter the opponent, Riedle is able to get free; at times that means an easy under, at times that means reeling in discs he has no biological right to get to.
David Moser
Co-coach and resident veteran of Switzerland Open, Moser is the glue that holds the moving parts of Switzerland together. One of the fittest members of the squad, Moser, 39 years old, is still able to lead his team into the breach. Should anyone mistake him for a poachable target they will schooled by the well-read teacher. When things start to go wrong, as they inevitably will, Moser is one of the key Swiss figures the squad will turn to for guidance.
What To Expect
It is difficult to understand why the Swiss national teams of late have been so unsuccessful internationally, especially when compared to the competitiveness of their club teams. This is the tournament to transfer those victories to the national side. At Windmill two weeks ago Basel's Freespeed beat both Italy and France, two of the more ambitious and dangerous of Europe's second tier sides. In keeping with their traditions, the Swiss are reluctant to make a definitive statement, but rather are watching all of their potential opponents with open eyes. On where they could finish, Brüderlin said, "There are a lot of national teams that you beat on a good day and that you get beaten by on a bad day…A top 8 finish is possible. On the other hand, we might end up in the bottom half."
A policy of neutrality has allowed Switzerland to flourish throughout some of Europe's darkest days. However there is a new dawn rising, and it's time for the Swiss to go on the offensive.