The USA are 2-for-2 on gold medal opportunities.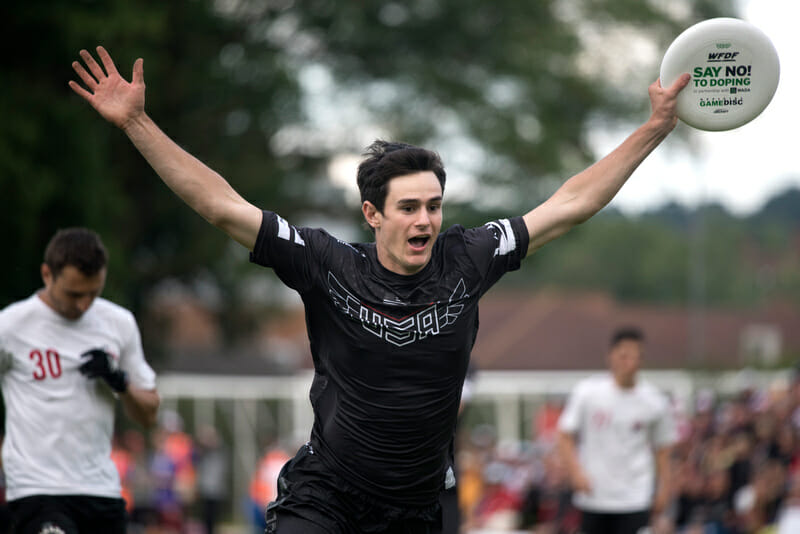 This post is presented by VC Ultimate. All opinions are those of the author; please support the brands that make Ultiworld possible and shop at VC Ultimate!
ST. ALBANS — The United States National Teams continued their winning ways at the 2016 World Ultimate and Guts Championships on Friday, taking home two gold medals1 and reaching the final of each of the other divisions. No USA team has lost a game at the tournament and each will enter tomorrow's finals as the favorite, perhaps the heavy favorite.
The Masters Men's and Women's teams both claimed gold after some excellent play throughout the week. With games canceled yesterday, it was an extra test to play two of the hardest games of the tournament on the same day.
The Masters Men faced off against Canada, led by the unstoppable John Hassell (1G, 7A), in the final. Despite Hassell's brilliance, the Americans were just too balanced and too deep. The defense built an early lead with three breaks in the first five points, capped by a layout score from Jared Inselmann (4G, 2A) to make it 4-1, and the offense held it, scoring 11 times without yielding a break.
"Hassell said it best [in the post-game huddle]: 'You guys brought every facet of the game: offense, defense, composure,'" said USA captain Robbye Brooks.
It was one of many excellent performances from Team USA on Friday, and a memorable one for members of Boneyard, the Masters team that earned the right to represent the United States by winning last year's Masters Championship.
"It's real special," Brooks said about winning gold, with tears welling in his eyes. "You're going to get me all emotional now. It is our club team, our masters team. We've played together for a long time. It's special, man."
He took a moment to acknowledge the team's good fortune to be able to play in the day's games after many teams had been cut short the chance to play into the top eight — and potentially the top four — when the tournament directors canceled prequarters and quarterfinals due to the heavy rain on Thursday.
After that thoughtful moment, I noticed he was holding an ice cold beer. I asked him how he thought it was going to taste.
"From here on out, it's going to be one of the greatest days," he laughed. "We're going to throw it down, obviously. We need to get our gold medals first so we don't lose anyone along the way but it's going to be a very fun night."
They earned it.
***
The Masters Women earned it as well after using a 6-0 run to overcome an early deficit and take home gold with a 15-10 win over Canada.
Alicia White, who joined the team mid-tournament, was huge for the Americans, tallying four goals and some crucial blocks, including a filthy layout just before half that set up her bookends score and the 8-5 halftime lead.
The two first half breaks for Canada were a distant memory midway through the second half when the USA went up by five with a break at 12-7. Although Canada got one back late, it was set up for a US coronation.
Carolyn Matthews got a huge endzone block and went off with an injury. The legendary Gwen Ambler took the field as head coach Jit Bhattacharya yelled out, "Bring it home Gwen!" A few throws later, she did, cutting break side to score an easy toss from Jody Dozono.
"It's really special because I learned to play ultimate with all these women," said Ambler after the game. "And feeling like it's full circle. So many players on this team played together on Fury for so many years and had all these experiences together, and then took time away: retired, doing other things outside of ultimate. To come all back together and feel so connected, it's just felt like it was right where we left off. I haven't played on Fury since 2008 and it felt, to me, like this was the next chapter in that story."
***
The USA Men's team took on their biggest challenge so far at Worlds — a semifinals matchup with Canada — and delivered a legend-making performance to the tune of 15-8.
Despite the lopsided final score, the game was compelling from start to finish, as nearly every point was hotly contested.
"It was a really close game," said USA coach Alex "Dutchy" Ghesquiere. "I feel like the intensity and quality was closer than a 15-7 [sic] game."
A nervous start for both teams yielded multiple turnovers, but Kurt Gibson found Dylan Freechild downfield. A quick dish to Russell Wynne and the USA had the game's first point — and first break.
The game was played on a razor's edge for the following eight points with some strong play from Canada's Isaiah Masek-Kelly and wily throws from USA's Josh "Cricket" Markette.
The Americans switched their defense to a junk-to-man transition that yielded rapid results: John Stubbs tipped a swing pass towards the endzone and jumped in to haul in a Callahan (and a break) to make it 6-4.
The Canada offense started to struggle to string together upfield passes against the US junk defense and little mistakes started to pile up. Jeff Lindquist couldn't hold on to a high pass under pressure from Kurt Gibson. Another break. Nathan Hirst threw one away. Another break. 8-4, halftime.
"I think [the USA] played fantastic," said Canada coach Scott "Shooter" Hastie. "They obviously made very few mistakes. I didn't really think we brought, as a team, the energy that we needed to bring to a semifinal from the start."
Canada did get one break back to start the second half after a reset miscue on a suddenly-windy point, but the US offensive line — led by a brilliant Ashlin Joye — never yielded another.
That's a testament to the consistency — and chemistry — of the team. There are multiple established lines — including primary offensive and defensive lines — that have gelled in a way that makes it hard to believe they have only played a handful of games together.
"It's been a project since the first minute we assembled the team," said Ghesquiere. "We've gone about deliberately trying to build as much chemistry and team unity as possible. And I think it's showing now. I think the results are clear."
Three more breaks more than sealed the deal for the United States as they marched confidently into Saturday's final against Japan.
Ghesquiere said that the gameplanning for the Japanese — a team they saw earlier in the tournament in a largely meaningless crossover game and one with a style quite different than that of Canada — would represent "the challenge of our careers."
If the team plays like it did today, it may not be so challenging after all.
***
In an energetic but occasionally sloppy game, the USA Women's team defeated Canada 15-10 in the semifinals.
18 different players tallied a score or assist for the United States, double the number for Canadians.
"Our biggest strength this entire tournament has been our depth," said USA captain Alex Snyder. "We've really been thriving on being able to send out wave after wave of amazing defense. It's relentless."
That defense helped rattle off two separate 3-0 runs — one to open up a lead in the first half, the other to put the game away late in the second. The Canadians couldn't play around a few too many drops and throwaways and the US took advantage.
"We knew we were going to have to play a ten out of ten game to beat them," said Canada coach Jeff Cruikshank. "I think we have that game in us, but it wasn't there today."
Claire Desmond, who finished with two goals and an assist, continued to shine as one of the US' top players and sealed the game late with a great block and a bookends score to put the team up 13-8.
Canada's Darcy Drummond (2G, 2A) was excellent in the loss; Cruikshank said she played her best games of the tournament in the quarter- and semifinals.
The United States will take on Colombia tomorrow in the final, where they hope to try to reach their full potential as a team and take home gold.
"We're still on the quest for the perfect game," said Snyder.
***
The Mixed team had the easiest match of the day, a 15-4 shellacking of France. The team's average margin of victory over their nine games so far is just shy of 10 points at 9.67. They have had double digit wins in seven of those nine.
This game may have well been decided yesterday, as France stunned Great Britain and had surely accomplished their goal.
"Seeing them win that game when they were all on their hands and knees just bawling their eyes out in the first time their country made it past the quarterfinals, I was almost crying myself," said USA Mixed assistant coach Nancy Sun. "It was cool to see that."
With France simply happy to be there and the US focused on gold, the game was never in question. The defense came out strong and started putting up points: 1, 2, 3, 4…The score reached 7-0 before the French were finally about to get one on the board.
"I thought we brought it with our energy to start," said USA coach Jake Henderson. "I think that was the key."
It has been a clinical performance so far from the US Mixed team, which has looked so much more talented than their competition that you wonder, if they win gold, if it will even feel that they had to earn it.
As for France, it was a taste of elite ultimate.
"We are very proud," said Gael Peyrical. "We didn't think that we could make it, but yesterday we played the best game of our life. And we won to have the chance to play this semifinal."
---
three if you include Guts ↩