Some big games on Friday at the US Open.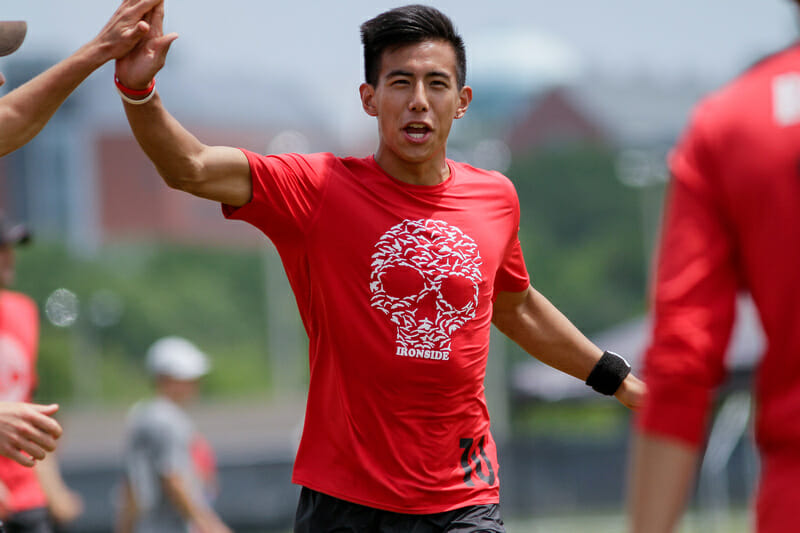 This post is presented by Disc Store. All opinions are those of the author; please support the brands that make Ultiworld possible and shop at Disc Store!
PROVIDENCE — The first day of the unofficial start of the club season is in the books after Friday's pool play rounds at the 2016 US Open. Here's what to know about day one.
Men's
The biggest story from the Men's Division happened right off the bat on Friday, as Madison Club took down Pool B top seed Seattle Sockeye in the opening round, 14-12. Missing some key players, including Peter Graffy, Pat Shriwise and Dave Wiseman, Madison rode out the ups and downs of a distinctly early season game to pull off the upset and exact revenge on the team that ended their season in 2015.
Colin Camp and Brian Hart were immense for Madison, with Camp initiating almost everything for Mad Club on offense and Hart going both ways, locking down top matchups on defense and acting as a reliable safety valve when Mad Club had the disc. After giving up two breaks to start the game, Madison's offense settled down, and their man defense was able to force Sockeye into some crucial turnovers. The Madison D-line broke twice to end the game and put them in a good position to make it to the semifinals on Sunday.
Seattle may not be pleased with the result of the game, but there were positives to take away from the day, most notably the play of Simon Montague. The handler, returning to Sockeye after years away, fit right in with the O-line and was at home using his length to move the disc horizontally at ease. Sockeye still has a chance to make it into semifinals if they can take down Machine tomorrow, and even if they don't, the Seattle program should be encouraged by the way Montague and their other offseason acquisitions performed.
The most intriguing matchup heading into the day left us with more questions than answers, as Ironside outlasted Revolver 15-11 in an ugly game that showed that both of these powerhouses are shaking off the early season rust.
Neither team looked great, but Revolver's offense was particularly rocky in the first half, coughing up break after break en route to an 8-4 halftime deficit. Ironside's defense was very efficient off the turn, but it can't be said that they were the cause of Revolver's troubles. The Revolver O-line, which was admittedly missing key pieces from Worlds (Beau Kittredge, Cassidy Rasmussen, and Ashlin Joye), failed to even string passes together on several points, a shocking display from one of the best offenses of the decade.
Josh Markette had a great game for Ironside, showing absolute confidence and cutting through the brisk wind to carry Ironside to victory. While Ironside will need to raise their game to come away with the US Open crown this weekend – particularly on the defensive end – taking down the defending champs is a great start.
Elsewhere in the division things went largely according to seed, as Machine took care of business in Pool B, holding off Florida United in a physical game that ended on a Callahan from Neal Phelps. Guerrilla, the new team from the Bay Area, jumped out to a hot start against Ironside but faded big time down the stretch and ended the day at 1-2. They will likely need to upset their intra-city opponent Revolver tomorrow morning if they hope to advance to the championship bracket.
Women's
Three teams went undefeated in the women's division on Friday: Boston Brute Squad, Seattle Riot, and D.C. Scandal.
Unsurprisingly, top seeded Brute Squad and Riot turned in the day's top performances. Each scored a win over the next seeded team in their pool; Boston came out on top of a hotly contested matchup with Fury, 15-14, while Riot used a late run to knock off Molly Brown, 15-10. Riot looked comfortable, if inefficient, against Boston Siege while Brute Squad dominated Winnipeg Fusion in their earlier rounds. Scandal also put away Siege by turning it on late in the game and steamrolled New York Bent.
Both Molly Brown and Showdown had some letdowns. Denver was even at 5-5 with Riot, but gave up a three point series to give the half, 8-5. While Molly Brown drew close two more times, they were unable to ever take a lead back. If only because the expectations are so high for this team, they probably would like to be closer to the other top teams. Showdown dropped a pair of games – one to Fusion and a blowout loss to Fury – that must have left a bad taste in their mouth.
As the only division with quarterfinals, the name of the game if you want to make it the bracket is "don't finish last." The likely losers of that battle are Quebec Iris and Boston Siege, who both went winless and have to face the top ranked teams at the tournament on Saturday. Siege played well in spurts today and hung around, but could never come through in the final moments.
Mixed
The first day in the Mixed Division at the US Open found two 3-0 teams sitting atop the two pools.
In Pool A, the surprise of the day came in the first round when New York Metro North knocked off perennial powerhouse and three time defending national champion Minneapolis Drag'n Thrust 15-13. Minneapolis' usually confident O-line looked downright mediocre as drop after drop mounted up and kept Metro North out in front. In the end the sloppy play was too much to overcome for Drag'n Thrust.
The New York squad was able to build on their impressive start by dismantling the Panamanian national team 15-4 and winning another close game to Philadelphia AMP.
The San Francisco Polar Bears, on the other hand, had a disappointing day. The Polar Bears got into Rhode Island late last night and the travel fatigue showed in their sluggish start to the day where they only beat Union by 2 and lost the next two games by a large margin.
***
Seattle Mixtape dispatched all challengers as all but one game went to chalk in Pool B.
In one of the most exciting games of the day, Mixtape had a come from behind win against Boston Slow White 15-12. UMass star Tannor Johnson was able to dig deep and show he could be an instant contributor on their O-line as he was involved in six of their first half goals. His efforts were matched by his collegiate rival Khalif El-Salaam, who was a force for Mixtape on both sides of the disc as he spent most of the day getting blocks and dropping dimes to the plethora of athletic cutters Seattle deployed.
In the second half Seattle locked in on defense and pushed Slow White to a point where they were unable to execute properly, especially as the end of the day approached and their fatigue showed. Dropped discs and errant throws gave Seattle ample opportunities to take their shots. This game plan was thoroughly effective because, according to Slow White coach Mike Miller, "[whether they] hit or miss they always forced us to work the disc 70 yards which proved difficult, especially upwind."
This was Mixtape's second come from behind win of the day after they overcame an 8-5 halftime deficit to Madison Noise. Claire Revere and Jesse Bolton stood out in the comeback.
Tomorrow the game to watch in Pool A will be the first round matchup pitting Drag'n Thrust and AMP for the shot at a semifinals spot (assuming Metro North is able to hold onto their 3-0 record). If Drag'n Thrust has another slow start it may be impossible for them to recover.
In Pool B, look for Mixtape and Slow White to continue take charge in the pool. Mixtape has started slow and fallen behind in two of their games today — that may be the only chance for a team to knock them off. When they have been on, Seattle has looked like the most impressive team in the division.