Brute's defense overwhelmed Riot.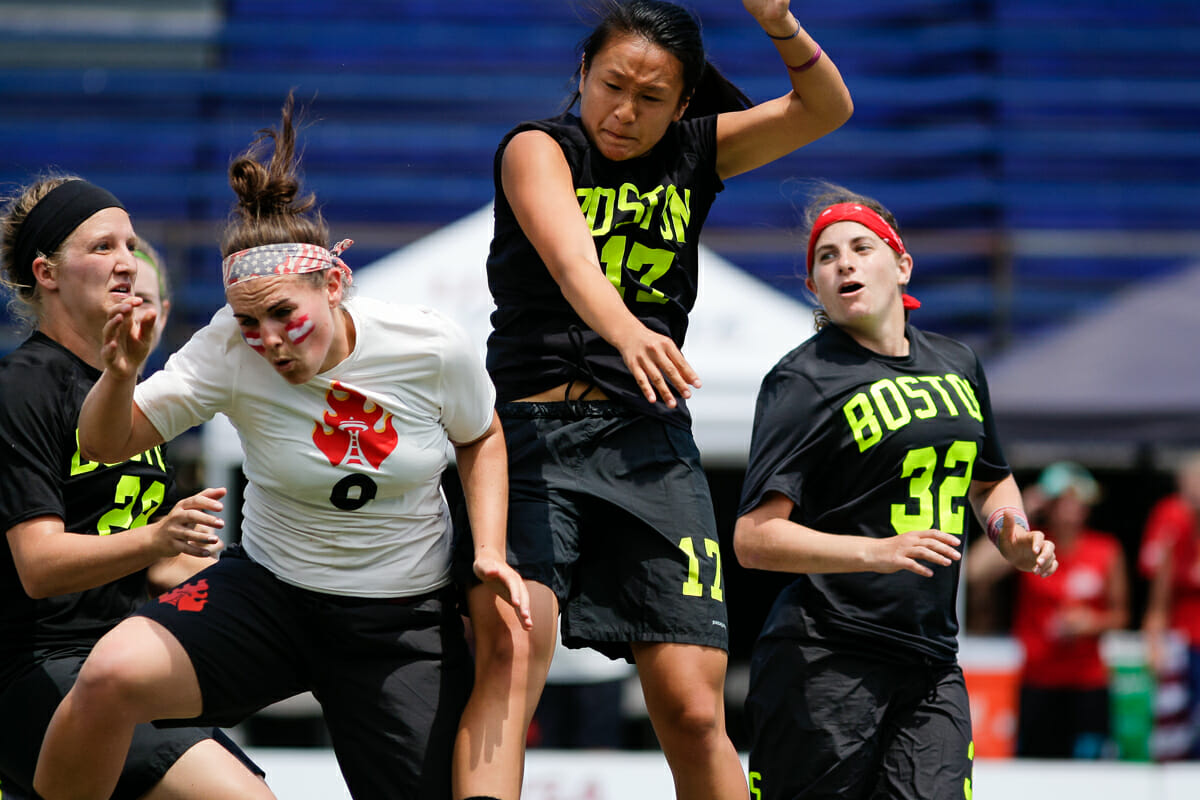 This post is presented by Disc Store. All opinions are those of the author; please support the brands that make Ultiworld possible and shop at Disc Store!
KINGSTON, RI – Boston capped off their US Open in signature fashion: a triumphant defensive performance that powered them to a win. It's been the recipe that has worked for them for all four days in Rhode Island, just as it did at Nationals in 2015. In the windy conditions, Brute Squad solidified their preseason position as the title favorite with the fashion of their victories, including thumping Riot 14-7 on Monday afternoon.
The game was never really in doubt for Boston. A 3-0 run from the opening pull gave them cushion to get comfortable within. It was especially important to punch in a second straight break in a single possession, the game's first point for either team without a turnover. The possession demonstrated that Brute Squad intended to keep the pressure on Riot and to prevent them from ever reaching a comfort level, while their offense could put it together more frequently.
"They played great D, they're very tight and able to anticipate turns and cuts," said Riot coach Gwen Ambler. "That pressure combined with the wind definitely generated a lot of turnovers."
The wind, defensive prowess of Brute Squad and Riot, and still developing offenses were a brutal cocktail that was tough to swallow for spectators. There were 57 turnovers in the game, only 19 of them coming on actual defensive blocks. Numerous throws sailed high, wide, or low as players struggled to calibrate to the conditions. Brute Squad left Riot with little margin of error with tough defense, and generally seemed to contend with the frustrating gameplay more effectively.
"My mindset is not 'ignore the wind.' The wind is a factor and you need to make adjustments to go with that. You don't play the same way in a crosswind as you do in upwind/downwind or in calm conditions," explained Boston head coach Ariel Jackson, who encouraged his players to embrace the conditions. "That doesn't mean you let it make excuses for you or let it overwhelm your psyche but it just means you have to be in the right mindset for it."
Despite plenty of chances, Riot's offense could not get going. With fewer possessions to work with, the defensive offensive was never able to gain traction. Every few points, Brute Squad made them pay; at 6-3, after multiple turnovers a side, Shellie Cohen launched a nearly full field huck that required a full extension two-handed catch from Cassie Wong. A few throws later, Brute Squad earned their third break of the game, and that 7-3 lead soon became an 8-4 halftime score.
"In general, our offense, whether it was on break opportunities or even on offensive points, near the end zone we got a little tunnel visioned on things," said Ambler. "Instead of hitting the thing that was there, we hit the thing that we wanted to be there."
Brute Squad notched a one possession break out of half after a Riot drop, puncturing the break side to extend their lead to five. That hallmark of the Boston attack was one of their strengths against Seattle. It helped them deflate their chance at a comeback. They never relinquished control or momentum thereafter.
Another critical part of Boston's success was 2015 Player of the Year Leila Tunnell. The 27-year old handler was the best individual on the field, pacing the top seeded offense and proving especially deadly in the red zone. Despite a bounty of touches, Tunnell had just a single turnover to go with her game-high four assists.
"She never gets flustered by the situation. And when you combine that poise with exceptional disc skills, you have a phenomenal handler," said Ambler.
Jackson agreed. "She brings that calm, no matter what's going on, you can't frazzle her," he said. "That sense of calm radiates to other players."
Tunnell's presence proved steadying, and her famous poise helped her and her offense maneuver through the defense and conditions.
"It's come with a lot of practice and a long time. I take a lot of breaths," laughed Tunnell when asked how she stays focused under pressure. "I'm definitely not always feeling super composed, but I find that body language goes a long way. The kind of "fake it 'till you make it' mentality has resonated with me."
In addition to Tunnell, Brute Squad got a game out of both Laura Bitterman and Shellie Cohen. Bitterman, a mainstay on the O-line, used her quickness and intelligence to find open spaces, catching three goals and throwing one herself. Cohen tallied one goal, two assists, and a block; connected on both of her hucks; and had just two turnovers.
The victory, however, is clearly a team win. Brute Squad only allowed double digit points once at the US Open in their 7-0 showing. Even though they were still a work in progress, playing without handlers Emily Baecher and Amber Sinicrope, they were miles ahead of the other teams in attendance. Their defense had flashes that demonstrated a potential ceiling, but their offense was less consistent. Still they rolled team after team.
"We're in a good position for this time of year. We're not kidding ourselves that we've done all the work. There's definitely a lot of stuff to work on," said Jackson. "Other teams are going to get better on offense, get better on defense, and keep ramping up.We're on the right trajectory and it's a matter of staying on that trajectory and not getting complacent."
Their US Open results will not have a major effect on their season. They get some glory, some time on camera, a novelty check, and some ranking points. But Brute Squad's status as a Nationals qualifier is all but certain, which is also true of their position as a title contender. It wasn't that Boston won the US Open. It was that, on the same timeline as their competition, they were developed. They were dominant. The trajectory, at this point, leads to a second straight National Championship.