Make the most of your time with teammates to work on skills you don't get to in practice.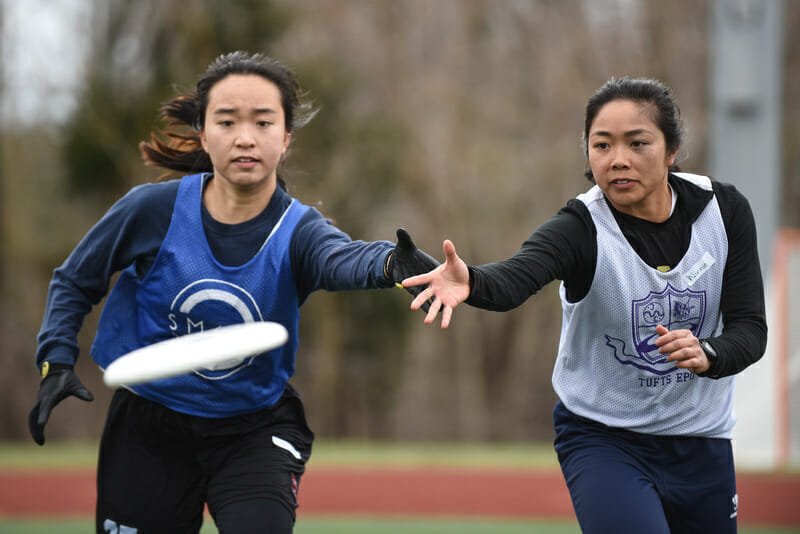 This article is presented by Spin Ultimate; all opinions are those of the author. Please support the brands that make Ultiworld possible and shop at Spin Ultimate!
The very best ultimate players are the ones who go above and beyond. Not only do they seek to work on their overall game during practices, but often spend dedicated time before or after practice seeking to improve target skill areas or weakness.
For young players — especially those with high athletic talent — this type of unscripted practice can be extremely important to accelerating growth, improving individual skills, and decreasing on-field deficiencies. But even for the veteran ultimate player, small-group pre and post-practice skill work can be an efficient way to hone one's skills and stay sharp. For those with a busy schedule, unable to get outside every single day with a disc and a partner, these are valuable opportunities to double-up on time with your teammates and use the opportunity wisely. Rather than simply lounging around before or after the main group session — or even just throwing without any real sense of purpose — spend fifteen to twenty minutes consciously working on specific skills to give yourself an extra edge.
Here's is a list of focused activities you can do right before or after practice, even if for just a short amount of time, to work on skills. Most can be done with only three people, making them perfect for pre and post-practice time or as additions to any pod or small-group workout, especially if your team has trouble getting large numbers to these meet-ups.
1. Reading and Attacking
One of the best focus areas for individual skill building is getting better at reading and attacking the disc in the air. Young players especially struggle with this, often unable to convert their athleticism into successful wins over more experienced opponents. Even the most veteran players, however, can use practice timing their jump to always reach the disc at their highest point, no matter the speed or angle of the throw.
Remember, muscle-memory and body mechanics need to be instinctive in-game. Rather than having to think about exactly when and where to jump for the disc, hone your body and mind so that you know instinctively exactly how far you can reach and when to leap to catch a disc at this highest point.
This is a pretty basic small group session and can be completed with two people in a pinch, but it should remain focused; it should not turn in a game of standing "500" for hospital passes.
Have one player cut — not stand — downfield for a deep shot and have another player loft a throw, preferably at a small angle. Work on getting up for that disc at the exact right moment to snag it at the highest point of your jump. Adding in a defender can maximize this practice if both players can safely compete for the same disc.
The thrower should mix up backhands, forehands, and release angles; this is especially useful if you can also throw in a gusty wind and moderate the direction you throw.
It sounds like a simple thing for the most basic rookie to do, but this is the sort of individual skill work that is extremely beneficial, but usually doesn't get significant practice time spent on it, as it can be inefficient in a larger group setting.
2. Quick Feet And Throws
Footwork is one of the more underrated skills in ultimate. Useful for everyone, but especially for handlers and handler defenders, agility footwork is a staple for pods or small groups. Keeping your feet balanced underneath you, staying light on the balls of your feet, and being prepared to plant and change directions quickly can earn you an important advantage against your opponents.
Set up cutting drill with cones in various patterns (serpentine, square, etc.) and run the gauntlet focusing on a hard jab-step plants as well as proper shin angle so that your body changes direction swiftly and fluidly. Combine this with ladder work to really increase foot speed and agility. Alternating to run the cones backwards or shuffling adds in defensive skills as well.
This session can be run solo, but is so much more effective when you add in a thrower and a disc. Having a player (or many players) throwing passes as someone cuts is extremely useful to creating good catching focus and throw-and-go abilities.
3. One-On-One Defense
An isolation cut in space is a basic, yet effective tool for many offenses, especially in the endzone. As such, teams need defenders who can effectively protect against these cuts. Simulating an iso in the redzone or downfield can be great for improving one-on-one defense.
This session definitely needs three people, though four is better. Have a thrower and a matchup downfield. Give the offense five seconds to do his or her best to get open in a specified space (the larger the space, the bigger the advantage for the offense), without dancing so much that the thrower makes a mistake.
Offensively, this drill teaches hard, definitive cutting. For the defense, this drill, while again seeming simple, can really add an element of strength to a player's game and makes for a perfect pre or post-practice add-on. Defensive players learn to hold a force and orbit, to not turn their hips, and to play physically when need be. Experiment with different positioning and spacing, preferably against a variety of cutters who are of different sizes, speeds, and skill sets. Five seconds of one-on-one defense provides a realistic game situation before a disc is either swung, dumped, or hucked.
One version of this activity involves a very small box that gets wider as the stall rises. Start with both an offensive cutter and a defender in a ten square-yard area for the first three seconds of a stall count, then increase it to an endzone size area for the next three stall counts, only allowing the offensive player access to cut into an entire field for the last three seconds. This drill makes for a great workout, is easy to run with three to four people, and can even be converted to help younger players practice laying out.
4. Marks And Fakes
At its most basic, creating a three-man marking drill before or after practice is a great way to focus the body and mind on important throwing and defensive concepts. It is such as simple activity and it can take less than five minutes, but it really helps throwers practice faking and pivoting, and increases a mark's footwork and fitness.
If you only have two people for this one, run it without the mark, focusing on making at least two pivots or fakes before every throw. For the three-person version, add a twist by forcing the mark to not mark with hands but instead with body position, by having him or her shuffle back and forth to stop a throw. It's tough and really emphasizes a non-lunging mark.
Throwers need to stay focused and take this seriously; avoid over the top or wild break throws, work on good pivots (save your shimmies for the games) to hone the basics.
5. Target Throwing
Last, but not least is a throwing exercise. Tossing is the typical choice of most people who show up to practice early or stay late, but many times it is unfocused warming up or cooling down variety, with possibly some hucking or pulling added in.
If you can, add a portion or the entirety of one of the many great throwing programs out there (zen throwing, kung-fu throwing, etc.) to work on your abilities in a very focused way. If you don't have time for a throwing program, practice two important things.
First, no turnovers. Getting close to a partner and reeling off 50 straight forehands and 50 straight backhands without a drop or throw-away is good for you, no matter how experienced you are. Keep good throwing form and add in challenges like faking and pivoting, but focus on hitting the target every time and making the catch every time.
Second, to increase difficulty, add in a more specific target than just the other person. Aim small, miss small. Start with the center of the chest, then alternate to a certain side of the body or shoulder (to simulate throwing away from a defender). Adding in complexity, have a thrower stick his or her hand out and up in various positions and try to hit those as best you can. Keep the no turnover goal in mind as a serious challenge.
A Little Goes A Long Way
Remember, even 5-10 minutes before or after practice working on one of these skills areas can help improve or maintain an important ultimate skill. Rather than spending twenty minutes lounging or racing in your car, get to practice early or stay late to find a friend and get better together.