12 teams remain in the hunt for a Championship.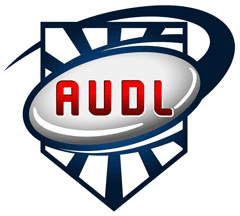 After an eventful final week of the regular season, the AUDL playoffs are set.
The Atlanta Hustle (7-7) clinched a playoff berth in the South Division with a 27-26 win over Jacksonville (5-9). Jacksonville did earn the consolation prize of having the all-time single-season leading goal scorer in Mischa Freystaetter (95), after he scored 13 goals in yesterday's game.
Indianapolis' loss yesterday to Madison also sealed the Midwest Division picture with Minnesota clinching the third and final playoff spot.
Here is the full playoff picture.
West Division: San Francisco Flamethrowers (bye & #1 seed) // Seattle Cascades (#2) @ Los Angeles Aviators (#3) [July 16th]1
Midwest Division: Madison Radicals (bye & #1 seed) // Minnesota Wind Chill (#3) @ Pittsburgh Thunderbirds (#2) [July 16th]
South Division: Dallas Roughnecks (bye & #1 seed) // Atlanta Hustle (#3) @ Raleigh Flyers (#2) [July 16th]
East Division: Toronto Rush (bye & #1 seed) // New York Empire (#3) @ DC Breeze (#2) [July 16th]
---
Despite finishing ahead of Los Angeles, Seattle will play its first round game in LA for travel cost purposes. The Western finals will also be held there on the 17th. ↩