The semifinals are set!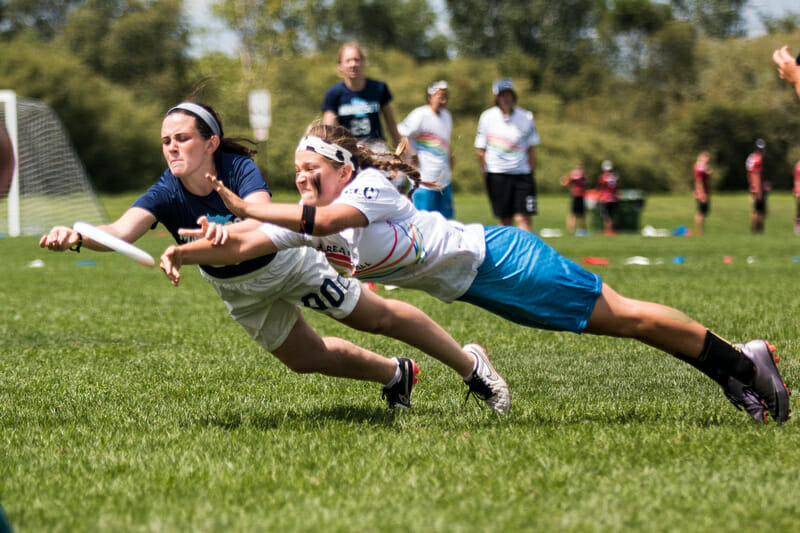 The article is presented by CUT Camps; all opinions are those of the author. Please support the brands that make Ultiworld possible and participate in CUT Camp!
Day 2 of the Youth Club Championships narrowed the field to four teams in each division. While many top teams continued to take care of business, a few early favorites won't be playing in the championship bracket on Sunday.
Girls: Seattle Waltzes Into Semis; Cincinnati, Boston Grind 
The 1:00 p.m. hour rolled around and the women took the field. Pittsburgh's Moxie put up a solid fight against Delaware Valley Devyl, with both teams struggling with turnovers in the beginning and battling through some long points. Moxie's Darra Reppermund showed a calm and cool head, taking control with smart decision making and huge hucks to cutters like Jordan Schultz-McArdle in the end zone. Just as solid for Devyl was Jessie Sun, delivering solid throws and coming up with some important blocks to lead her team to the win. Triangle Area Warhawks had a solid showing, making use of a fast paced vert stack and capitalizing on opportunities presented, one of these including a Callahan for Beth Manturuk.
Seattle Nimbus proved why they're the number one seed, working like a well-oiled machine to showcase almost flawless offense in the first half of their game against Maine Rip Tide. Nimbus effectively made use of both sides of the field, capitalizing on Rip Tide turns with fast transitions, accompanying their relentless offense with an equally as ferocious defensive showing.
Seattle followed up that 15-1 win with a 15-2 win over the tournament's #3 seed (and semifinals qualifier) Warhawks. Their margins of victory display just how dominant they are at this tournament.
***
An exciting game between Cincinnati Belle and Boston BUDA lead to an explosive final round as the two teams battled with a relentless intensity. Both teams knew they were through to the semifinals, but a win meant avoiding Seattle in the semis.
Belle was a threat both in the short and long game; unstoppable hucks from Hayley Samson to deep threat cutters like Abby Swensen and Maddie Samson lead to some of the most exciting plays of the game. BUDA answered, however, with monster hammers from Josephine Coppinger, a talented handler with smooth backhands and clean inside breaks, as well as a relentless defensive assault from grinders like Renata Pepi. This electric match up lead to a double game point victory, 11-10, for Cincinnati Belle, a team that plans to take this energy into tomorrow's matches.
"The fact that they know each other well meant that they could count on each other and they just had to go out and make the plays," said Cincinnati coach David Fry in reference to the grit shown by the Belle women against BUDA's equally tough play.
The semifinals are set: #1 seed Seattle Nimbus v. #2 seed Boston BUDA and #3 seed Triangle Area Warhawks v. #4 seed Cincinnati Belle. The games begin at 10:30 AM Central time.
Boys: Surprises Highlight The Path To Semis
After yesterday's shock loss to Indiana, Pool D winner Atlanta was able to take care of business the rest of the way in pool play, wrapping up with a 5-1 record and the top spot in the pool heading into quarterfinals.
"The loss quickly incentivized us to pick up the pace and play to our real potential," said Atlanta captain Drew DiFrancesco.
***
The Bay Area quietly jumped out to a 4-0 record before playing their final two pool play games against top seeds Atlanta and Chicago. But the Bay Area lacked the athletes and depth to pull out either of these games and will be playing for 9th place on Sunday.
***
Nashville and Cincinnati played one of the more exciting games of the day in a pseudo-play-in game for the bracket. Each side featured one worlds player — Grant Waldron and Jordan Monnin, respectively — and neither disappointed. Monnin would receive in-cuts and throw dime flick hucks to anywhere on the field. Waldron played in a handler role and featured a large array of break throws that kept that offense moving at times when it seemed stagnant. The teams traded up until 5-5 when Jacob Flowers took over for Nashville and fired three straight assists to bring them into half 7-5. Cincinnati battled back in the second half and brought the game to double game point. Cincinnati turfed a throw and Nashville overthrew a huck before Cincinnati swung the disc to the break side and punched in the easy score for the win.
***
DC Foggy Bottom Boys have one of the best sideline presences at the tournament. Upgrading from HB Woodlawn's "pool party" at Southerns, they feature a "slumber party" on the sidelines with hilarious pillow antics. Foggy put together an impressive weekend, breaking seed with wins over Iowa and Carolina Sky and playing a great game with Texas.
***
The first round of quarterfinals featured Seattle v. Chicago and Minnesota v. Atlanta. It was clear from the start that Chicago was outgunned by Seattle which rode big play after big play to a 13-3 victory. Minnesota also came into their game with more energy and quickly jumped out to a 4-1 lead over Atlanta. The ATLiens simply couldn't connect in the endzone and turned it over on the goal line numerous times. Minnesota, however, was winning all of the 50-50 battles and making big plays on defense, including a great layout D from Daniel Brunker. On offense, they were content to stuff it down the force side and relied on cutters Sam Hammer and Cole Jurek to beat their defenders in small spaces. Atlanta was never able to make a run and had its weekend ended with a 13-7 loss.
***
The second round of quarterfinals late Saturday afternoon feature the Triangle v. Cincinnati and New Jersey v. Boston.
Triforce and Cincinnati met in a rematch of the 2014 championship game. Although the teams traded points for much of the first half, it was clear that Triforce was in control of the game. Cincinnati had to grind through O points with multiple turnovers and spectacular plays while Triforce made it look easy time and time again. Additionally, Cincinnati stars were playing virtually every point while the Triforce stars rarely crossed over lines. It was only a matter of time before Cincinnati ran out of gas and Triforce started getting breaks. Dillon Lanier put together an impressive five goal performance in the 13-7 win.
In the final quarterfinal of the day, DEVYL came out firing on all cylinders. Eric Li had multiple layout blocks in the first point alone and the rest of DEVYL's intense defense was too much for Boston. They carried the momentum all the way through the first half and took a 7-3 lead over the defending YCC champions. The Pennsbury connection of Mac Rushing and Colby Gordon was huge for the DEVYL offense and accounted for a number of their scores.
In the second half, Boston began capitalizing on execution errors and chipping away at the lead with patient textbook offense. They got the big play they needed at 12-10 when Javier Pozner got a deep D and ripped a backhand 75 yards for an incredible score. However, they couldn't completely flip the momentum: DEVYL scored for the win on its next possession with a crossfield huck to Rushing, who finished with three goals and five assists.
The semifinal matchups tomorrow will be Triforce v. Seattle and Minnesota v. DEVYL.
Mixed: Momentum Swings in Pool A
The morning began in the mixed division with undefeated teams Philadelphia and Seattle facing off. Both teams came in the game with very different strategies. Philadelphia looked to use their athletic advantage and huck as much as possible while Seattle relied on their girls to grind out unders. The Seattle girls, anchored by Kate Dougherty, were too much for Philadelphia to handle as they consistently got open by large distances. Seattle took the game 13-9.
With the Philadelphia loss, either Seattle or DC was likely to take the pool, depending on the margin of victory. Seattle once again ran a 3-4 gender ratio with their girls primarily downfield but Swing Vote was ready for it with junky defenses. Defensive pressure led to Seattle overthrowing a few deep shots and giving the DC D-line just a few too many opportunities. The DC offense got huge plays from all three (!) of their Oregon commits: Ted Sither, Duncan Fitzgerald, and Maddy Boyle. Aside from the very beginning of the game, the DC offense didn't get broken and carried them to the necessary three point margin of victory (13-9) to win the pool.
Both teams reached the bracket, but DC earned a bye into the semifinals.
***
Boston BUDA and Minnesota Superior took advantage of the near perfect weather in an exciting first round of Saturday pool play. BUDA amped up the intensity with a ferocious long game, making use of dangerous cutters like Amiel Hanley who successfully attacked the deep space and came down with the disc in the end zone. Superior carries a dominate female squad and deployed a four women strategy, making use of threats like Lilly Shapiro, Anna Clements, and Emma Piorer who took care of business downfield. A hand block by Superior's Zach Shear put Minnesota in a position for a double game point win over BUDA, following through with a final assist for the game. "I just knew my teammates would do what they've been practicing, I had to do what I was practicing," said Shear, referring to the clear trust Minnesota's teammates had in each other. Coach Trevor Ruwitch backed this up, telling his double game point line: "Play hard D, trust your teammates."
***
Bay Area Happy Cows backed up their number two seeding with several fast paced cuts and give-and-gos, weaving through a tough zone D set by Oregon Flood. Their handlers showed good patience and disc control as the wind picked just enough to be effective. Despite good defensive pressure from players like Emma Thoennes who got an end zone D against the Bay Area leading to a Flood Score, Happy Cows came away with the 13-6 victory.
***
Washington Swing Vote took it to their pool as the 1 seed, with players like Duncan Fitzgerald putting up solid appearances on both O and D.
***
Seattle Mix-A-Lot had a high energy game against Philadelphia Forge. Amanze Oieru put the pressure on Philly with a huge sky and the team went on to shred a Forge zone and secure the 13-9 victory.
***
In the pre-semis, Philadelphia used two big runs — a 4-0 one in the first half and a 3-0 to close out the game — to defeat Oregon 13-9 and advance to the semifinals where they will take on DC.
On the other side of the bracket, Seattle got a 13-11 win over Maine. Mix-a-lot will take on the Bay Area in semis.
The semifinals begin at 8:30 AM Sunday.