The USAU Club Championships aren't the only major club tournament happening this weekend.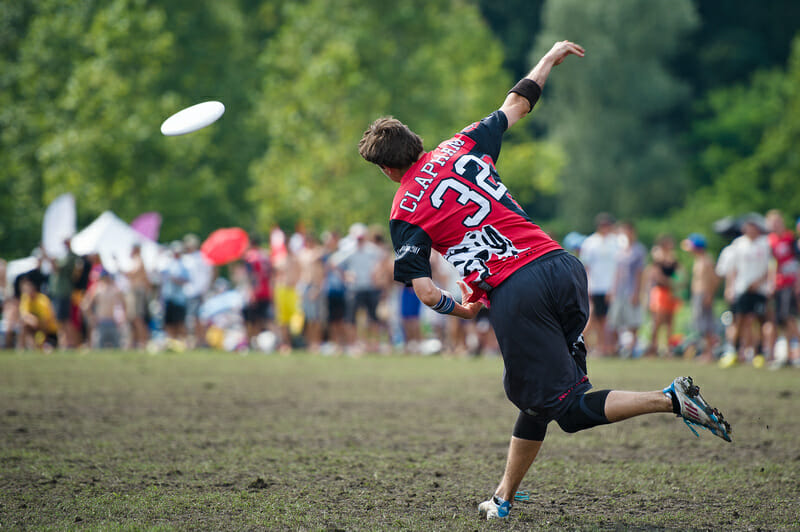 As the Earth tilts on its axis once again, so goes out the light at the end of Europe's evenings, and with it the natural conditions for outdoor ultimate. But we have unfinished business before the night-soaked commutes to work and latex burns of indoor courts can wrap their arms completely around us. There remains one lit brazier yet holding autumn at bay in Frankfurt, a lone Germanic lighthouse calling the elite of Europe's club ultimate scene together for a final time this year.
The 2016 European Ultimate Championship Finals are set against the backdrop of a mediocre continental showing at June's WUGC,1 and questions of how we can bring quality to the quantity of European participation on the world stage. A measure of bookkeeping and introspection is required in the Old World and this weekend shall be our summit.
The Elite Open division brings together European ultimate's best clubs. These squads have fought their way through domestic and international qualifying stages to arrive at Europe's top table. Each team is littered with national team representatives, but unfettered by the inherent incoherence of many national amalgamations.
As the last stop on a long club season, Frankfurt promises to be a true clash of culture, style, and ego.
Group 1
Clapham
Clapham are probably the most recognizable European club across the Atlantic. The reigning European champions booked their place in the elite division by picking up their 16th consecutive British national title, such is the consistent excellence produced and expected of the Bullfrogs. That said, there were instances of fallibility over the course of their qualification campaign. Chevron2 found themselves a two-yard pass away from universe point twice in their Regional final.
Clapham did bring a relatively new squad to that tournament, sporting noticeable absences of established leaders, Tom Abrams and Ashley Yeo. Clapham's defense remained fierce despite said truancies, but there were uncharacteristic errors once they got the disc in Southampton.3 They may still retain possession of their favorite status after qualifiers, but it is held with a looser grip than usual.
Otso
Continuing the super league theme are perennial Finnish champions Otso.4 Their qualifying campaign was defined by their two clashes with Latvia's Wild Things. After losing to the Salaspils side on universe point in the group stages, Otso would rectify their offensive miscues and win the crucial game-to-go to the elite division at EUCF. The feat was made possible by their intelligent defensive matchups and the young Jesse Saastamoinen's penchant for a ludicrous layout D.
Otso do not have a rich history at EUCF, but are looking to greatly improve on their 14th place finish from last year. As the flag bearers for Scandanavian ultimate's resurgence, they will be aiming for the semifinals in Frankfurt. In this group, no win is guaranteed; that said, neither is any loss. With their proven aptitude for strategic adjustments, Otso are a team you have to beat until the final point.
CUSB La Fotta
Driven by style and filled with young talent, Bologna proved they had the biggest heart — and perhaps the sorest bodies — on their route to Frankfurt. They were forced to take the long way to the elite division in the burning Lyon5 sun, overcoming two losses. France's Iznogood caught them unaware in the opening game of the tournament, demanding a crossover for the Italians to get into the quarterfinals. They also lost to eventual champions Flying Angels Bern in the regional semifinal, forcing a backdoor playoff game for entry to the EUCF elite divison. The long and trying weekend ended with CUSB rectifying their initial misstep and banishing Iznogood to the challenger division.
Led by Andrea Mastroianni, Bologna are armed to the teeth with talent. Despite the apparent youth of their roster, each player has the speed to get free under and the confidence to send it deep. Their fortunes will rise and fall along those lines. Expect several breathtaking plays and the occasional cringe-inducing turnover. They showed what happens when their tails are up in Lyon, and it makes their opening game against Clapham — a rematch of last year's European final — all the more appetizing.
KFK
Coming third in the only region where that still earns you a spot in the Elite marks you with a notable 'wild card' moniker. Combining this with the fact that KFK beat both of the teams which finished above them at EUCR – Central solidifies that deisgnation.
This is a very different KFK team compared to last year's iteration. A prolific and revelatory performance on the first day of Regionals saw the Copenhagen outfit defeat both their domestic rivals Ragnarok and mainland standard-bearer, Germany's Bad Skid. While KFK are equipped with Danish national representatives like Frederik Hansen and Casper Børresen, this is a squad built around unity. They soared through the first day of their qualifiers with belief and aplomb, but sputtered badly when trying to reprise their victory over Bad Skid on Sunday. In such a tightly contested group, there will be little room for KFK to rebuild their confidence in Frankfurt. Their group opener against Otso should be the defining game of both squad's weekends.
Group 2
Flying Angels Bern
In a display worthy of their acronym, the Swiss Angels blew through all competition at their EUCR-S Regionals. At a tournament where nothing felt certain, FAB never looked in doubt. Dispelling La Fotta and Iznogood, as well as maintaining their current dominance over domestic rivals Freespeed, the Bern boys set Lyon ablaze. Their current form has the potential to return them the top of the mountain they last enjoyed in 2011.
Absolutely stuffed with length and the ability to use it, FAB showed how difficult it was to slow their offensive line's path to the endzone, let alone stop it. Their Friday midday match-up against Bad Skid promises to be one of the major showdowns of the group stages.
Bad Skid
Pseudo-German national team and mainland powerhouse Bad Skid were always expected to top their region. What was not expected was their group stage loss to KFK. While they rectified this — and then some — the next day, a point was made. For all their athletic consistency and tactical efficiency, sometimes the Germans can't put together two complete halves of ultimate.
The talent is undeniably there: the Müllers and Beuttenmüllers6 along with Christoph Köble offer formidable top-end talent; even when you start to look further down the roster, this team is simply fantastic on paper. When it comes to the elite division, every game is a fight and Bad Skid are built around players with strong chins. Their vigorous man-to-man defense will be tested extensively by their group stage opponents — though my gut tells me it will not be found wanting.
Ragnarok
Ragnarok are the team that is synonymous with Danish Ultimate; they are longstanding competitors on Europe's grandest stages. Despite their legacy, they had a shaky route to the Elite division and are the only squad who made their way into the competition carrying three defeats from Regionals. All three losses came on universe point, a testament to the central region's competitiveness — but also an indictment of Ragnarok's finishing power.
Esben Høgh carries his lessons as offensive coach for Denmark this summer over into Ragnarok's attack. Philosophically, this means the Danes are looking to run their opponents into the ground in order to set up the right deep shot. Physically, this takes the form of Kristoffer Buus and co's tireless cutting. However, high speed and high intensity is the common denominator of their group and it may be difficult for Ragnarok to outpace FAB, FWD>>, and Bad Skid all in the same day.
FWD>>
It has been a mixed month for the Austrian outfit. Their performance at EUCR – East was ground-breaking. They stormed their way to the lone Elite division slot available, beating domestic and international rivals along the way. They carried this momentum through to the Austrian championships were they finished a disappointing third. The missing link between these two tournaments is the insertion of Catchup Graz into FWD>>'s path to the title.
One loss does not erase their emphatic run to the elite division, but it does cast doubt on their ability to stay there. Dominik Reutterer, Jakob Taubald, Matthias Neubauer, and Felix Nemec will try to keep their team in Europe's penthouse suite, and they've been addressing the mistakes they made two weeks ago at Nationals accordingly. Their opening game against Bad Skid will set the tone for the weekend, but it is hard not to see them in a crossover match come Saturday.
Teams to Watch
The Elite division bracket is not entirely inaccessible for the teams who couldn't quite book a direct route there at Regionals.
Some squads in the Challenger division to watch out for include:
Catchup Graz
Rectifing their losses at Regionals in the Austrian Championships, this team is strong and will be playing with a chip on their shoulder.
Chevron Action Flash
Angry and dangerous after their Regionals defeat to Clapham, these northerners are bringing more than just winter to Frankfurt.
Wild Things
Latvia didn't have the best WUGC and this club team is very similar to the one who disappointed in London. That considered, they came painfully close to taking Otso's spot in the Elite division and have a history of performing well on this stage.
Iznogood
An unfortunate loss followed by an understandable one in Lyon relegated the French side out of the Elite spot they earned for their region at last years EUCF. In a tightly contested Challenger group, Iznogood have more 'break glass in case of emergency' options than their opponents.
---